Over half of all working Americans, including those who make between $50,000 and $100,000 a year, live paycheck to paycheck.
If you need a couple of extra hundred dollars before you get paid and are thinking about taking out a cash advance, here are 10 of the best apps right now.
Best cash advance apps
With millions of people struggling to keep up with their bills, going into debt isn't exactly uncommon. That's why many people consider short-term options like installment or payday loans to keep afloat financially.
But as technology continues to evolve and many financial services become digital, these high-interest, short-term loans aren't the only solution to financial hardship. Instead, cash advance apps serve as a temporary, immediate financial solution for those who need a little extra help keeping up with the bills.
If you've found yourself in a tight spot financially, here are some of your best options right now.
Best for help with budgeting: Brigit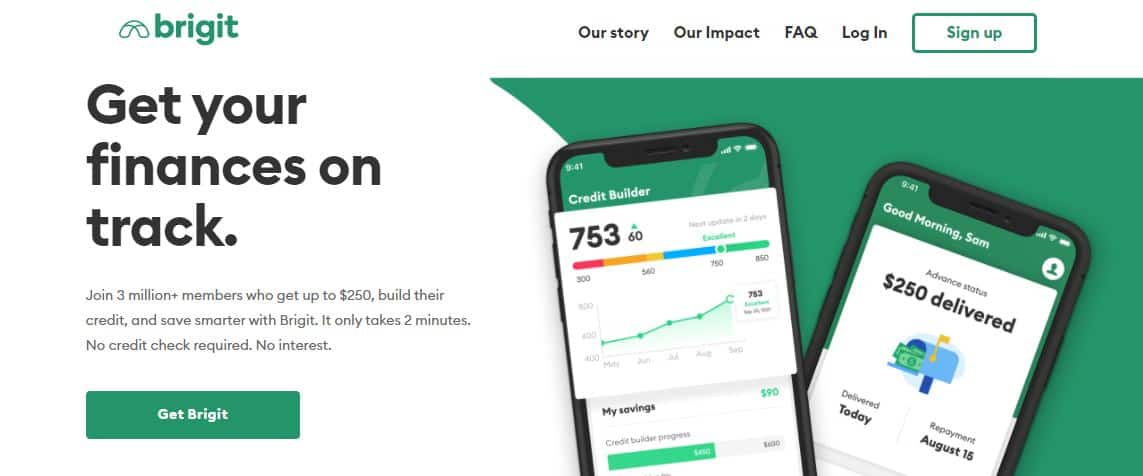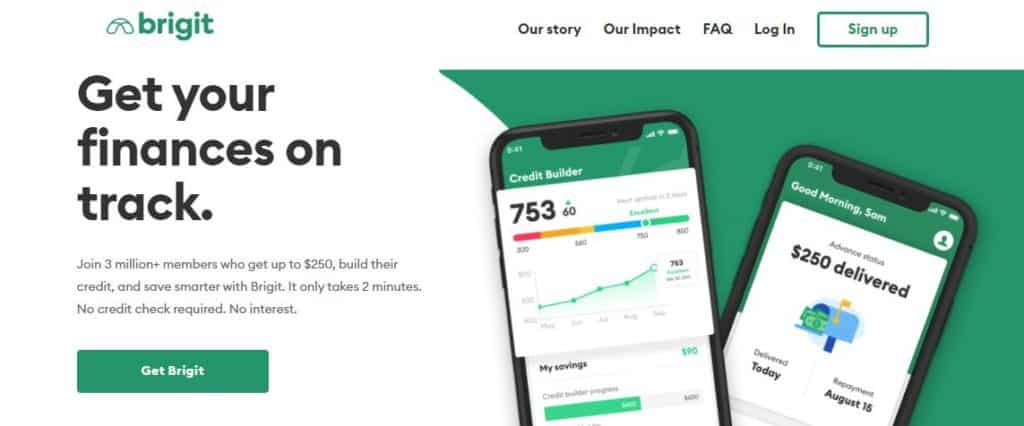 Established in 2019, Brigit is a fast-growing company that offers cash advances to eligible individuals. On Brigit's BBB page (here), it has a B rating with 1.57/5 stars and 8 customer reviews. However, the app has 4.5/5 on Google Play with 52,000+ reviews. It also has 4.8/5 on the Apple App Store with 140,000+ reviews.
Pros
Up to $250 in cash advance (funds available within 1 business day)
No credit check or interest
Option to extend the due date on the first loan once without penalty (with up to 3 delayed payments with good borrowing history)
Optional automated advances as part of the Brigit Plus plan ($10 monthly fee)
Flexible repayment, instant deposit, credit monitoring and identity theft insurance through the Brigit Plus plan
Free financial resources (ex. tips and ways to earn more cash)
Cons
App automatically withdraws the money owed from the next paycheck
Must show proof of income with 3+ direct deposits in a row from an employer
Active checking account required with a positive balance
Must achieve 70/100 on Brigit's unique scoring system to qualify for cash advance
May be difficult to deactivate or close the account
---
Best for improving your financial weak spots: Dave


With over a million active members, the Dave app offers a highly reputable online checking account that also offers cash advances. It is BBB-accredited (check it out here) with a B rating. It only has 1.27/5 stars out of 218 customer reviews on BBB. However, it has 4.8/5 on the Apple App Store with 490,000+ reviews and a similar score on Google Play.
Pros
Up to $200 cash advance to avoid account overdraft
No credit check
No interest
Automatic budgeting based on average expenses
Free (optional) subscription to LevelCredit, which reports payments and financial activity to the credit bureaus to help build credit
No minimum account balance required
Charity-focused company that makes monthly donations
Average users save around $500 in yearly fees
Free budgeting tools and other resources
Cons
$1 monthly membership fee (plus optional tips)
Automatic withdrawal to repay the cash advance
Credit-building option only available to those with direct deposits and a Dave Spending Account
Some concerns related to billing and product issues, though this is common among all cash advance apps
---
Best for paying as little as possible to borrow: Earnin


A highly reputable lender with largely positive reviews, Earnin has been in business for the past 7 years. It has around 1.3 million active users. On BBB (page found here), Earnin is accredited with an A rating and 4.06/5 stars.
Pros
Maximum $100 a day or $500 per pay period cash advance
No credit score required
Interest-free cash advance
No hidden fees
Customer-first approach
Can get up to 10% cashback by linking a valid credit card (at participating locations)
Operated through FDIC-insured institution
Alerts for low account balance with the option for automatic $100 cash advance to avoid overdraft fees
Cons
Must get paid regularly (monthly or biweekly)
Despite high ratings, some customers experience problems with the app and billing
Automatically withdraws the balance owed (plus optional tips) from the next paycheck
---
Best for multiple financial products: MoneyLion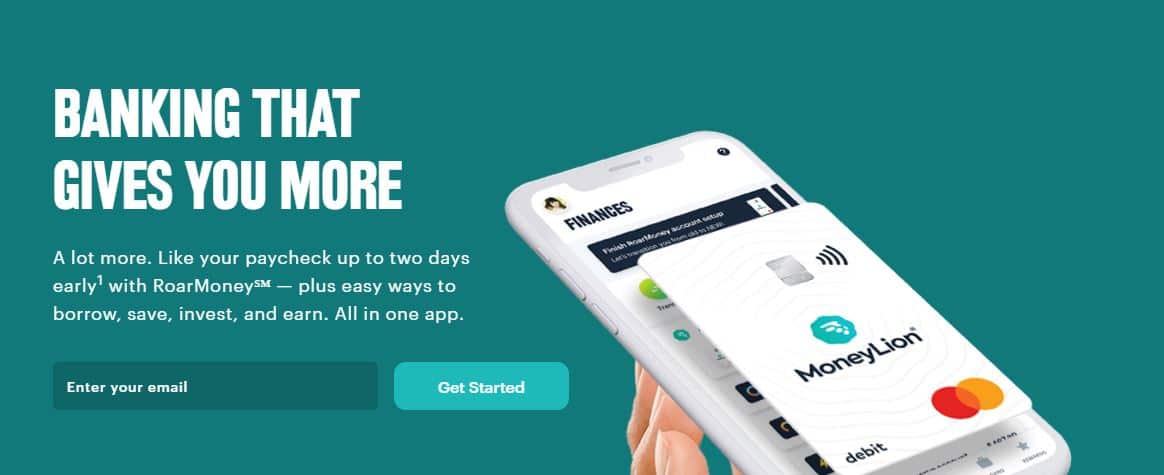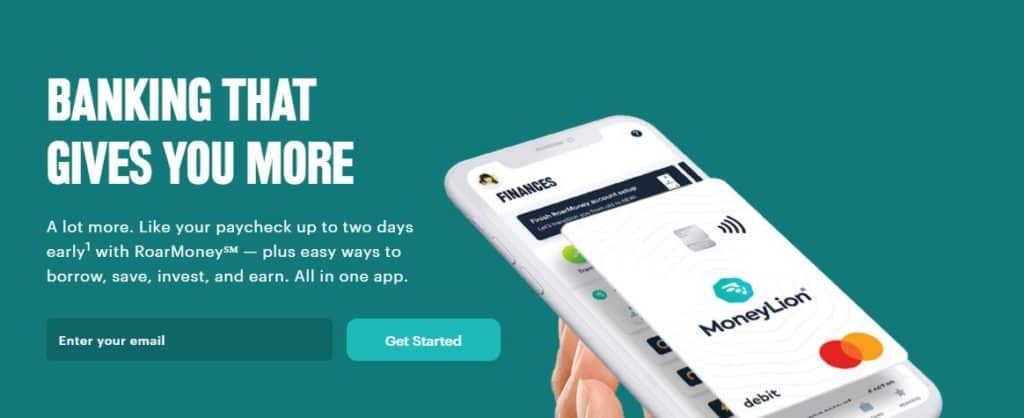 MoneyLion is an online banking service that offers savings accounts, investment accounts and cash advances. It has a B- rating on its BBB page (found here) and is not accredited. On BBB, it has 4.69/5 stars with over 2,400 customer reviews.
Pros
More than a cash advance app with the RoarMoney account, a savings account and an ETF (exchange-traded funds) investment account
$250 borrowing limit with instant access to funds through its Instacash feature
No credit check
No interest
24/7 Instacash feature for cash advances
Access to paycheck up to 24 hours early via RoarMoney account
No account minimum balance
Option to build investment portfolio based on individual risk tolerance
Cashback rewards through RoarMoney account
Optional Credit Builder Plus account for those who need a loan up to $1,000 and want to build credit
Cons
$1 monthly administrative fee for the RoarMoney account
$1 monthly fee for the ETF account
5.99% to 29.99% APR on Credit Builder Plus account
Credit Build Plus account costs $19.99 a month
Some recent complaints involving payment issues and poor customer service
---
Best if you also need extra money management help: Empower


Empower is more than a cash advance app. It is a growing fintech company that offers automatic savings and budgeting tools, as well as access to a large network of ATMs. Its website promises that "The Empower Card is the only card you'll ever need."
Pros
Cash advances of up to $250 with no interest
Collect your wages up to two days faster (this is separate from the cash advance feature)
Empower Perks let you earn up to 10% cash back on places where you already spend money and items you already buy
Get unlimited access to more than 37,000 MoneyPass ATMs across the United States
You'll pay no overdraft fees or insufficient funds fees, and there are no account minimums
Automatic Savings feature keeps track of your income and expenses, then — using that information — will transfer money into your AutoSave account.
Cons
The monthly fee of $8 is more expensive than some of the other options
There's no way to deposit cash or checks into your Empower account
It's a mobile app only; there is no desktop version
---
Best for taking out a large cash advance: Possible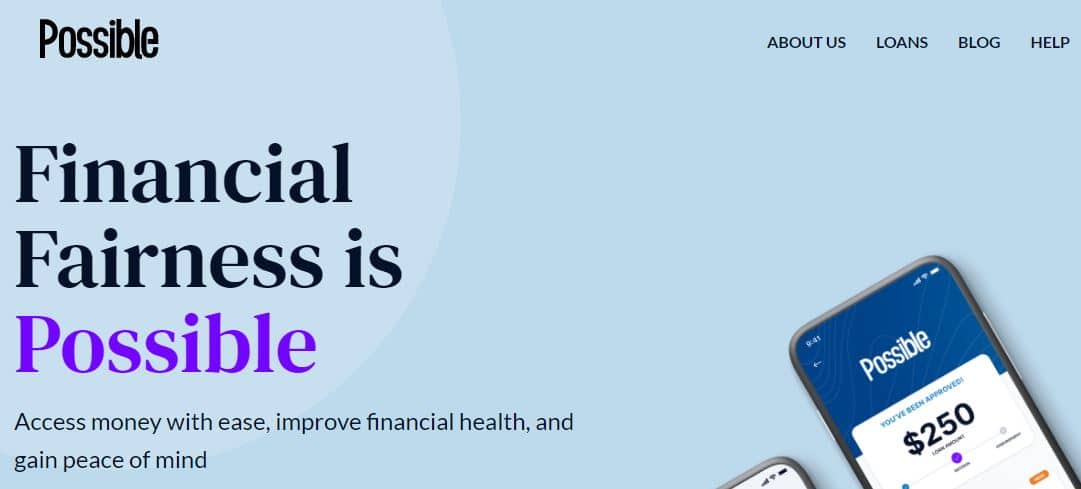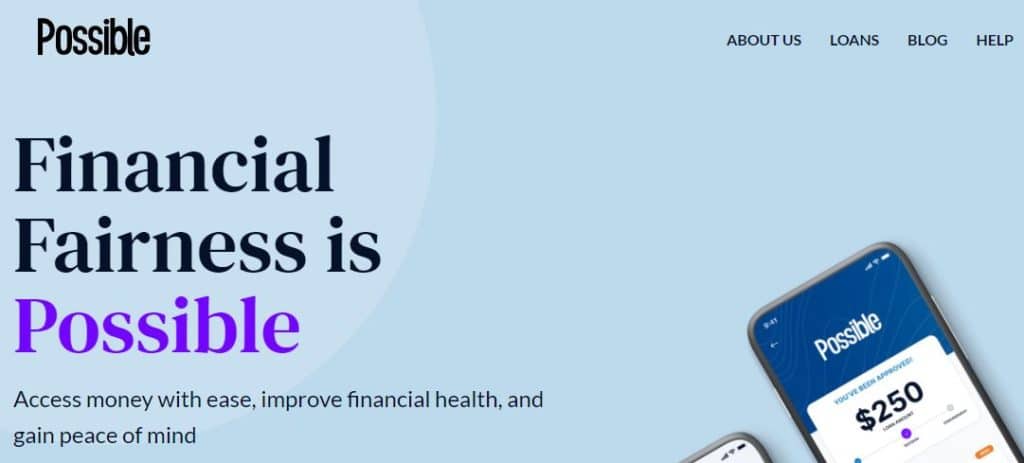 Possible is an app that primarily offers short-term installment loans to consumers. It is BBB-accredited with an A- rating and 4.53/5 stars. Check out the reviews here.
Pros
Loan amounts are larger than average: They'll advance up to $500 within minutes (minimum $50)
No credit score required
It may be used to rebuild credit
Avoid overdraft fees
Flexible repayment terms with optional delayed payment
Cons
Only available in 15 states
App links to a checking account
Loan terms vary based on state
Installment loan with higher interest rates (up to 257.00% APR)
Cash advance amount varies by state and may be smaller depending on where you live
---
Best for fast access to your paycheck: Varo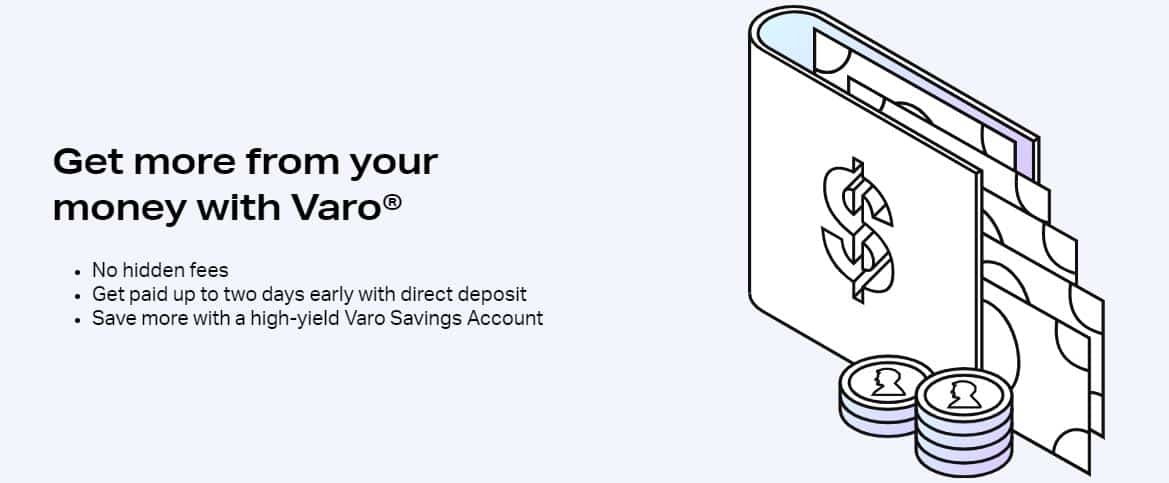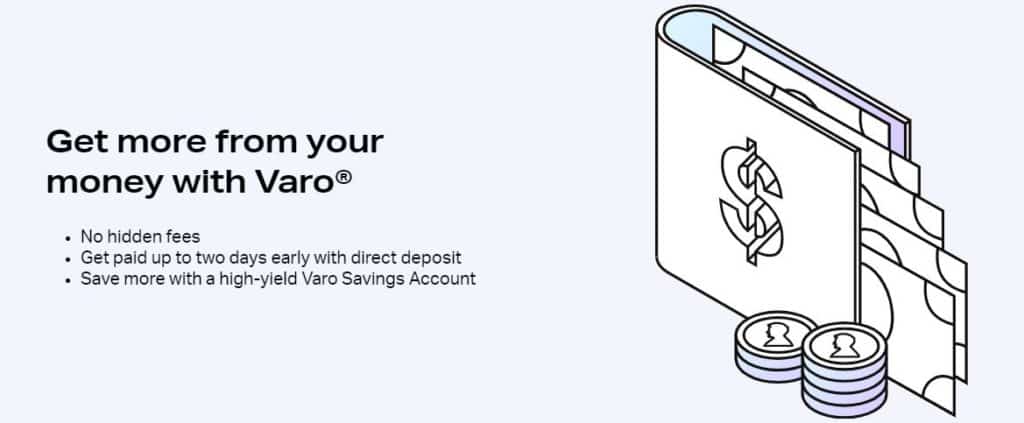 Varo is a full-service online bank known for granting users early access to their paycheck. It also offers cash advances. It is BBB-accredited with an A+ rating and 3.92/5 stars out of 377 customer reviews. Check out Varo's official BBB page here.
Pros
Up to $100 in cash advance (minimum $20)
Complete online banking service
With direct deposit, you can access your paycheck as soon as your employer transfers the money over (up to 2 days earlier than anyone else)
No interest or hidden fees
No credit check required
No minimum Varo bank account balance
Early access to tax refund through direct deposit
Cons
Small cash advance limit
Some complaints with using the service
Must have an active bank account at least 1 month old with at least $1,000 in monthly direct deposits
---
Best for flexibility: Chime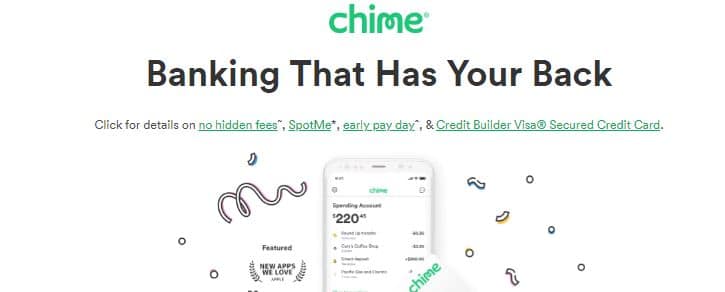 Chime is a fast-growing fintech company with overwhelmingly positive reviews on Google Play or Apple's App Stores. On BBB, it has a B rating and is not accredited. Check out Chime's full BBB page here.
Pros
Up to $200 cash advance (interest-free)
Same-day access to funds via direct deposit
No credit or bad credit is OK
Full-service bank account for things like cash advance and online bill pay
No overdraft, monthly or other hidden fees
Provides banking alerts to let you know when you get paid
Optional to set up automatic savings for a portion of each paycheck
Works in conjunction with other apps while you build financial/credit history
24/7 customer support
Cons
Low initial cash advance of $20 (increases over time with good money habits)
Many recent complaints from customers not receiving funds or accounts being closed without a clear reason
---
Best loan app that requires your employer to sign up: Even Instapay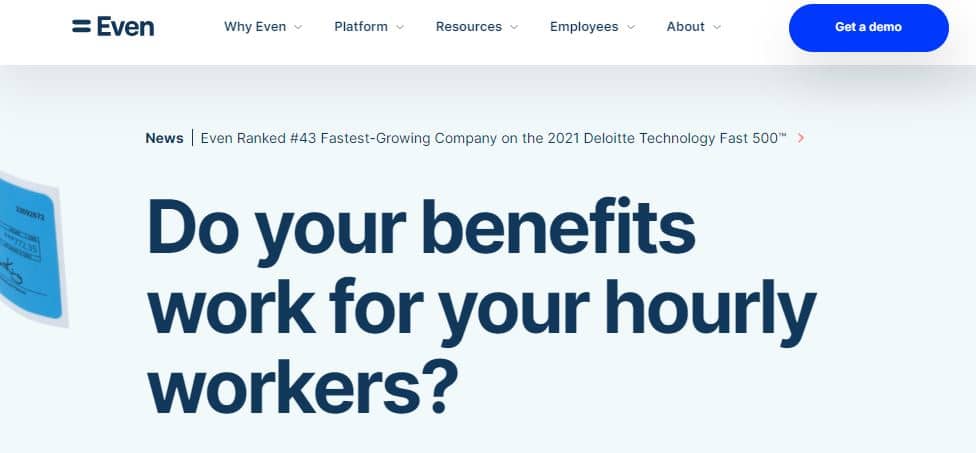 Created by Walmart in response to the COVID-19 pandemic, Even is more than just a cash advance app. It's also a financial planning tool designed to help users budget and save money. The app works by getting payroll information from a qualifying employer to then provide a small cash advance.
Even is BBB-accredited (check out the BBB page here) with an A+ rating. However, there are no customer reviews on the site. On the Apple App Store, Even has 4.9/5 stars. It has 4.8/5 stars on Google Play.
Pros
Instapay, a feature of the Even app, gives immediate access to money that's been earned but not yet paid
Maximum 50% of earned wages available
No interest on cash advance
Funds are available for pick up at any US Walmart or via direct deposit within 1 business day
May get an advance with a joint bank account
Easy online application
Free online financial tools to help track money, spending habits and set up a budget
Option to automatically set aside money for savings
Cons:
$8 a month Even Plus membership fee to qualify for an Instapay cash advance
Instapay only offered through an eligible employer
Active bank account and debit card access required
Must have a regular source of income with direct deposit
Variable loan terms
Vague on which employers are eligible
---
Runner up: DailyPay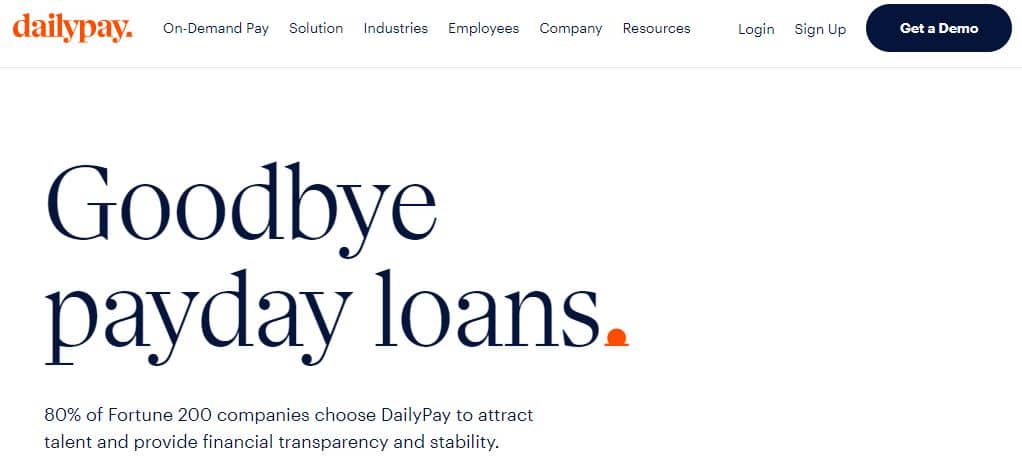 With DailyPay, employees build a balance with each hour of work they complete. They can then dip into that balance before payday.
Pros
You can access your pay from Day 1, and have it sent to any account instantly or on the next business day.
No late fees, overdraft fees or payday loan interest and fees.
You can transfer money at any time
Other financial tools and services are available
Cons
If your employer doesn't participate, you can't use the service
It's free to sign up, but you pay $1.25 every time you transfer money
What is a cash advance app?
Due to the advent of fintech (financial technology), people no longer have to rely solely on a trip to the bank branch or storefront lender for a loan. Now, mobile banking allows many companies to offer financial services and products online.
Cash advance apps, also sometimes known as payday advance apps, are one of the most popular digital financial services out there. These apps provide almost instant cash, giving the user access to money they've already earned but haven't yet received from their upcoming paycheck. For people who need to pay a bill before payday or have a financial emergency, a cash advance app could be a good option.
Most cash advance apps are free to use, though some charge a small membership or monthly fee. Unlike many lenders, very few cash advance apps charge interest or loan origination fees. Even those apps that do charge a small fee are usually much more affordable than other short-term loan options.
That doesn't mean they're a long-term solution, however. Even a hundred dollars can add up over time, especially if you regularly take out an advance from your paycheck and don't have a good way to pay it back.
Also, keep in mind that some companies claim to offer cash advances, but they operate more like payday lenders with sky-high fees and unreasonable loan terms.
Unlike many other short-term lenders, the cash advance apps we're recommending are highly reputable and legitimate.
How do cash advance apps work?
Cash advance apps give borrowers paycheck advances, or early access to money they've earned but haven't received yet. They are particularly useful for those who may otherwise miss a payment on a bill or end up with a late fee or overdraft fee.
Most cash advance apps have a borrowing limit that falls somewhere between $100 and $500. People who need extra cash early can request an advance on their paycheck (usually interest-free), but they must pay it back on their next payday. Some apps will automatically withdraw the funds from the borrower's account when the time comes.
Since cash advance apps rarely charge interest or come with other fees, many people consider them a better alternative to other short-term funding options like payday loans.
How quickly can I get my cash advance?
After you find a cash advance app you like, the first thing you need to do is set up an account. This usually involves a simple online application that requires basic information such as:
Identification (name, SSN, date of birth, etc.)
Contact information (address, phone, email)
place of employment and/or employer
Banking information
Most issuers' applications only take a few minutes to complete and an additional 1 or 2 business days to approve. Once approved, you can request a cash advance. Since these apps are designed with speed in mind, it can take anywhere from a few minutes to a couple of business days to receive the funds. Some apps charge a small fee for instant access.
Do cash advance apps work with Cash App?
Cash App is a financial app that instantly transfers money into and out of your account. Unfortunately, most cash advance apps will not be compatible with Cash App because proof of a steady paycheck and direct deposit are required.
There are a few workarounds:
Dave: Sign up for Dave and open a Dave Spending account. This will allow you to add your Dave debit card as a Cash App payment method, and you will then be able to transfer money back and forth between Cash App and your Dave account.
MoneyLion: If you sign up for RoarMoney, you can link a MoneyLion debit card to Cash App for transfers.
Chime Spot Me: If you have a Chime account, you can add your Chime debit card or Chime bank account to Cash App as a payment method. Chime Spot Me will advance you up to $200.
Albert: You can add your Albert debit card to Cash App and transfer funds as needed. You can also use the instant deposit to transfer Cash App funds to your Albert account. Note that this will not work in the Albert App.
What to look for in a cash advance app
Although most cash advance apps operate under the same kind of idea, not all are created equal. Here's what to look for when deciding on which cash advance app to use:
Borrowing limits: Most apps have a borrowing limit between $100 and $500. Some apps have a lower starting limit that can increase with time and use. Check the requirements to see how much you can borrow.
Turnaround time: Depending on the app, you could receive the cash advance within minutes of requesting it. Or it could take a couple of business days to come through. Some apps have a premium option for instant funding, but this usually includes a small fee.
Fees: For the most part, cash advance apps are free to use. They also don't usually charge interest since they aren't a real loan. Some apps do have a feature for an optional tip (usually a few dollars) to help keep them running. Other apps, and those with premium features, may charge anywhere from $1 to $10 a month.
Requirements: Most apps have minimal eligibility requirements. Common requirements include a minimum credit score, direct deposit from a regular employer and an active bank account. Most apps require users to be 16+ years old and a US citizen.
Other features: Many apps offer online financial resources and tools to help users with budgeting, saving and spending. Some apps operate more like a traditional bank with a checking and savings account. A few apps offer an investment account and ways to build a diverse portfolio.
Reviews: If a cash advance app sounds too good to be true, chances are it is. Check out online reviews at sites like BBB.org, Google Play Store and the Apple App Store to see what users are saying.
Should you use a cash advance app?
If you occasionally find yourself strapped for cash at the end of the month, a cash advance app could help you get through until your next paycheck. After all, cash advances are primarily meant for paying small bills that are due before you get paid.
But if you regularly struggle to keep up with payments, a cash advance app is not a viable solution. These apps are designed to provide immediate relief to a small, short-term financial problem. They are not meant for ongoing use.
Instead of relying on cash advances, try to get a handle on your budget and spending habits. If you're often short on money just before your next paycheck, you may need to adjust your budget or consult a financial advisor to help turn things around.
There are also other options out there. Look into starting a side hustle or ask friends or family for a loan if you need to.
Cash advance apps vs. payday loans
Payday loans and cash advance apps are similar in a couple of big ways.
Both are short-term options designed to help you cover small bills or an emergency expense quickly.
Both have small borrowing limits, though payday loans sometimes have a higher limit at $1,000.
Payday loans and cash advances must be repaid in a lump sum with the next paycheck.
Unlike cash advances, payday loans come with high interest rates that are often in the triple digits. They also usually have lender fees, late payment fees and other hidden costs. For many people, a $300 payday loan can easily become a couple of thousand dollars by the end. Since most people can't afford to pay back the loan as scheduled, they end up in a debt trap. In fact, more than 90% of borrowers regret taking out their payday loan.
It is still possible to end up in a vicious cycle of debt with a cash advance, or with any other short-term financial option. However, cash advance apps are usually more customer-friendly and do not have the same predatory lending practices as payday loans.
Still, it's important to know what you're getting to before you take out a cash advance or loan. The more prepared you are, the less likely you are to fall into a debt trap.
For more information on some other payday loan alternatives, watch this video:
Long-term risks of cash advance apps
Cash advance apps have minimal risks in the short-term or with one-time or occasional use. However, relying on these apps over and over again comes with some serious financial risks.
For one thing, even the small fees that come with some cash advance apps can add up. A dollar or two may not seem like much at first, but if you're already struggling to keep up with your monthly bills, every little bit counts. The more you spend on things like instant funds, administrative fees or even tips, the less you have for your next paycheck.
For example, say you borrow $150 from your paycheck to help cover the following month's electricity bill. When you get paid again, the app deducts that $150 (plus any tips) from your paycheck. This deduction could make it difficult for you to pay for upcoming bills or groceries.
More borrowing options
Payday alternative loans
Payday Alternative Loans (PALs) are given out through federal credit unions instead of predatory payday lenders, making them much more affordable. Their purpose serves the same need: to loan small amounts of money to borrowers who need cash between paychecks. Unlike payday loans that must be paid in full by your next payday, PALs are installment loans where you'll have a payment plan, and interest rates are capped at 28%.
Peer-to-peer loans
Peer-to-peer lending is another form of personal loan, but in this case, individuals are loaning money to borrowers directly rather than through a bank or credit union. Borrowers go to the lending website, fill out an application, and are assigned a risk category dependent on their financial profile. Investors offer loan terms and interest rates that the borrower can accept or reject. If the offer is accepted, the money is transferred through the website.
Personal loans
Personal loans are flexible unsecured (no collateral) loans that can be relatively affordable when you need cash for general expenses. While it can be difficult to qualify for one with a low credit score, it's still possible.
Personal loans are usually issued for amounts between $500 and $100,000, with interest from 3% to 36% APR. The repayment periods are roughly two to five years.
The bottom line
Ultimately, if you find yourself relying heavily on short-term personal finance options like cash advances, you may need to step back and look at the bigger picture. If you only need them every now and then, a cash advance shouldn't come with major risks.
FAQs
What happens if you don't repay a cash advance app?
Failure to pay back a cash advance app may get you banned from using the service. However, though the app doesn't charge fees, it will continue trying to withdraw money from your bank account, which could rack up overdraft fees.
Will a cash advance app look at my credit score?
Many cash advance apps don't check your credit or FICO score to evaluate creditworthiness.
Instead, the app links to your bank account, where it can track your financial history. It will examine your direct deposit payments, monthly expenses and spending habits to determine eligibility.
What if a payday advance app doesn't lend me enough?
Unfortunately, the loan amounts offered by cash advance apps are very small. If you need to borrow more than the maximum amount, you'll need to apply for personal loans or try a credit card cash advance.
What's the difference between a cash advance app and a payday loan?
A cash advance is a short-term cash loan you take out through your credit card. A payday loan is a short-term loan that typically comes with just a few application requirements and a quick turnaround time.
What if a payday advance app won't lend me enough?
Unfortunately, these cash advance apps only offer small-dollar loans. If you need more than the maximum amount offered, you'll need to apply for personal loans or try a credit card cash advance.
Will using a cash advance app help or hurt my credit score?
Like any use of your credit cards, a cash advance can affect your credit score, especially if you aren't careful about how much money you obtain and when you pay it back.
What is Instacash?
Instacash is a short-term cash float from MoneyLion. You can get up to $250 instantly to cover an unexpected expense or to use for a fun opportunity at 0% interest. Traditional payday advance loans often charge ludicrously high interest rates that can go as high as 790% per year in some states.