Disclaimer: Some or all of the products featured in this article are from our partners who compensate us. This may influence which products we write about and where and how the product appears on a page. However, this does not influence our evaluations. All opinions are our own.
Dave is one of the most popular cash advance apps, but other popular alternatives have different benefits. Follow along for 12 other online banking options that will give you the cash you need to get to payday.
If you already know the pros and cons of using Dave and are looking for the best apps, click here to go straight to the best alternatives.
Our #1 Pick: Albert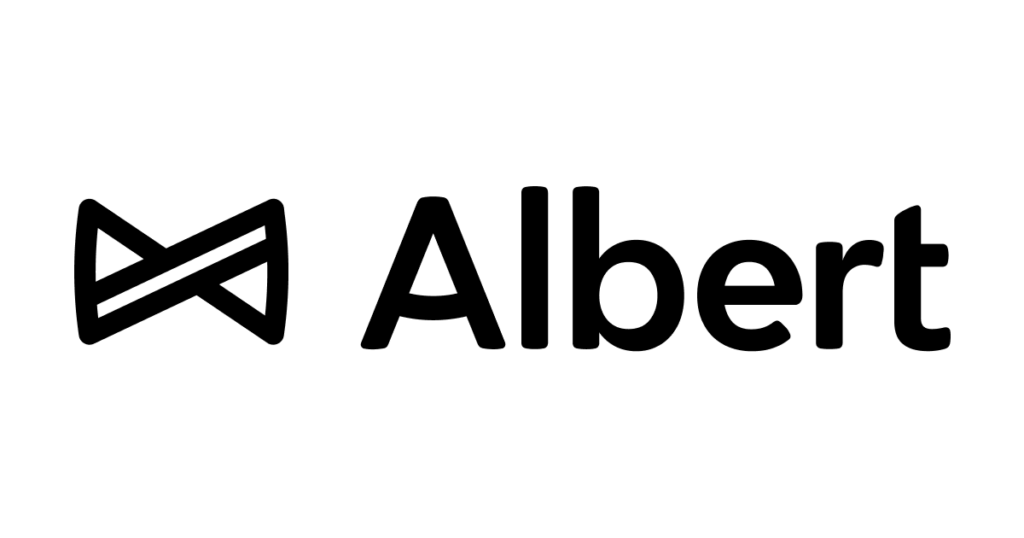 New customers can get up to $150 Free
No cost to borrow – they make money from tips
Real human support to help you out
Pros and cons of using the Dave app
Dave is one of the most popular financial apps currently on the market. It offers cash advances up to $75 to $100 for people to help them prevent their bank accounts from over-drafting while they are waiting for their next paycheck. The company also offers a checking account to people who might have trouble getting (or do not want to use) traditional bank accounts.
Pros: Dave's biggest pro is that it learns your spending habits. That sounds a bit invasive, but the information it learns is used to help you keep better track of your money. It does this by letting you know if your account gets below a certain amount and if you have an automatic payment coming up but don't currently have enough in your account to cover it.
Dave also offers Dave Banking, a cash management account that's similar to an online checking account. If you choose to use Dave Banking, you'll get a Visa debit card and access to a network of fee-free ATMs. There's no minimum deposit requirement to open a Dave Banking account.
Other pros include:
No interest charges
Easy qualification terms
Dave doesn't charge late fees
No credit check
Much cheaper than dealing with an overdraft fee
Cons: The biggest drawback to using Dave is the same as its biggest benefit: it requires access to your bank account and tracks your spending habits. Not everybody loves sharing that information.
Other cons include:
Monthly membership fee (it's only $1, but every bit counts)
Only offers small loans ($100)
Automatically withdraws payments for both advances and monthly fees from your bank account
Here are a few of the top apps like Dave
Dave is a popular option for cash advances, but it's not the only cash advance app out there. Far from it! Other apps offer similar services. Here are some of the most trustworthy cash advance apps currently in operation:


Albert
Banking and financial advice are Albert's primary services, and the app also offers small cash advances and budget tracking. Albert users who set up an account with direct deposit can access their paycheck up to two days early.
Albert's most noteworthy feature is that it currently offers a sign-up bonus of $150. When you're looking for a paycheck advance, that kind of bonus can make a huge difference in your financial situation. To be eligible, new users must make a direct deposit of at least $500 within 45 days of signing up and every 30 days for 90 consecutive days. Users must also spend at least $200 on qualifying goods and services with their Albert debit card every 30 days during the same 90-day period.
What sets Albert apart is that it doesn't rely on an AI bot for financial advice. Albert allows users to connect to actual humans (or "Geniuses") for answers to their questions.
You could qualify for up to $250 in advanced funds depending on your banking history.
Cash advance specs:
Credit check: No
Minimum credit score: N/A
Maximum advance: Albert will advance up to $250 from your next paycheck straight to your bank account. The transfer is free if you can wait 2-3 days to get your money. There is a small fee ($6.99) for an instant transfer.
Other Albert offers:
Checking account: Yes
Debit/ATM card? Yes, Genius subscribers can withdraw cash fee-free at 55,000+ ATMs.
Credit builder loans? No
Overdraft/Returned Payment fees: None. Albert doesn't charge fees, though you could incur a fee through your bank. In addition, Albert will reimburse you for overdraft fees incurred due to automatic withdrawals or payments initiated by Albert. You can receive up to two reimbursements.
Installment or Personal Loans? No
Cashback/Other incentives? In addition to Albert's sign-up bonus, Genius subscribers get cash back on gas️, groceries, delivery, and more when they use their Albert debit card. Subscribers can earn an average of $2.00 per tank of gas and $1.50 per fast food order.
---


Empower Cash Advance
Like the apps mentioned so far, Empower acts more like a bank/money manager than a lender. If you want help managing your money, Empower connects to all your existing accounts and helps you track your spending and savings from a single location. If you're interested in the cash advance, you'll need to open an account. Here's the important stuff:
Empower Cash Advance specs:
Credit check: No
Minimum credit score: N/A
Maximum advance: up to $250.
Other Empower offers:
Checking account?: Yes
Debit/ATM card? Yes
Credit builder loan: No
Overdraft/Returned Payment fees: No
Other perks: Cashback (up to 10%), budgeting tools, etc.
---


Brigit
Brigit offers users various products and tools to help them stay on track financially. It also offers help with building credit, budgeting and even finding part-time or gig work for users who don't mind paying a monthly fee. Here's the important info:
Cash Advance specs:
Credit check: No
Minimum credit score: N/A
Maximum advance: up to $250, depending on your "Brigit Score."
Other Brigit offers:
Checking account?: No
Debit/ATM card? No
Credit builder loan: Yes
Overdraft/Returned Payment fees: No
---


Earnin
Earnin bills itself as the app that lets you "get access to money as soon as you earn it." The app lets you advance up to $100 per day and $500 per pay period. The app also offers a product called Balance Shield, which links to your bank account. With it, you choose a minimum account balance that you want to maintain. When you get close to that amount, the Earnin app will notify you and let you know how much you can advance to keep your account from over drafting.
Here's what else you need to know
Cash advance specs:
Credit check: No
Minimum credit score: N/A
Maximum advance: $100 per day, $500 per pay period
Other Earnin offers:
Checking account: Kind of? Earnin offers a savings account called "WeWin" that lets users "tip" themselves.
Debit/ATM card? No
Credit builder loans? No
Overdraft/Returned Payment fees: None
Installment or Personal Loans?: No
Cashback/Other incentives? "WeWin" members are entered for a chance to win money every time their account increases by $10.
---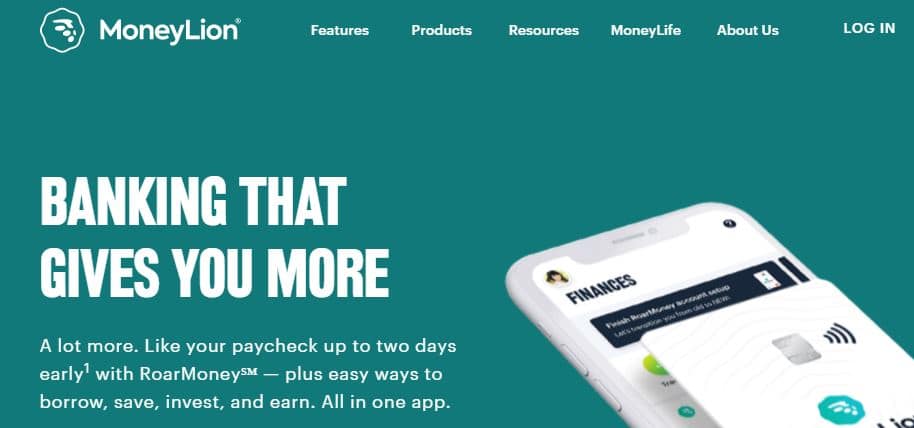 MoneyLion
In addition to a cash advance, which it calls "Instacash," MoneyLion offers a checking account, credit building, and much more. It offers so many options, it can feel overwhelming!
For its Instacash customers, the process is straightforward. Like Dave, you need to link your bank account directly to the app. You'll be approved for an advance if you have a steady income or qualifying deposits. New users are usually limited to $25 for their first advance. However, as they build a history with the app, they can increase their borrowing limit to $250.
Cash advance specs:
Credit check: No
Minimum credit score: N/A
Maximum advance: $25-$250, more if you have their "Roar!" checking account.
Other stuff MoneyLion offers:
Checking account?: Yes (the aforementioned "Roar!")
Debit/ATM card? Yes
Credit builder loans? Yes
Overdraft/Returned Payment fees: None
Installment or Personal Loans?: No
Cashback/Other incentives? It depends on the product
---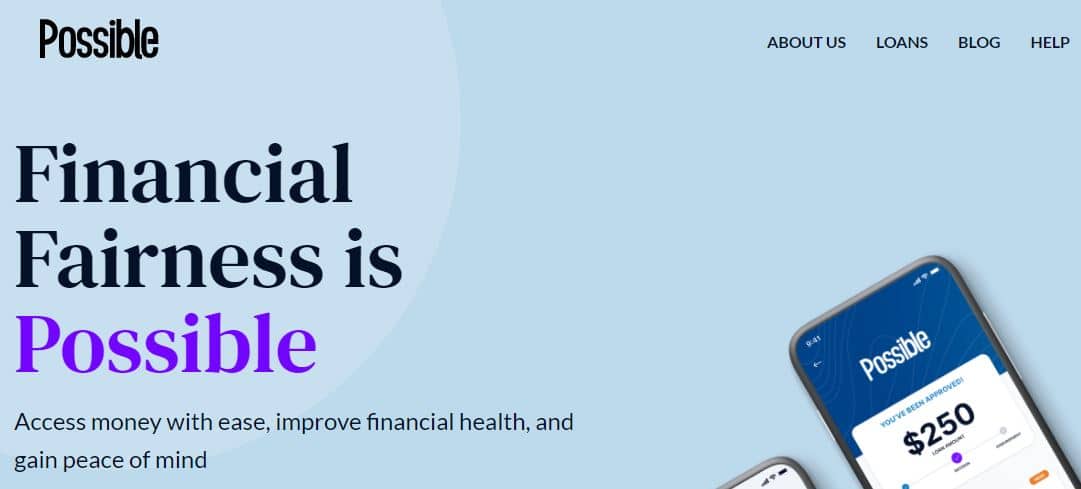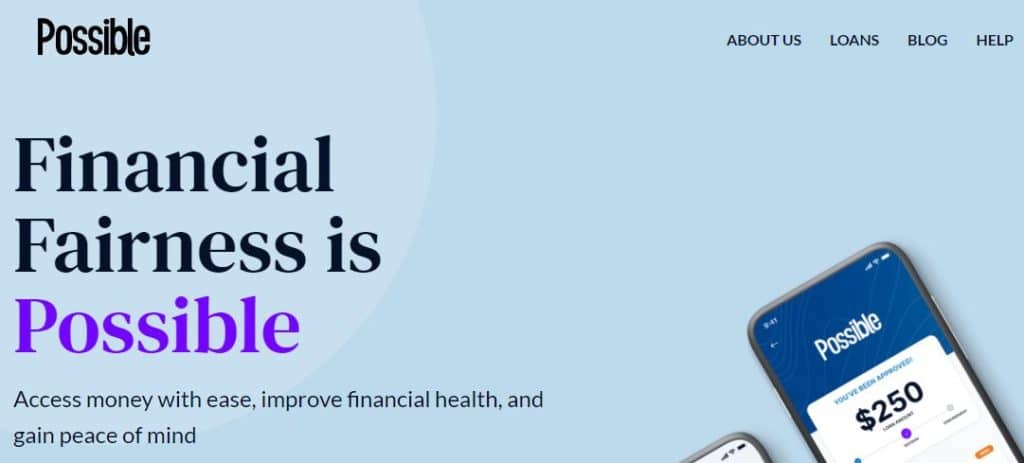 Possible
Possible Finance insists that it's a better alternative to payday and installment loans. This is true, but only barely. Like payday and installment loans, Possible loans are only offered in small amounts and the interest rates are very high.
First-time borrowers will only be approved for up to $500 and the interest rates are 150%-200%, depending on where you live, the amount you borrow, etc. This is much lower than you'd pay a payday lender but much higher than you would pay any of the other apps listed here.
---
Other popular online banking options
While there aren't cash advance apps, these three banking options offer some longer-term financial solutions.
Avant
Avant offers personal loans and credit cards and has an app. It can be a good option for debt consolidation. Here's what you need to know:
Personal Loan specs:
Credit check: Yes
Minimum credit score: 550
Maximum loan $2K-$35K depending on criteria
APR: 9.95%-35.95%
Other Avant offers:
Checking account?: Nope
Debit/ATM card? Nope
Credit builder loans? Not officially, but the personal loans can help you build credit.
Overdraft/Returned Payment fees: Varies by state. Here is where to look for your state's fee schedule
Other products: Credit card
---
Chime
Chime is a bank account that allows its users to access their paychecks a few days early—with qualifying direct deposits, of course. The company also has a product they call "Spot Me." "Spot Me" is a sort of overdraft protection that allows users to overdraft their accounts without facing any penalties. The amount a user is allowed to overdraft depends on various factors.
Chime also offers a savings account and a credit-building account.
Chime account specs:
Credit check: Yes
Minimum credit score: No. Chime doesn't run credit checks.
Maximum loan: Chime doesn't loan money directly, but a few cash advance apps work with Chime, including Dave and MoneyLion.
Other Chime offers:
Checking account?: Yes
Debit/ATM card? Yes, with a credit builder loan
Credit builder loans? Yes
Overdraft/Returned Payment fees: No
Ingo Money
Nobody wants to pay the fees charged by most check-cashing places. This is where Ingo Money can come in handy. The Ingo app lets you take a photo of the check and then deposit the check's amount wherever you want. You can deposit into PayPal, your bank account, a pre-paid card, etc.
If you're able to wait ten days, the deposit is free. If you need the money immediately, there is a fee. The fee is between $5 and 5% of the check. The amount you pay will depend upon the type of check you're cashing and its amount.
Employer-sponsored payday advance apps
Your employer may have already teamed up with a cash advance app service to help you manage your money. These are especially popular among employers of "on-demand" workers, like rideshare drivers, delivery drivers, etc.
Even Instapay
Even Instapay is an app that allows someone to access the money they have already earned at work, even before payday. Even works with employers to track employees' time and wages. Employees can log into their Instapay app to see how much money they have earned so far during that pay period. If the employee needs the money before payday, they simply request it. The employee doesn't have to pay taxes or fees on their advance. All of that is taken care of by the employer.
Unfortunately, right now, even Instapay is not available for individuals or the self-employed. It is only available through your employer. The other drawback: you'll have to pay the $8 Even Plus membership fee to qualify for an Instapay cash advance.
Branch
Like Even Instapay, Branch is a tool that employers can use to allow employees to access their wages as soon as they are earned. What makes Branch great is that it is also set up for people who employ gig workers and independent contractors.
In addition to on-demand payments, Branch also offers resources like tip and mileage trackers to help with reimbursements, off-cycle payments, etc.
Axos Bank Direct Deposit Express
Axos Bank has grown greatly in popularity over the last couple of years. This is probably because of its Direct Deposit Express. While not a cash advance app, Axos Bank's Direct Deposit Express helps you get your paycheck a couple of days earlier than you usually would. Usually, banks make you wait to access your funds until after your paycheck has cleared. Axos deposits the amount of your paycheck into your account as soon as they get notified of an incoming direct deposit. Then they just keep your deposit when it clears. Viola! Payday a few days early!
Other good options to check out (or to mention to your employer) are:
How do cash advance apps work?
A cash advance app, also called a payday advance app, is a mobile app that will send you money to help you cover your expenses while waiting for your next paycheck. When that next payday arrives, the app will automatically deduct the amount of your advance from your deposit.
These apps are available on iPhone (iOS) and Android smartphones. Many even have traditional websites you can use if you're not entirely sure you want to use your phone.
Cash advance apps allow users to access money that they know is coming but hasn't been deposited yet.
The user sets up an account on the app. This process usually involves some sort of identification verification. For example, you may be asked for the following:
Identification (name, SSN, date of birth, etc.)
Contact information (address, phone, email)
Place of employment and/or employer
Once you've verified your identity, you'll connect the app to your bank accounts. The app then scans those accounts for deposit activity and frequency. The amount a user can request will be determined by what the app finds during its scans.
Unlike payday loans, installment loans, or even (sometimes) paycheck advances offered by your bank, cash advance apps rarely charge fees for individual loans. Instead, they charge a monthly fee to use their service.
How quickly can I get my cash advance?
Once you have been approved for an advance, you can submit a request. These apps are designed with the "I need it now" customer in mind, so the money should arrive quickly. Some loans are approved and funds are sent within minutes. Others may take 1-2 business days. If you need the funds immediately and need to bypass a waiting period, some apps will allow you to do so for a small fee.
What to look for in a cash advance app like Dave
Obviously, not all cash advance apps are created equal. Like with any other financial product, you'll want to take some time to do your own research. Here are the details you should look for:
Borrowing limits
Typically, the borrowing limit is somewhere between $100-$500. Some apps, like Dave, will require users to start with much smaller advances (around $25) to prove they are worth the risk. Over time as you pay these advances back on time, your limit will likely increase.
Turnaround time
Some apps will have money in reserve and can send it to you within a few minutes. Others take longer to process requests, and it might take a day or two (or longer). Some will typically take 2-3 business days but allow you to bypass that time if you're willing to pay a rush fee.
Fees
Speaking of fees, most of these apps typically don't charge any interest or a flat amount to take out an advance. Instead, some of them will ask users to "tip" the app for use of its service. Others might ask for a monthly subscription fee to help them pay for operations. Monthly subscriptions are relatively low, most are somewhere between $1-$10 per month, depending on how many features you access.
Requirements
Eligibility is usually easy. Most of the time, users must be at least 16 years old and be a citizen of the United States. Minimum requirements are few. A few apps might require users to have a minimum credit score or a few direct deposits from the same employer to qualify for advances.
Other features
How many bells and whistles do you want or need? If you just need a simple app that will lend you $50 to keep your account in the black for a couple of days, an app like Chime or Dave is a good way to go. If you'd like something more robust with budgeting tools, investment and savings help, etc., apps like MoneyLion and Empower are good.
Reviews
Like most things in life: if it sounds too good to be true, it probably is. Always check out an app's reputation. Look up the founding company online to see how they make their money. Look for complaints with the BBB as well as in your app store. The app store reviews are especially helpful for finding out if an app is as easy to use as advertised.
Why are loan apps like Dave better than payday loans?
There are many reasons that cash advance apps are better than payday loans. Apps rarely charge any interest, let alone exorbitant interest. Their repayment terms are flexible. They are easier to access. You get the idea.
The biggest reason to choose an advance app over a payday lender, though, is this:
The people who make cash advance apps want you to succeed because your success is what will bring in more customers. They won't need to keep preying on the same users over and over again.
Payday loans are designed to keep you financially desperate, so you need more payday loans. This is what keeps them in business.
The bottom line
Even the best budgeter can find themselves in an "oops" situation toward the end of a pay period. This is what cash advance apps are made for: to help you bridge the gap between paychecks.
If, however, you find yourself regularly needing help to bridge that gap, or you're behind on your bills, a cash advance isn't going to offer a long-term solution.
Instead, use the other tools these apps offer you to help you focus on your budget and spending habits. If you're unsure where to start or feel like you need more help than these apps offer, you might need to talk with a financial adviser.
Professional advisers and non-profit credit counselors are great resources when you're in over your head and need help getting back on track.