What are the Leading Causes of Bankruptcy? Key U.S. Statistics
All You Need to Know in 2023
The United States seems to be finding light at the end of the tunnel when it comes to bankruptcy cases. The overall number of filings has drastically decreased over the past ten years. Still, many people continue struggling with their debts and are unable to pay them, which often leads to bankruptcy. After the inflation spike, 58% of Americans are living paycheck to paycheck.
In this article, we've gathered the latest United States bankruptcy statistics
you should know in 2023.
Since the number of bankruptcy filings is constantly changing, it's important to stay updated with the overall trends.
In the past decade, more than 750,000 Americans filed for bankruptcy each year.
More than 397,000 Americans filed for bankruptcy in 2021.
Currently in 2022, there are more than 88,000 bankruptcies in the United States.
97% of bankruptcies are filed by individuals.
Bankruptcy filings across the country are 25% lower than they were at this same time last year.
In 2022, commercial bankruptcies were up 34%
States with the highest and lowest number of bankruptcy filings
Alabama (3.13), Nevada (2.57), and Tennessee (2.40) are the states with the highest number of bankruptcies per capita (1000s). On the other hand, Alaska (0.31), Vermont (0.44), and Maine (0.48)  have the lowest number of bankruptcies per capita.
Certain states are more expensive to live in than others, which may be an indicator of the overall debt American citizens have. The latest data shows that California (39,505), Florida (30,685), and Illinois (20,343) are the states with the highest number of bankruptcy cases. 
On the other hand, Alaska (214), Vermont (271), and the District of Columbia (301) have the lowest number of bankruptcy cases. However, considering that the population varies from state to state, it is more accurate if we measure the bankruptcy filings per capita.
It's worth noting that no state had an increase in bankruptcy cases compared to the previous year. The District of Columbia (-51%), Massachusetts (-50%), and Mississippi (-50%) had the highest decrease in bankruptcy cases, whereas Wyoming (-7%), Delaware (-11%), and Nevada (-14%) had the lowest.
Main causes for bankruptcy
Medical debt is the leading cause of bankruptcy, generating 66.5% of all cases. However, a study found that there are also other major causes that contribute to American bankruptcies. According to the study, 78% cited income loss -- which also includes medical-related job loss -- as one of the reasons for bankruptcy.
Another factor that may typically lead to bankruptcy is an unsustainable mortgage or a foreclosure, with 45% of respondents citing this as a reason that contributed to their bankruptcy. 
Other reasons Americans go bankrupt are:
Medical bankruptcy statistics
The rise of health care costs and medical debts has been a major concern in the United States for many years, both for the nation as a whole and its citizens. For individuals, these soaring health care costs often lead to debt and, in the worst cases, bankruptcy.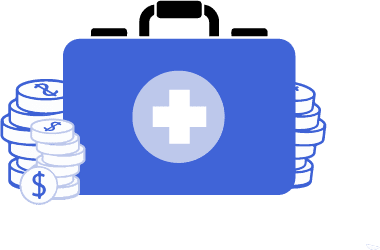 Medical debt is the number one cause of bankruptcies
A study conducted by the American Journal of Public Health shows that, without a doubt, medical debts caused by health conditions are the number one reason Americans go bankrupt, making for 66.5% of all bankruptcies. In addition, another similar study conducted by Harvard University found that no fewer than 72% of such cases involve people with health insurance.  
One in three Americans struggles to pay their medical debts
Currently, 20% of households -- or one in five families -- hold medical debt. In addition, the latest studies show that about 40% of American adults struggle to pay their medical bills. Unfortunately, the majority of them fail to escape their debts and file for bankruptcy.
Another troubling fact is that 30% of Americans who currently don't have medical debt say that they wouldn't be able to pay an unexpected $500 medical bill without borrowing money.
In 2022, more than 14% of Americans had an outstanding medical bill in collections, and the overall debt reached $140 billion. The latest 2022 data show that currently, collection agencies hold $88 billion in unpaid medical debt; however, the total amount is likely higher since consumer reporting companies don't supply the full information.
Cases filed under Chapter 11 are often referred to as "reorganization" bankruptcies. This means that the debtor remains "in possession" and may operate their business. With court approval, the debtor can even borrow new money.
Approximately 7,000 businesses file for Chapter 11 protection each year. Over the past decade, the number of Chapter 11 bankruptcies has drastically decreased.
Bankruptcies by education level
It's no surprise that there's a big difference in bankruptcy filings between demographic groups and households in the U.S. Marital status, age, and gender are key factors when it comes to bankruptcy filings. 
A study found that about 48% of bankruptcy filers are married, while the median age for bankruptcy filers is 49.
Moreover, bankruptcy filings also differ between different races
The same study found that 42% of bankruptcy filers had children under 18. The median age of the eldest child was 12.
Bankruptcies by household situation
Education level must also be taken into consideration when analyzing bankruptcy statistics.
Even though having a bachelor's degree improves your employment possibilities and earning potential, it won't necessarily save you from bankruptcy. A study found that about 20% of bankruptcy filers in 2020 held a bachelor's degree or higher. The reason behind the findings may be that those with a college education also have the additional financial burden of student loans.
College-educated Americans who didn't complete their bachelor's degree can also be exposed to a high risk of bankruptcy. In addition to the financial burden of student loans, they also have lower salaries than Americans with college degrees.
On the other hand, bankruptcy filers with a high school education top the list, with 36% of the total cases.
What can you do to avoid bankruptcy?
If you're facing a large debt, you may think that filing for bankruptcy is your only option. However, depending on your situation, you can save yourself by taking some precautions. Here are some ways you can avoid bankruptcy.