Do you need quick cash to cover a bill or buy groceries before payday? Before you apply for a bunch of credit cards or payday loans, take a breath. There are other options out there to help you cover the gap. One of the better options is a cash advance app. In this article, we'll be taking a look at one of these apps: SoLo Funds.
Our #1 Pick: Dave


Borrow up to $500 and spend it instantly
Get paid up to 2 days early
Earn up to 15% cash back
Disclaimer: Some or all of the products featured in this article are from our partners who compensate us. This may influence which products we write about and where and how the product appears on a page. However, this does not influence our evaluations. All opinions are our own.
If you already know the pros and cons of using Solo Funds and are looking for the best apps, click here to go straight to the best alternatives.
SoLo Funds review: How does it work?
SoLo Funds was founded in 2015 by Rodney Williams and Travis Holoway. They created the platform as a way for underserved communities to gain access to funding opportunities they previously lacked. They understood that not everybody has access to lending opportunities with traditional institutions. They also understood that not everybody has a friend or family member willing to float them during hard times. They wanted to create something to help fill that void.
SoLo Funds is a little different than your typical cash advance app. Instead of providing payday advances that you pay back with your next direct deposit, SoLo Funds is more like if peer-to-peer (P2P) lending and social media had a baby and is like a less casual version of Reddit's r/borrow lending subreddit, where you can ask fellow Redditors to loan you money. Here's how it works:
You download the mobile app — it's available for iPhone (ios) and Android — create an account, and create a post requesting your funds. Lenders will see your request and, hopefully, one of them will agree to loan you the money you need. You, then, accept their loan and pay it back on time and in full. Every time you borrow money and pay it back on time, your "SoLo Score" goes up. The higher your SoLo Score, the more money you are able to request (and the easier it will be to find individual investors who are willing to fund your loan request.)
What makes SoLo funds stand out?
What's different about SoLo Funds is the founders' goal of creating a community. Their hope is that, eventually, borrowers will choose to become lenders and pay forward the help they have gotten. It's certainly a nice idea, right?
In an interview with Fast Company last year, Travis Holoway said:
"If we can have individuals come here, take loans when they need them, pay them back on time, get access to more traditional financial tools and resources, and ultimately come back as a lender and pay that forward, that is the best life cycle of a user on our platform"
It's certainly a nice idea, right?
And it seems to be working. According to the AfroTech, 30% of the lenders on SoLo Funds were previous borrowers.
The company has also been recognized for its effort by B Lab. It was granted B Corp certification in December 2021.
So, is SoLo Funds really everything it promises to be? Let's take a look.
Pros and cons of using SoLo Funds
On the one hand, SoLo Funds seems pretty great:
Outside of needing a valid photo ID, there are no barriers to entry.
Borrowers don't have to submit background or credit checks.
Loans aren't based on credit or other typical factors.
Most loan requests are funded within a half hour or so.
Instead of interest or fees, borrowers have the option of "tipping" their lenders (more on this later). And, as long as the loan isn't sent to collections, it won't appear on your credit report.
On the other hand, there are some drawbacks to the SoLo system:
Borrowers do have to explain why they need the money and how the loan will be used. Not everybody feels comfortable sharing that information.
If borrowers fail to pay a loan back on time, their SoLo score goes down. This makes it more difficult to secure funding in the future.
The temptation to offer large tips to entice lenders is strong. Some borrowers end up paying more in tips for their loans than they would in fees to a traditional lender.
What is peer-to-peer lending?
Credit Karma defines peer-to-peer lending this way:
"Peer-to-peer lending, also known as P2P lending, is an online system where individual investors fund loans (or portions of loans) to individual borrowers. Also called marketplace lending, peer-to-peer lending is a growing alternative to traditional lending."
Basically, it is a system connecting people with money to people who need it. It leaves out the traditional banking and credit systems.
More peer-to-peer loan apps like SoLo Funds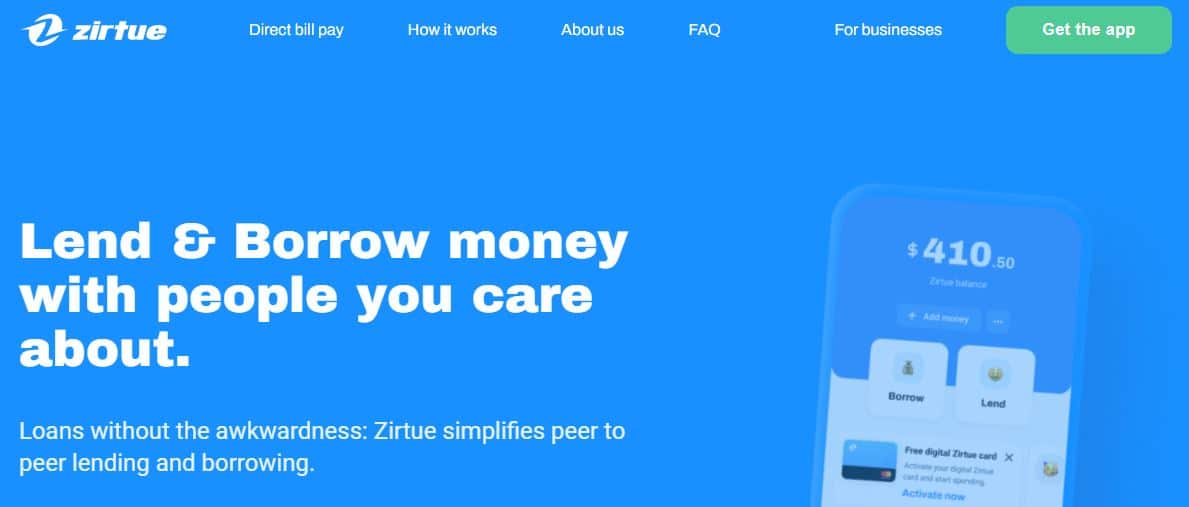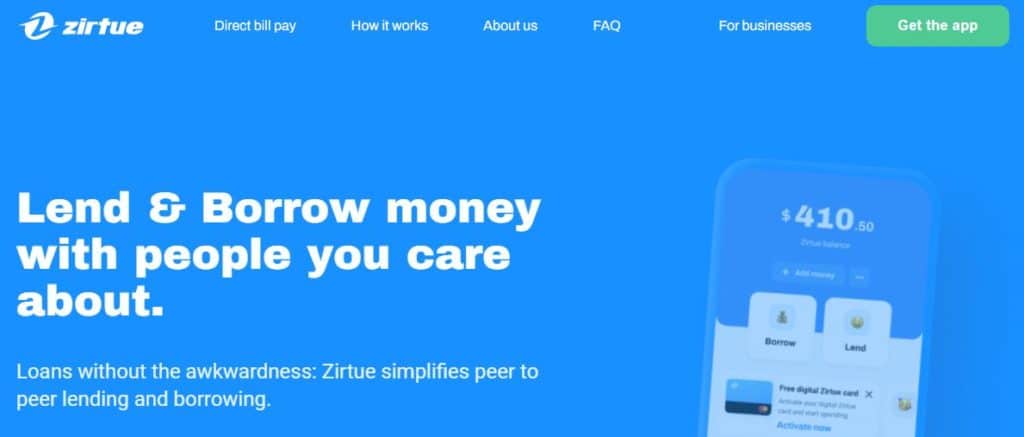 Zirtue
Like Solo Funds, Zirtue is the middleman, connecting borrowers and lenders. It also manages loan deposits and payment withdrawals.
Unlike SoLo Funds, Zirtue requires you to make loan requests directly to your lender. You also have to know your lender already.
---


LenMe
LenMe focuses more on connecting borrowers with investors. Unlike SoLo Funds, LenMe is more of a traditional loan facilitator. Borrowers must submit to credit checks. Their credit information is used to determine their interest rates and terms.
Want to know more about peer-to-peer lending? Here's a quick explanation:
What about cash advance apps?
A cash advance app is an app that you can use to bridge the gap until your next payday. You connect the app to your bank account. The app then uses your banking history to determine how much you qualify for, deposit your advance, and automatically withdraw your payments.
Here are a few of the best apps for cash advances
Cash advance apps have more in common with payday loans and installment loans than P2P lending. That said, they are a much better alternative to payday and installment loans. Cash advance apps have much better terms, fees and repayment schedules, and they're rapidly growing in popularity: 33% of Americans have now used at least one cash advance app. Here are some of the best to choose from: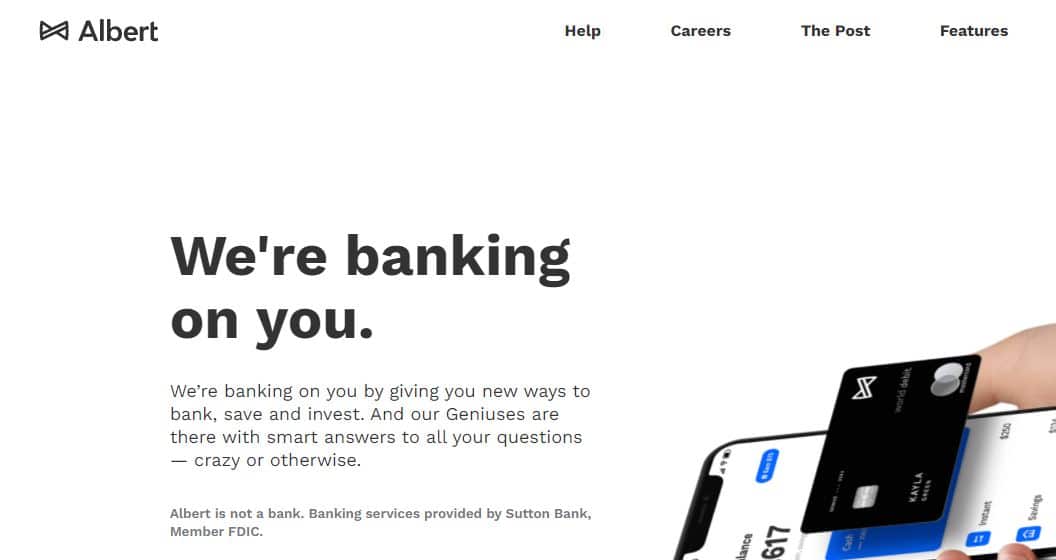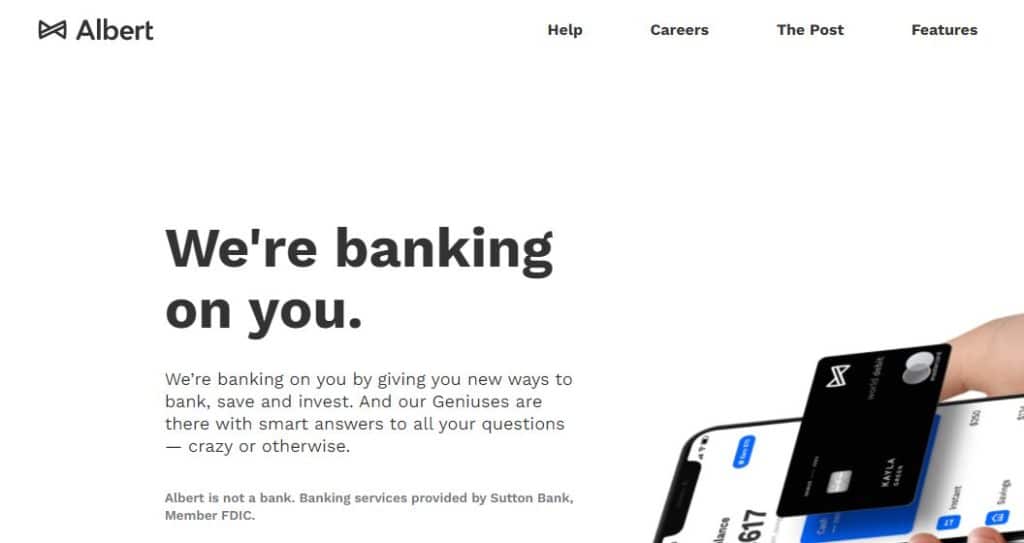 Albert
Albert isn't truly a cash advance app as much as it is a banking and personal finance app that also allows users to request paycheck advances a couple of days before their direct deposits land. The app offers a checking account, debit card, cashback bonuses and help with both saving and investing.
---


Brigit
Brigit is an all-in-one money management app that allows users to get up to $250 in cash advances — if they can prove that they can pay that back with their next deposit. The app also offers money management and credit-building tools. The basic service is free, and the premium service costs $9.99 per month.


Cleo
Cleo bills itself as "a money app that doesn't suck." They promise that they don't do credit checks and offer Cleo Plus and Cleo Builder users $100 to help them bridge the gap between payments and payday. They also offer credit building and budgeting services.
---


Dave
Dave is a banking and cash advance app. Users can get advances of up to $500, depending on their banking histories. The Dave app also offers other financial services, including budgeting and credit-building tools, and help to find side hustles. There is a small monthly fee of about $1 per month.
READ MORE: Apps Like Dave: Here are 12 More Cash Advance Options


Earnin
Earnin is a little different than other cash advance apps. Instead of basing your advance amount on your credit or banking history, Earnin allows you to "cash out" the money you've already earned. The app connects with your bank and your employer. You're allowed to get access to the money you've already made that pay period. Then, when your paycheck is deposited, the app automatically withdraws whatever you've already "cashed out."
Earnin also offers a service called "Balance Shield." Balance Shield monitors your bank accounts and lets you know when your balance gets low. It also gives users up to $100 to help cover expenses that might otherwise overdraft your account.
---

Empower Cash Advance
Empower is more of a credit-building app. However, it offers users a paycheck advance of up to $100 to cover unexpected expenses. Its main product, however, is a credit-building credit card. Users start out with a $200 credit line. That line increases over time, as long as users make their payments on time. Unlike other apps that encourage you to use them for banking, Empower connects to your existing accounts.
---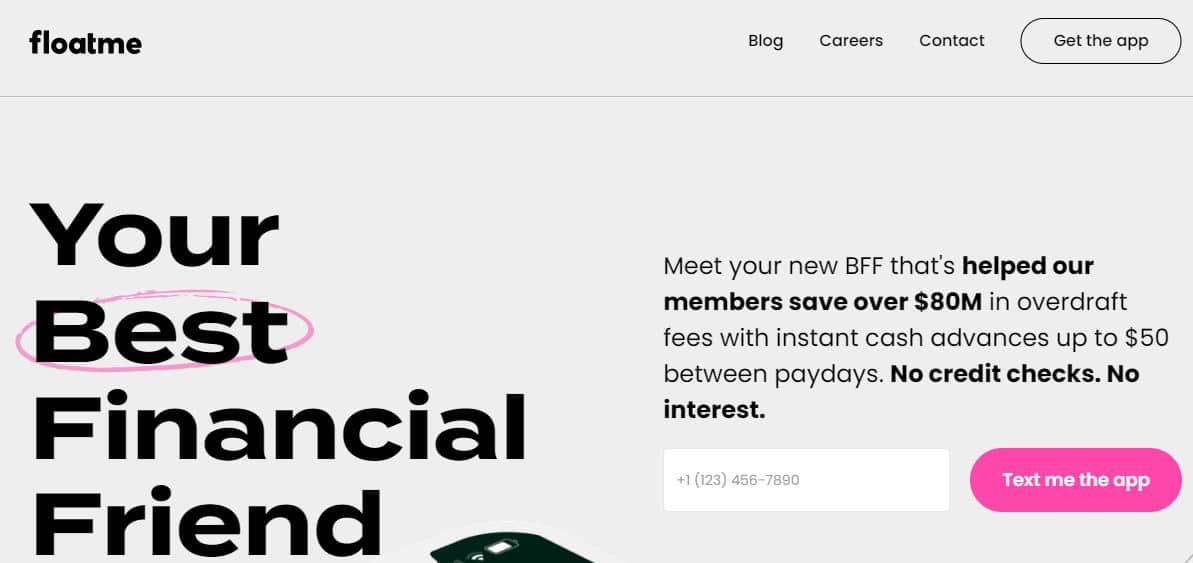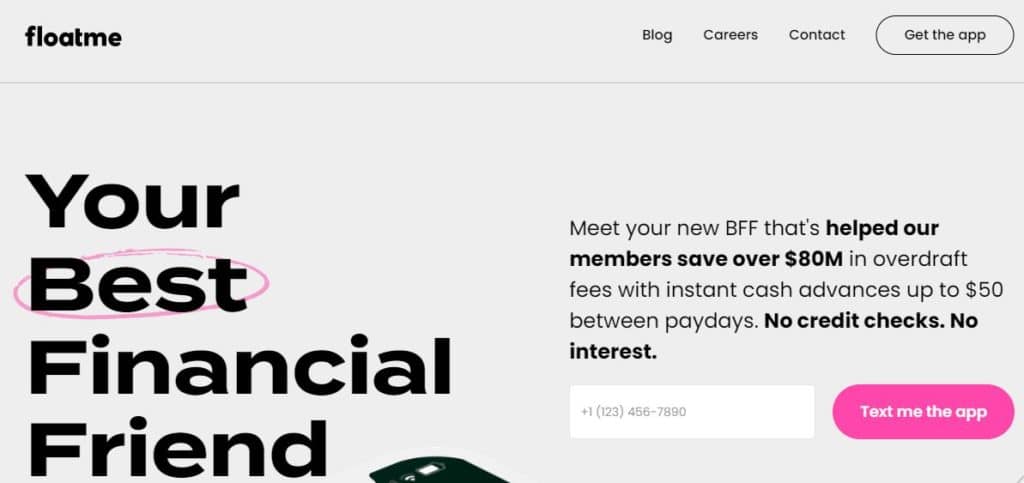 FloatMe
FloatMe is a cash advance app. That's all it does. FloatMe uses Plaid to connect to your existing bank accounts and offers cash advances of $50. That advance is automatically paid back out of your next direct deposit.
---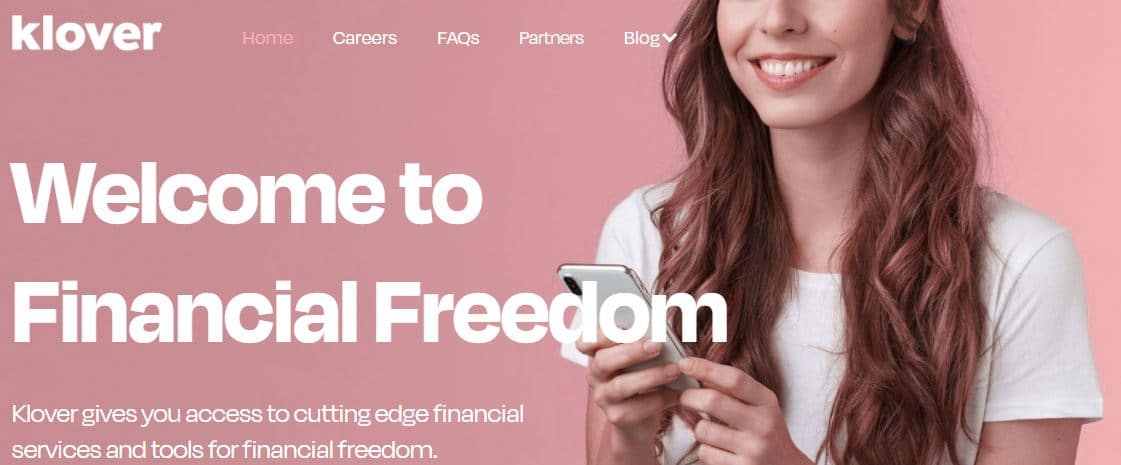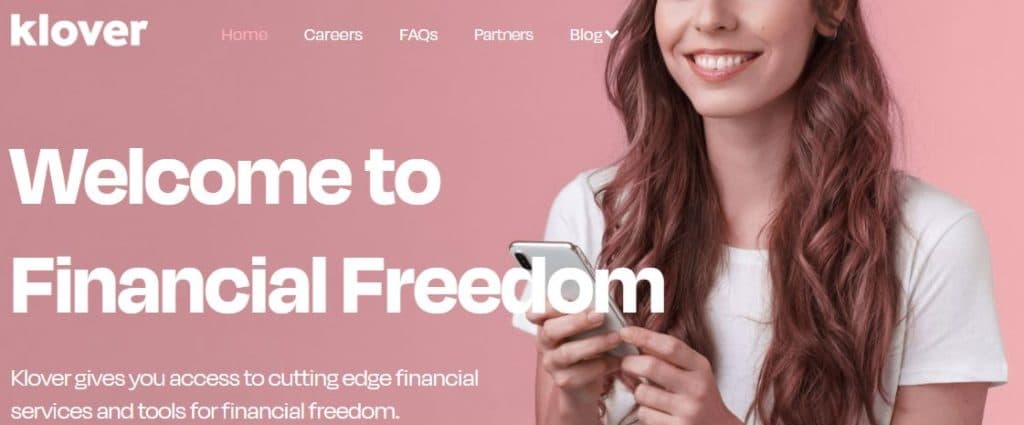 Klover
Klover connects to your bank account. You will qualify for a cash advance if you have at least three direct deposits over the last two months. The app uses an algorithm to determine how much you can advance. It does not require a credit check. For a fee, users can upgrade to Klover+ to get access to extras like budgeting tools. To learn more, check out our review.
---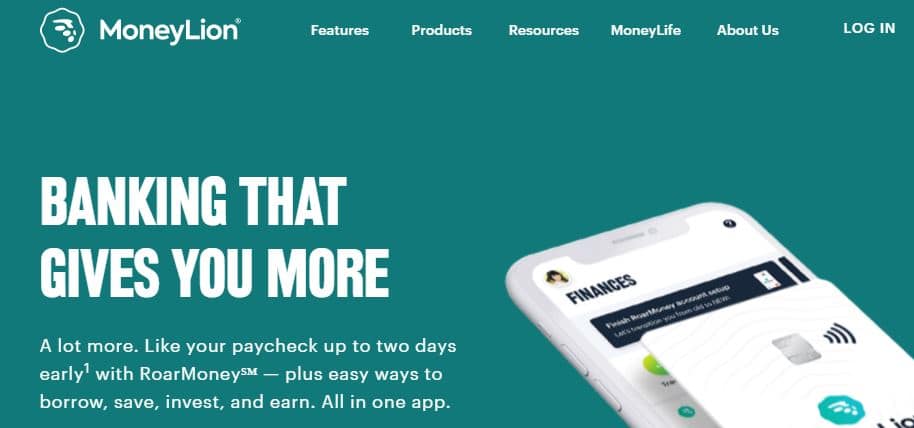 MoneyLion
When MoneyLion says it's an "all-in-one" finance app, they aren't kidding. In addition to their InstaCash service, which offers cash advances of up to $500, MoneyLion offers budgeting tools, credit building, and even crypto! They also offer banking and investment tools to people who pay for the app's premium services.
READ MORE: Best Cash Advance Apps Like MoneyLion
---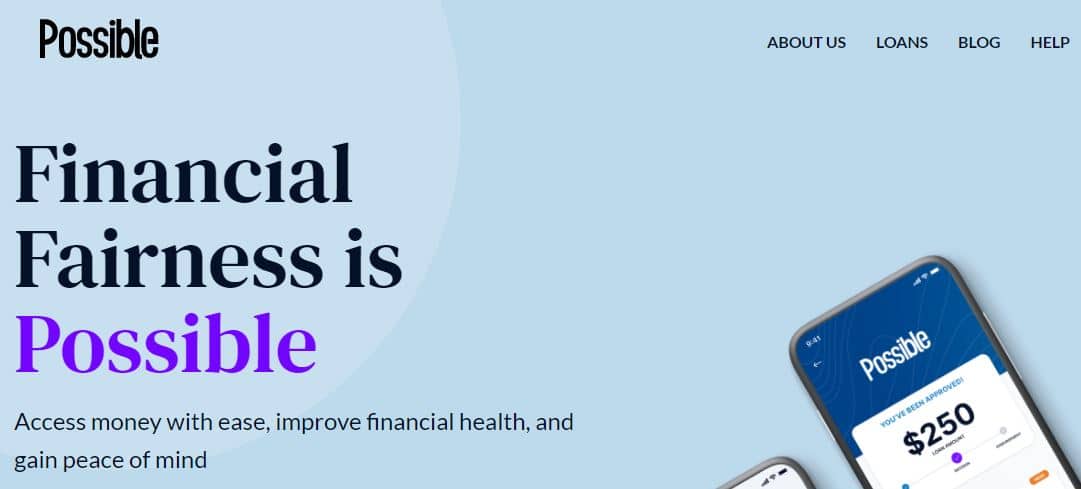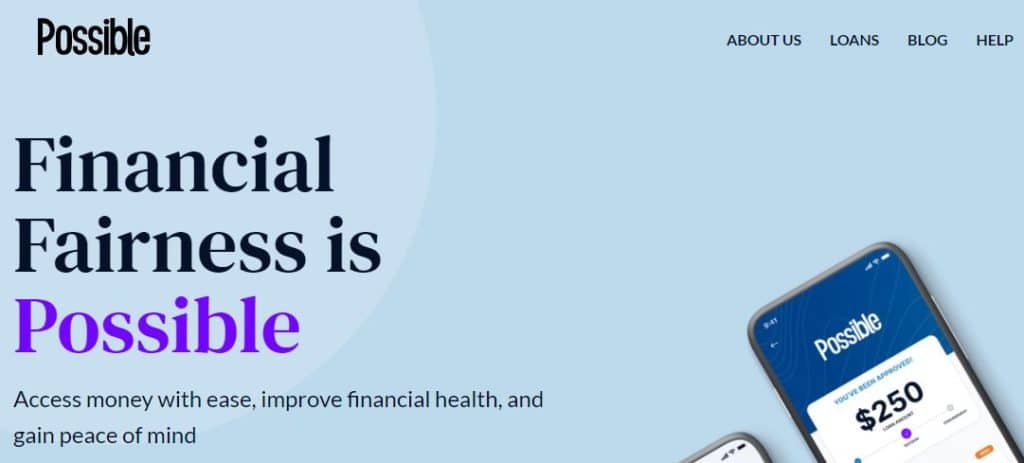 Possible Finance
Possible Finance is an installment loan lender. You can request up to $500 through their app. The fees for their loans are not quite as bad as you'll find on payday loans, but they aren't exactly low, either. Possible Finance typically charges 150-200% APR on their loans. If paid on time, a loan of $200 ends up costing the borrower about $230. One good thing, though, is that Possible Finance does report your payments to the credit bureau. As long as you make your payments on time, you should see your credit score go up.
Online banking apps
Online banking apps often offer benefits like cash advances and early direct deposit access. Unlike cash-advance apps, however, online banking apps have more in common with traditional banks than traditional lenders. Here are a couple of the most popular online banking apps out there right now.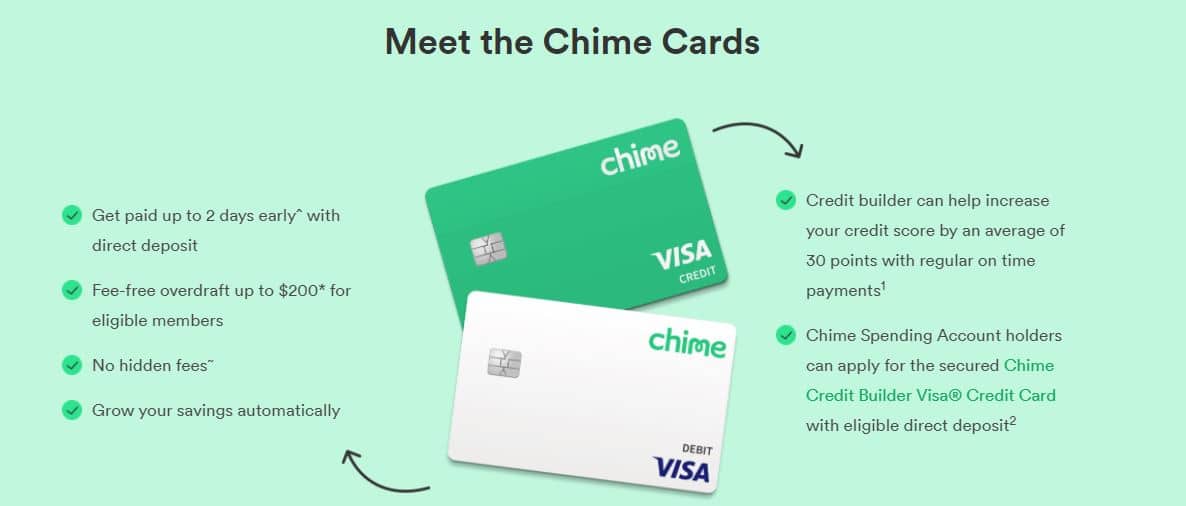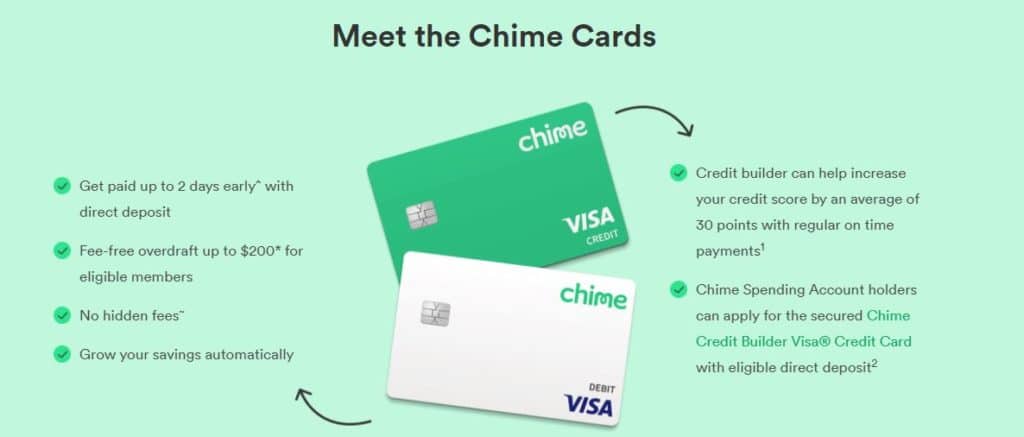 Chime
Chime has been getting a lot of attention and for a good reason. This online banker offers a spending account and savings account. Account holders are given a Visa debit card, which provides access to a large ATM network.
Chime allows people to access payroll direct deposits a couple of days early. They also offer a service called "Spot Me." Spot Me is a type of overdraft protection. If a payment goes through and you don't have enough money in your account to cover it, Chime will "spot" you up to $200 to cover that expense.
---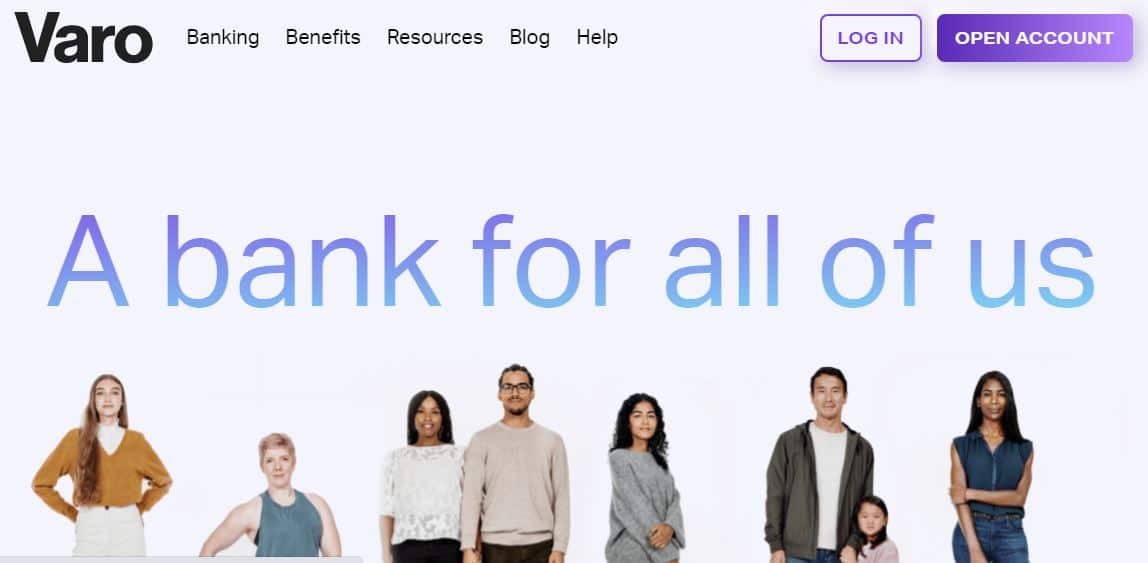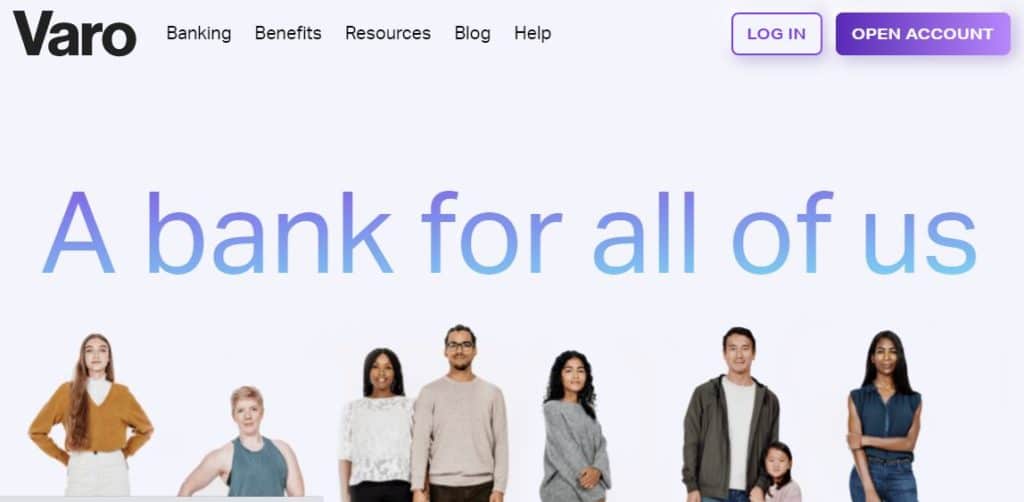 Varo
Varo is an online bank that offers spending and savings accounts. It also offers payday advances up to $100 (to those who qualify) and has a credit-building program called Varo Believe.
Varo also has a "Perks" program. Customers who use the Varo app to shop online can earn cashback on those purchases.
Employer-sponsored cash advance apps
In addition to cash advance apps for people to use personally, there are also paycheck advance apps that work in conjunction with employers. These apps connect to your employment information and time clock activity. The primary difference between them and apps like Earnin is that your employer will provide access to these apps. The big disadvantage is that many employers, particularly small businesses, are not enrolled. Here are just a few of the different employer-sponsored cash advance apps available.
How do cash advance apps work?
Cash advance apps give users access to funding to help them cover gaps until a borrower's next paycheck. The process works a lot like a payday loan: you apply for the advance; if approved, the advance is deposited directly into your bank account. Then, when your paycheck arrives, payment on your advance is automatically sent to the lender.
Instead of using credit reports and histories to determine advance limits, they use your direct deposit activity. To qualify, users typically must have had a specific number of direct deposits totaling a specific amount within the last 30 to 90 days. Most cash advance apps and P2P lending platforms like SoLo Funds limit users to advances between $100 and $500.
Why are loan apps like Solo Funds better than payday loans?
Payday loans are notorious for high-interest rates and fees. In fact, the payday loan debt trap is so pervasive that more than 90% of payday loan borrowers regret their original payday loan. Most cash advance apps don't charge interest or have other fees. This makes them a much more attractive option to someone needing short-term funding. Some charge a small monthly membership fee.
It is also easier to apply for and be approved for funding via a cash advance app than by a payday lender.
How quickly can I get my cash advance?
Once you find a cash advance app you like, download it, and set up your account. The apps will ask for identifying information like your:
Name
Address
Phone Number
Email
Birthdate
Social Security number
Bank account information
SoLo Funds will also ask you to upload a copy of your photo ID to their system.
Once you have entered your information, the company has to verify it. That can take anywhere from a couple of minutes to a couple of business days to complete. This is why it is a good idea to set up an account with a cash-advance app before your financial situation becomes dire. That way, you're ready to go if you come face to face with an emergency.
After your account is approved and your information is verified, you can request an advance. SoLo Funds has said that most loan requests are approved and funded within a half-hour. Other apps may take longer. Some might take even less! It depends on the app.
Note: Some apps will charge a small fee for getting immediate access to the funds you've requested.
Tips are OPTIONAL
SoLo Funds allows users to "tip" their lenders as a thank you for helping them out. Users are told that the more they offer to tip, the more likely their requests will be filled. The idea is that if a lender can turn a profit on their loans, they are more likely to lend money.
Unfortunately, many new hopeful borrowers take this to heart and offer the maximum tips they are allowed to offer. This means they end up paying around the same amount they'd pay to a payday lender. That makes the loan harder for the borrower to repay on time.
For example, a cash advance app might request a tip between zero and $14 on a $100 weekly loan, and the site may be set up to appear that those who don't tip at all would have their credit restricted. But a $14 tip is the equivalent of a 730% APR, significantly higher than many states' rate caps, and on par with a traditional payday loan.
It is important to understand that TIPPING IS OPTIONAL. Borrowers are not required to tip their lenders. At all. If an app threatens to restrict your account if you don't tip, find another app. Of course, it is fair to leave a tip because these lenders are providing you with a service. Just don't take the lender's word for an "appropriate" tip. Use a good APR calculator to determine a fair amount. Many states cap loan APRs at 25% to 35%, which seems like a reasonable tipping benchmark.
For example, a 30% APR on a $100 loan that's repaid in full in two weeks would be about $1.15, while a $14 tip on the same loan would equal an APR of 364%.
SoLo Funds users are also allowed to make charitable donations to the company itself. The company is going to be donating money to several non-profits. The owners' hope is that the idea of charitable giving will encourage their users to leave larger tips.
Here's the thing: if you want to make sure your money goes to charity, you can just donate to that charity directly. That way, you know that all of your money is going toward that cause and is not acting as a tax write-off for a company that has already acquired a lot of venture capital.
What to look for in a cash advance app like SoLo Funds
There are a lot of cash advance apps like SoLo Funds out there. Here is a list of criteria you can use to make sure an app is legitimate and won't rip you off.
Borrowing limits (most offer between $100-$500)
Turnaround time (does it take minutes or days to get approved?)
Fees (most are free, but some will charge between $1-$10 per month for extra features and/or faster funding)
Requirements (usually require borrowers to be at least 16 years old and have permanent U.S. citizenship)
Other features (budgeting, credit building, perks like that)
Learn more about SoLo Funds by watching this video:
Customer reviews
Like with most stuff, if a cash advance app sounds like it is too good to be true, it probably is. In addition to looking at the above criteria, make sure you do some background research. Check out reviews through sites like the Better Business Bureau, Trustpilot and on the app stores. Look for articles in the press about the app and its founders. Find out what other people are saying.
At this point, the app has earned an A+ rating but only about 1.3 stars on BBB with 97 complaints, almost all regarding technical problems or backlogs, and a few from lenders who haven't been repaid.
Will cash advance apps like SoLo Funds help me build credit?
SoLo Funds itself will not help you build credit. This is because all of the lending and payments are processed through the app. The only way your loan will be reported to a credit bureau is if you default on it to such an extreme degree that the lender sends you to a collections agency.
The idea behind SoLo Funds is that, with the loans you get through the app, you'll be able to improve your own financial situation, and that stability will eventually impact your credit score.
Other cash advance apps, however, do help you build credit! MoneyLion, for example, has a credit-building program. So does Empower and several of the other apps mentioned above.
The bottom line
At some point, everyone runs into a cash flow problem. Cash-advance apps can be a great way to cover expenses when something unexpected pops up, especially if you're worried about an unexpected expense that would trigger an overdraft fee or a late fee. Of course, cash advances are not a long-term solution. They're more of an umbrella than a roof. Assess your finances and start a savings plan when you make it through the immediate crisis. Even if you're just stashing away a few dollars a week, it will help you avoid short-term loans down the road.
FAQs
What's the difference between cash advance apps like Earnin and SoLo Funds? 
Cash-advance apps like Earnin offer you advances on your next direct deposit. SoLo Funds, on the other hand, is a peer-to-peer lending platform. 
Can a paycheck advance app help my spending habits?
Some of them can! It depends on the app. Some of the cash and paycheck advance apps offer budgeting and other financial tools to help you get back on track.
I have bad credit. Will a cash advance app still loan me money?
Thankfully, most cash advance apps don't even check your credit, so bad credit shouldn't impair your ability to get the funds you need. Instead, they rely on your banking history to determine whether or not you will be approved for an advance.
Does SoLo Funds use Plaid?
Yes. Plaid is a fintech platform that allows apps to connect with your banking information. Plaid has data access agreements with many major banks, including JPMorganChase, Wells Fargo, Capital One and U.S. Bank. Unfortunately, not all major banks (PNC, for example) are compatible with Plaid, making it difficult to use those apps to borrow.