The payday loan industry gives people with poor credit access to quick financing. Unfortunately, the lenders involved often take advantage of their borrowers by charging exorbitant prices. The best way to prevent that on a large scale is with state regulation. Here's a comprehensive review of how well the Utah payday loan laws protect consumers in the state.
Stuck in payday debt?
If you're a resident of Utah, DebtHammer may be able to help.
Payday lending status in Utah: Legal
Even though researchers have found that the average payday loan user is generally worse off for the transaction, the industry is still legal in most parts of the country, including Utah. In fact, lenders can do almost whatever they want in the state.
There are no regulations that impose maximum loan amounts, restrict the number of annual transactions, or limit finance charges. As a result, the average payday loan's annual percentage rate (APR) in Utah is 652%, among the highest in the nation.
Review Utah's Check Cashing and Deferred Deposit Lending Registration Act for the full text of the relevant regulations.
READ MORE: Payday loan consolidation and relief that works
Loan terms, debt limits, and collection limits in Utah
Maximum loan amount: None
Maximum Interest Rate (APR): None; 652% APR on average
Minimum loan term: N/A
Maximum loan term: 10 weeks
Installment option: Yes
Number of rollovers allowed: None
Number of outstanding loans allowed: Any
Cooling-off period: N/A
Finance charges: Any
Collection charges: $35 non-sufficient funds (NSF) fee
Criminal action: Prohibited
People with bad credit need financing just as much as, if not more than, other consumers. Unfortunately, traditional lenders often aren't interested in taking a risk on them. In theory, that means payday loans provide valuable credit to an underserved portion of the market.
In practice, their exorbitant prices and short repayment terms make them unaffordable for most users. Even worse, when lenders roll over the accounts, they can keep borrowers in a perpetual debt trap.
Unfortunately, the Utah payday loan laws do little to prevent that cycle. The only part of the debt trap that their regulations limit is the rollover piece. Lenders can't make a new loan whose proceeds go toward satisfying or refinancing an existing payday loan.
READ MORE: Utah debt relief and resources
Utah payday loan laws: How they stack up
The Utah payday loan laws take a different approach to protecting consumers than those in most other states. Instead of preventing predatory practices directly, they primarily require that payday lenders inform borrowers as thoroughly as possible.
While that gives lenders the freedom to charge whatever they want, it also theoretically empowers consumers. It should help them recognize predatory practices and avoid lenders who implement them.
Here's a more in-depth analysis of Utah's regulations and the way they've impacted their lending industry to help you compare their approach to those of other states.
READ MORE: How to get out of payday loans
Maximum loan amount in Utah
Remarkably, there is no maximum loan amount in Utah. As a result, payday lenders offer loans with much higher principal balances than they do in other states.
For example, Check Into Cash is one of the most widespread payday lenders in the country. They provide payday loans for as much as $1,500 in Utah. Meanwhile, the typical payday loan in the United States is only $375.
What is the statute of limitations on a payday loan in Utah?
The statute of limitations on debt is a law that prevents creditors and debt collectors from suing debtors for delinquent credit accounts after a certain period. The restrictions vary significantly between different states and debt types.
Payday loans are written contracts. The statute of limitations in Utah gives collectors six years to initiate a lawsuit over them.
Rates, fees, and other charge limits in Utah
The Utah payday loan laws include no restrictions on finance charges. In other words, payday lenders can set their rates at whatever they think borrowers will be willing to pay.
As you'd expect, that's pushed the payday loan rates in Utah higher than virtually everywhere else in the country. For example, Check Into Cash charges $25 for every $100 in principal. On a 10-day term, that's a whopping 912.5% APR.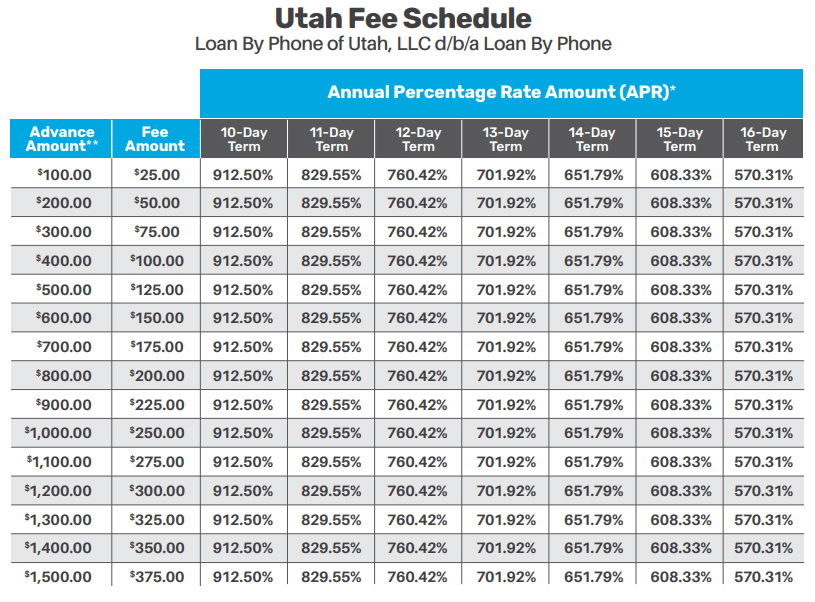 In addition, lenders can tack on an additional $35 NSF fee if they try to collect on your loan by debiting a bank account or cashing a post-dated check and fail due to lack of funds.
Maximum term for a payday loan in Utah
Initially, payday loans can have a maximum repayment term of 10 weeks in Utah. Even if you can't pay your principal and interest within that time, lenders can't charge you interest after those 10 weeks.
In addition, you can request an extended payment plan (EPP) once every year, or any time that you pay interest on a payday loan for 10 consecutive weeks. The EPP must last for 60 days or 90 days after the borrower defaults, whichever is longer. It must also require at least four equal payments.
For example, say you take out a payday loan for $500 with a two-week repayment term. At the end of the loan's initial period, you find that you can't pay. It's the first time that's happened within the last year, so you can request an interest-free EPP and get another 90 days without interest.
Are tribal lenders legal in Utah?
The federal government treats Native American tribes like sovereign nations residing within the United States. As a result, they're immune to lawsuits over most state regulations.
A tribal lender is an online provider that partners with a Native American tribe to benefit from their immunity. The lender then uses it as an excuse to charge fees and interest well above what the states would allow otherwise.
READ MORE: How to get out of high-interest tribal loans
While it's difficult for state regulators to sue tribal lenders because of their immunity, their loans are still illegal in Utah. All lenders must register with the state and receive a license to operate.
Any loan from an entity that doesn't have the proper license is void and unenforceable in court. As a result, tribal lenders can't successfully sue you to collect on their loans. They'll still try to scare you into paying, but they can't garnish your wages.
In its consumer guide to payday lending, the Utah Department of Financial Institutions states: "A deferred deposit loan that is made by a person who is required to be registered under Utah law but who is not registered is void, and the person may not collect, receive, or retain any principal or other interest or fees in connection with the deferred deposit loan."
Consumer information
The Utah Department of Financial Institutions is the agency primarily responsible for supervising and examining the financial services industry in the state. That includes consumer lending and money service businesses like payday lenders.
The Department's mission is to ensure consumer loans have fair, legal, and easily understandable terms. It also aims to help facilitate the development of the industry in a way that benefits Utah residents.
In other words, they have the final say on who can offer payday loans in the state and enforce the rules regarding how they must do it. In addition, they provide valuable resources to educate consumers on the protections in place.
Where to make a complaint
The Utah Department of Financial Institutions is the best place to complain about a payday lender operating in the state. Here's how you can get in touch with them:
Regulator: Utah Department of Financial Institutions
Physical Address: 324 South State St., Suite 201, Salt Lake City, Utah 84111
Mailing Address: P.O. Box 146800, Salt Lake City, Utah 84114-6800
Phone: 801-538-8830
Email: [email protected]
Link to website: https://dfi.utah.gov/resources/helpful-links/file-a-complaint/
When you encounter an issue, it's also a good idea to submit your complaint to the Consumer Financial Protection Bureau (CFPB). The CFPB is a federal agency that protects consumers from predatory financial institutions, including payday lenders.
Number of Utah consumer complaints by issue
These statistics are all according to the CFPB Consumer Complaint Database.
| | |
| --- | --- |
| Complaint Reason | Count |
| Charged fees or interest you didn't expect | 29 |
| Problem with the payoff process at the end of the loan | 15 |
| Struggling to pay your loan | 15 |
| Problem when making payments | 12 |
| Can't contact lender or servicer | 12 |
| Received a loan you didn't apply for | 9 |
| Can't stop withdrawals from your bank account | 7 |
| Money was taken from your bank account on the wrong day or for the wrong amount | 4 |
| Getting the loan | 4 |
| Loan payment wasn't credited to your account | 3 |
| Vehicle was repossessed or sold the vehicle | 3 |
| Was approved for a loan, but didn't receive money | 2 |
| Incorrect information on your report | 2 |
| Problem with additional add-on products or services | 1 |
Complaints reasons in Utah by category
Source: CFPB website
Despite the emphasis the Utah payday loan laws place on informing local consumers, the number one complaint in the state is that lenders charge unexpected fees or interest.
Unfortunately, that's the case in most states that allow payday lending. Lenders have to give Utah borrowers copies of their loan agreements that include the finance charges in a legible font, but it's still not enough to prepare them.
It's possible the payday loan users who make this complaint lack the financial knowledge to understand their loan charges. If that's the case, it would seem the only way to protect these people is to enforce a loan cap that prevents predatory finance fees entirely.
The most complained about lender in Utah: Enova International, Inc.
The most complained about lender in Utah is Enova International, Inc. However, Enova doesn't issue loans to consumers personally, operating instead through subsidiary companies. Their two lending brands are CashNetUSA and NetCredit.
Neither brand offers payday loans in Utah, but their credit products still have dangerously high interest rates and fees. Let's take a look at each of them in turn.
CashNetUSA offers lines of credit in Utah with principal balances that range from $100 to $3,000. Every time you draw against the account, you'll incur a $15 transaction fee. The daily interest rate on outstanding balances ranges from 0.4082% to 0.8192%, which works out to between 149% and 299% APR.
Meanwhile, NetCredit offers both lines of credit and installment loans. Their lines of credit range from $500 to $7,000 and have a 10% origination fee. For example, if you borrow $1,000, you'll only receive $900. In addition, you'll pay a fee worth 5% of the outstanding balance each month.
Their personal loans aren't any more affordable. Ranging from $500 to $20,000 with terms between six months and five years, they can carry an APR between 10.9% and 155%.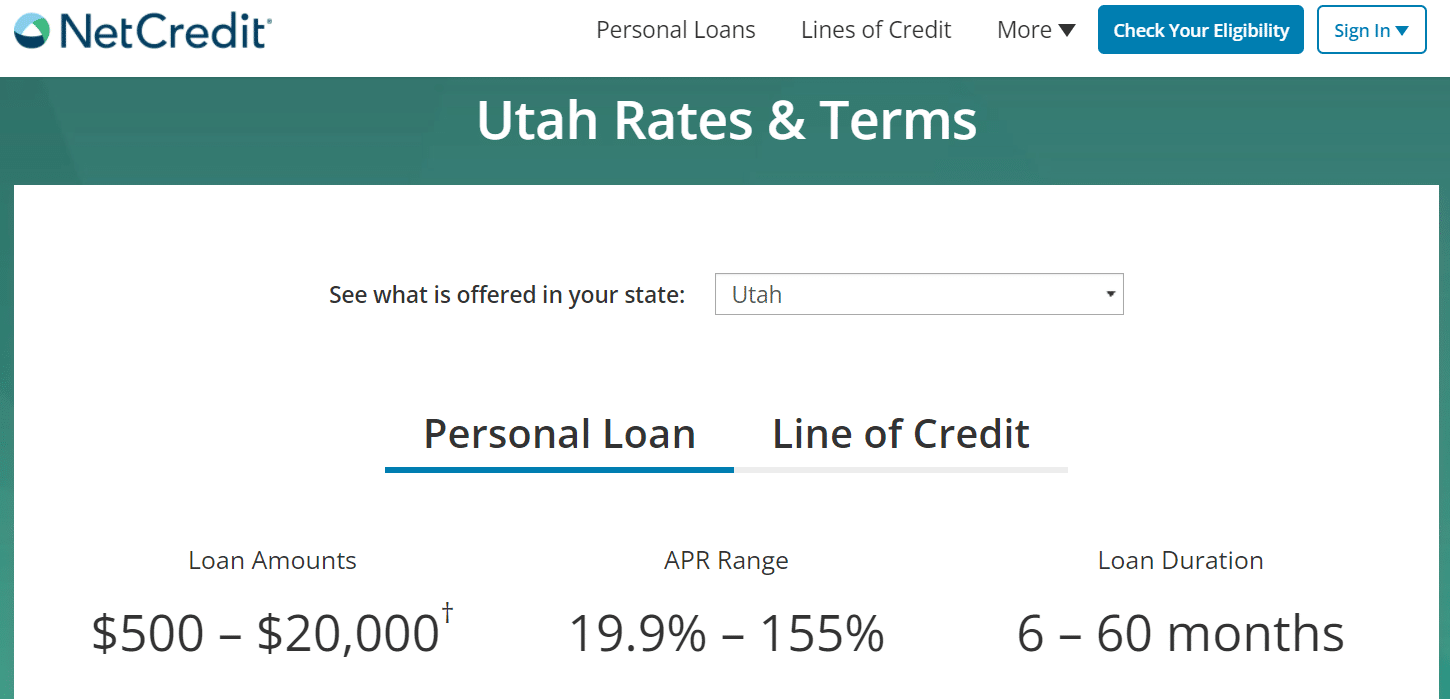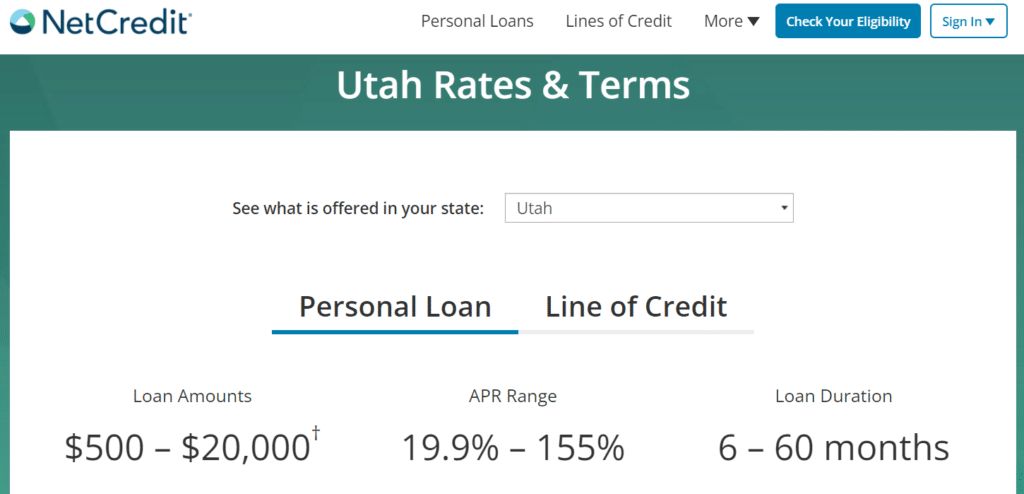 That's a lower APR than most payday loans, but the accounts are potentially even more damaging due to their higher principal balances and extended payment terms. For example, a three-year loan for $3,199 from NetCredit with a 94% APR would cost you $5,909 in interest. That's almost twice the original principal balance.
Most common complaints about Enova International, Inc.
| | |
| --- | --- |
| Complaint Reason | Count |
| Charged fees or interest you didn't expect | 4 |
| Received a loan you didn't apply for | 1 |
| Can't stop withdrawals from your bank account | 1 |
| Problem when making payments | 1 |
| Struggling to pay your loan | 1 |
Enova International, Inc. complaint reasons in Utah by category
Source: CFPB website
The most common issue people have with Enova International, Inc. in Utah is that they charge fees and interest that borrowers don't expect. While consumers are responsible for some of that, Enova's brands are also guilty of disguising their costs.
For example, NetCredit offers an example of a typical loan on their website, but they only share the monthly cost, which makes it seem more affordable than it is. They don't tell you upfront that two-thirds of your total payments go to interest.
Top 10 most complained about payday lenders
The most payday lender complaints by lender and reason in Utah by category
Source: CFPB website
Enova International, Inc. is the most complained about lender in Utah, but they're not the only one consistently upsetting their customers. CURO Intermediate Holdings has only received one fewer complaint than Enova since 2013.
Like Enova, CURO doesn't originate loans directly, instead letting a subsidiary handle it. That subsidiary is one of the most notorious payday lenders in the country: SpeedyCash.
In Utah, their loans go up to $750 and always have an APR of 360%. For example, if you borrow $750 for seven days, it'll cost you $51.78. If you decide to extend the term to 14 days, they'll increase the finance charge to $106.56 so the APR remains 360%. These are lower rates than others in the state but still unaffordable for many borrowers.
If you're running into financial difficulties because of companies like the ones above, then contact DebtHammer today. We can show you how to turn the tables on your payday lender and escape the debt trap once and for all.
Payday loan statistics in Utah
Utah ranks as the 33rd state for the most overall payday loan complaints.
Utah ranks as the 34th state for the most payday loan complaints per capita.
There have been 18,281 payday loan-related complaints made to the CFPB since 2013―118 of these complaints originated from Utah.
The estimated total population in Utah is 3,205,958 people.
There are 3.6806 payday loan complaints per 100,000 people in Utah.
The most popular reason for submitting a payday loan complaint is "Charged fees or interest you didn't expect."
READ MORE: Payday loan debt statistics
Historical timeline of payday loans in Utah
The Utah payday loan laws have changed incrementally over the years. The bulk of the regulations has remained consistent, and legislators have only ever made small adjustments to the consumer protections in any given year.
Here's a high-level historical review of their activities.
1999: Legislators passed the Check Cashing Registration Act. It required the registration and regulation of both check-cashing businesses and payday lenders.
2003: Legislators amended the Checking Cashing Registration Act to give borrowers the right to cancel their payday loans until the day after they sign the loan agreement. It also allowed them to make partial payments of at least $5 without penalty and increased lender disclosure requirements.
2008: The newly dubbed Check Cashing and Deferred Deposit Lending Registration Act changed again to prohibit lenders from offering loans to a borrower who just made a payment on a loan at least 12 weeks old.
2010: Legislators reduced the allowable time for rollovers from 12 weeks to 10 weeks, prohibited creditors from contacting borrowers at work, and implemented extended payment plans.
2012: Legislators officially voided all loans from unlicensed payday lenders.
2016: More regulation changes came into effect. This time, they required payday lenders to acquire a consumer's credit report before lending to them and report loan information to consumer reporting agencies. They also revised the notice lenders have to send before suing a borrower in default and updated the extended payment plan term requirements.
2017: Legislators updated the rules for extensions one more time, making them what they are in 2022.
As you can see, there have been constant changes to the Utah payday loan laws over the last couple of decades. Unfortunately, none of those revisions involved restricting the maximum payday loan amount or finance charges.
Flashback: An Utah payday loan story
Shining a light on the underhanded practices of the payday loan industry through individual stories is one of the best ways to expose just how predatory they can be.
For example, the payday loan industry is notorious for its ability to sidestep regulations that might reduce profits. Partnering with Native American tribes is just one of countless examples of this behavior. They've also done all of the following:
Switch from payday loans to installment loans to avoid short-term lending laws
Register under alternate licenses to dodge regulations targeting them
Partner with banks that aren't subject to state laws to charge their usurious rates
Unfortunately, payday lenders in Utah haven't had to resort to these strategies. Instead, they've managed to block all regulations that might limit their finance charges through aggressive lobbying.
Linda Hilton, an advocate for the poor, was shocked to learn this when she tried to lobby for a modest 500% interest rate cap. Even though that's still an astronomically high rate, she met heavy resistance from the payday loan industry's powerful friends.
Bankers told her they wouldn't cap payday loan rates for fear that someone would want to go after bank loan and mortgage rates next. Lawmakers warned her that changing Utah's laissez-faire stance would scare financial companies out of the state and cost too many jobs.
At every turn, she found that the financial industry could push policymakers around with the weight of their contributions to political campaigns. It seems that it would take an organized group with the money and willpower to match the state's entire financial industry to get lawmakers to change their positions.
Final Verdict: Should you take out a payday loan in Utah?
When you have bad credit, payday loans are a way to get your hands on some fast cash in an emergency. They don't check your credit score, and you can get your money almost immediately.
Unfortunately, an old maxim applies here: "If it sounds too good to be true, it probably is." Payday lenders charge such expensive rates that it's unfathomable for many people. Borrowers consistently report being surprised by the cost of their payday loans even though lenders have to disclose their finance charges repeatedly.
In Utah, the problem is even worse than in other states. There are absolutely no limitations on the fees and interest that local payday lenders can charge you. As a result, Utah residents should always do their best to avoid taking out a payday loan and instead look to other debt consolidation options.
If you need an alternative short-term solution, consider using a cash advance app like Dave. You can receive an advance of up to $250 without incurring any finance charges.
That said, short-term solutions can't keep you afloat forever. At some point, you need to work your way toward earning more than you spend. That's where DebtHammer comes in. Contact us today, and we'll help you get your finances to the point where you'll never need to resort to a payday loan again.