Aspen trees represent rebirth. And when you're hit with money problems, who isn't hoping the loan they turn to will get to the root of their financial problems and lead to a fresh start? You don't want a loan that leaves you stuck in a cycle of debt.
Aspen Financial Direct promises to lend you the money you need right now. But are they worth it? Read on to find out.
What is Aspen Financial Direct?
Aspen Financial Direct appears to be a lender of short-term installment loans…in some states. Based on what is listed on their Rates and Terms page, those states are:
Alabama
Delaware
Idaho
Illinois
Mississippi
Missouri
New Mexico
North Dakota
South Carolina
Texas*
Utah
Wisconsin
According to the website, while it used to offer loans in California, as of December 20, 2019, Aspen Financial Direct is no longer accepting applications or granting loans in that state.
*In Texas, Aspen Financial Direct is not actually a lender at all; it is a "Credit Access Business" and any loan applications approved by Aspen Financial Direct are actually provided by First Financial Loan Company, LLC.
Is Aspen Financial Direct licensed?
The footer on the Aspen Financial Direct landing page says
"The lender is licensed and regulated by the New Mexico Regulation and Licensing Department, Financial Institutions Division, P.O. Box 25101, 2550 Cerrillos Road, Santa Fe, New Mexico 87504."

Aspen Financial Direct Landing Page
It is important to know that each state has its own requirements for licensing. The Aspen Financial Direct website does list some information about licensing in each of the states it does business.
Currently, the website shows presumably current licensing (in other words, no expiration date is listed on the license) for South Carolina, Texas, and Wisconsin.
The following states display expired licenses for either Aspen Financial Direct or its parent company, Aspen Financial Services:
Alabama
Mississippi
Missouri
New Mexico
Utah
The following states do not have licenses or licensing information displayed. Instead, their listings simply contain the contact information for that state's licensing body:
Delaware
Idaho
Illinois
North Dakota
It is possible that each state's license is current, and the website simply hasn't been updated yet. Make sure you contact the licensing bureau in your state to find out if Aspen Financial Direct is legally allowed to lend you money before you submit your application!
What to expect from an Aspen Financial Direct loan?
Each state has very specific requirements for what terms a borrower can get if approved for a loan with Aspen Financial. For example, in Alabama, the minimum loan amount is $2,000, has an interest rate of 112%-165%, and the repayment period lasts between 18-24 months.
In Texas, borrowers can get loans from $500-$1200, get charged 299% interest and only have 5-6 months to repay the loan.
Other outliers include Illinois, Mississippi, South Carolina, and Utah.
For the most part, though, you can expect the following terms to apply to an Aspen Financial Direct loan:
An APR between 112% to 165%
Principal balances between $500-$5,000 for first-time borrowers
Repeat customers who make enough successful payments may qualify for more on future loans.
12-to 24-month repayment period
No early payment penalties
It is possible to be charged a fee for a late or a missed payment, but the company does not explain how much these fees are until you have submitted your application. Instead, they encourage borrowers to contact the company's customer service department if they think they won't be able to make a payment on time.
Note: As of 2016, Aspen Financial Direct does not offer loans to people who would be covered by the Military Lending Act (for example: active-duty service members and their dependents). The website does not explain why, but given the interest rates they charge, the cap imposed by the MLA may have something to do with it.
Remember: rates and terms also vary by state, you can check your individual state's terms on this page of the Aspen Financial Direct website.
Is a loan from Aspen Financial Direct considered a payday loan?
Technically speaking, Aspen Financial Direct loans are not payday loans. They are short-term installment loans. What's the difference?
A payday loan is a loan that is typically paid back in full in one single payment that is made on a date that the borrower and the lender agree upon. That payment can be taken automatically out of a borrower's bank account. If the borrower can't make the payment, they have the option of extending their loan, but usually have to pay some hefty fees.
A short-term installment loan is a loan that is paid back via a series of payments made over time — typically every couple of weeks for a period of months. While both are expensive loans, the short-term installment loan is more expensive than a payday loan because the interest compounds over time.
Sample loan from Aspen Financial Direct


In October 2019, a customer took out a $2,500 loan from Aspen Financial. The borrower was required to make bi-weekly payments of $162. After making 40 payments (the borrower missed two, which incurred penalty fees), the borrower had paid more than $6,000 and still owes more than $2,000 in principal. This means that of that $6,000+ paid in, less than $500 has been applied to the original loan amount.


The website is very clear about exactly how expensive these loans are. The terms and conditions page for Utah, for example, gives this as an example:
"$2,500 loan with an APR of 141%, repayable in 46 bi-weekly payments, and payments of $149.05."

Aspen Financial Direct Rates and Terms Page
If you do that math, you'll see that the payment schedule requires the borrower to pay $6,856.30 on a loan of $2,500. And that's only if the borrower can make every payment on time.
Online reputation
While Aspen Financial Direct's website boasts a TrustPilot score of 4.5 stars (based on 2,100+ reviews), the majority of positive reviews cite Aspen's speed or customer service.
Other review sites are not as generous.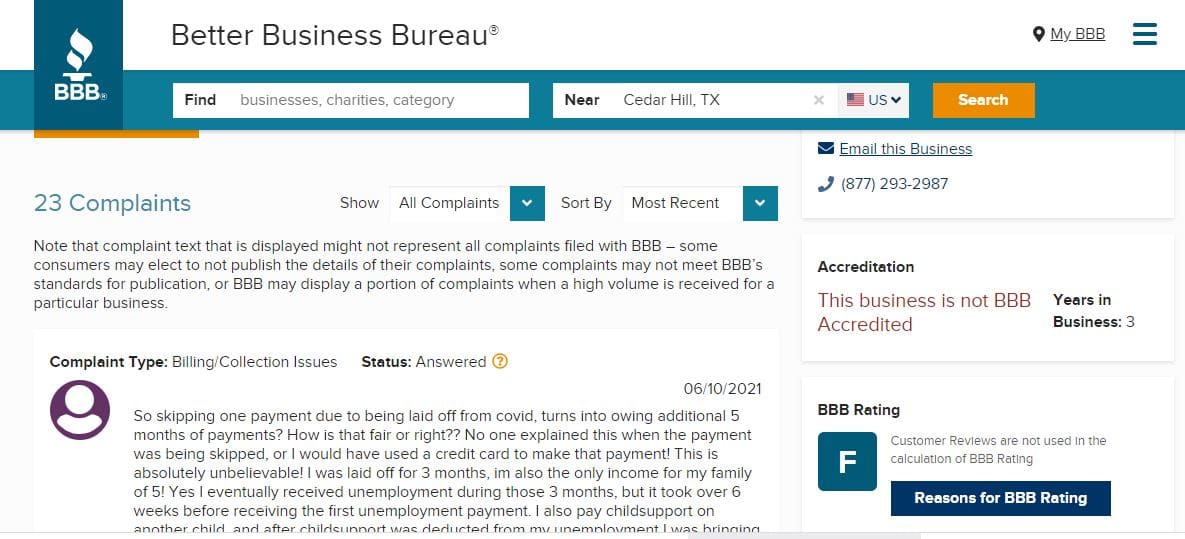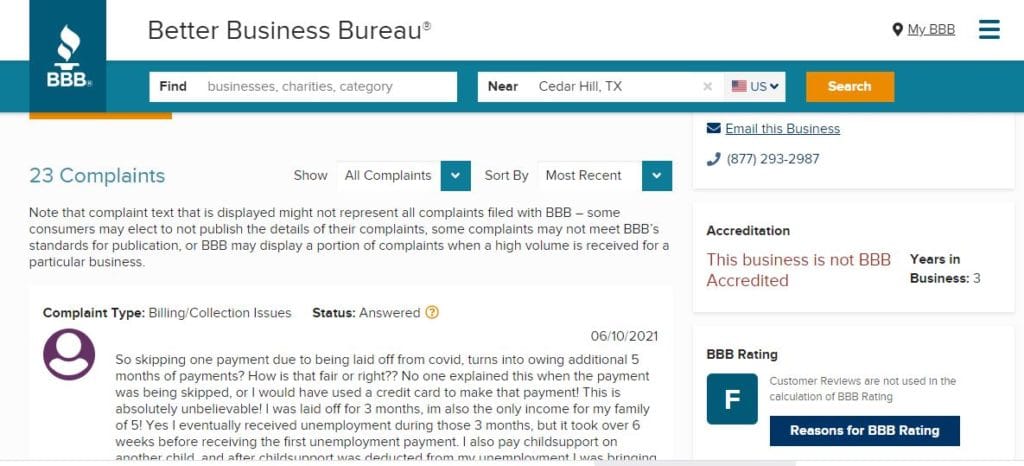 The Better Business Bureau, for example, gives Aspen Financial Direct an F and lists 24 complaints.
One customer wrote this in their review:
"So skipping one payment due to being laid off from covid, turns into owing additional 5 months of payments? How is that fair or right?? No one explained this when the payment was being skipped, or I would have used a credit card to make that payment!"

Better Business Review User Review
What are the pros and cons of a loan with Aspen Financial Direct
Pro
The website claims the application process is fast and easy (see the next section)
Cons
Incredibly high and predatory interest rates, hidden fees, lack of transparency on the website, expired licenses, basically everything except for what the site claims is a fast and easy application process.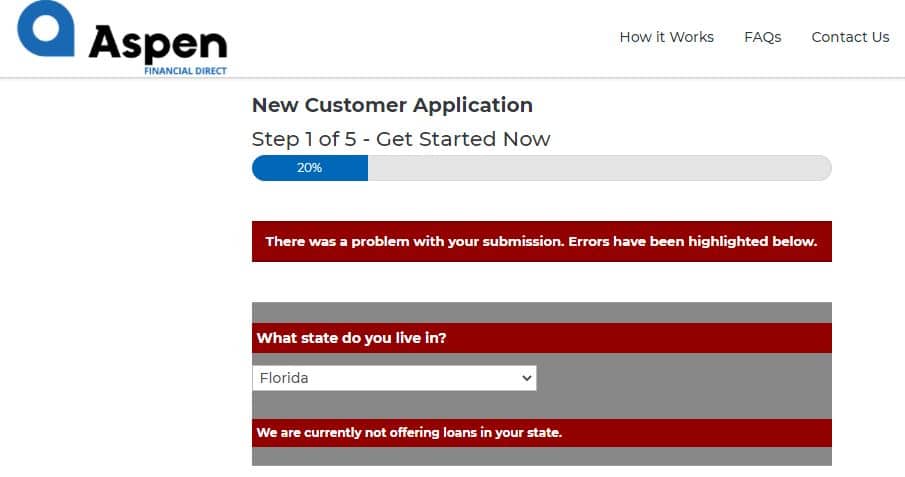 How to apply for a loan from Aspen Financial
The website boasts a fast and easy application process that can be done online. It also states that, before filling out their information online, applicants must have first received an invitation to apply in the mail for their applications to be considered.
We tried to verify the application process but couldn't make it beyond the first page. Every state we tried came back as "we do not currently offer loans in that state." This could be because we did not have a written application, but it seems strange.
Better alternatives than a loan from Aspen Financial
If you are desperate for cash, there are lots of better alternatives out there than a loan from Aspen Financial Direct. Here are some of them:
A reputable online lender, like Upgrade
PenFed credit union or a credit union that is local to you (credit unions have better rates than almost every other lender)
A peer-to-peer lending site, like Upstart
Setting up a GoFundMe to borrow from friends and/or family
Credit card advance or a low-interest balance transfer offer
Home equity loan or home equity line of credit (HELOC)
401(k) loan
A reputable paycheck advance app like Dave or Klover
The bottom line
When you are going through a really hard time, the last thing you need is a predatory lender breathing taking advantage of your desperation. No matter how dire your situation is now, a loan from Aspen Financial Direct will only make your situation worse.
Instead of borrowing from this company, explore your other options, like the suggestions we listed above. Any of those is better than a short-term installment loan from a predatory lender.