ACS Incorporation is a real company, but the email or phone call you've received may be part of a scam that could cost you hundreds or thousands of dollars. Scam artists use various underhanded tactics like harassment, threats, and emotional manipulation to get people to part with their money. And, unfortunately, many of them are very good at what they do.
Before responding, you must verify that the call or email is legitimate. Here's how to do it.
Are debt collectors calling you nonstop?
We may be able to help. It's easy and free to find out.
Disclaimer: DebtHammer may be affiliated with some of the companies mentioned in this article. DebtHammer may make money from advertisements or when you contact a company through our platform.
Key points
ACS stands for Advanced Collection Services, or ACS Incorporation. It is a legitimate mid-sized debt collection agency
That doesn't mean that every call or letter from ACS is legit
Scammers also use the ACS initials in letters and phone calls, so proceed with caution
There are dozens of official and consumer complaints about ACS scams
If ACS contacts you, demand a debt validation letter before you'll speak with them
If you truly owe the debt, it will appear on your credit report, so pull free copies of your reports at annualcreditreport.com
What is ACS Incorporation?
Established in 1985, Advanced Collection Services, or ACS Incorporation, is a mid-sized debt collection agency. It's headquartered in Lewiston, Maine. Like other debt collection agencies, ACS helps creditors and lenders collect their payments on delinquent consumer debts like credit cards, loans, and utility bills.
Although there is a legitimate agency called ACS, many scammers have used these same initials in letters and phone calls to commit fraud. If you've received a notice or phone call about an old debt from a company claiming to be ACS Inc., it may very well be a scam.
Before you take any action or respond, make sure these letters or calls come from the real collection agency. Otherwise, you may end up paying money for something you don't actually owe.
If you got an email or phone call from ACS, it could be a scam — here's why
According to the Washington State Department of Financial Institutions (DFI), there have been many complaints about a debt collection scam surrounding ACS.
The people running the scam use ACS' initials in an attempt to convince people they're authentic. Not only that but they also often have access to private information like the consumer's bank account number and social security number.
Many consumers report being harassed or receiving threatening phone calls and emailed letters claiming they owe debts they've already paid. Some of these calls and letters come from people claiming to be attorneys or law enforcement personnel. In many cases, the scammer will harass others in the individual's life such as their credit references.
Typically, those behind the scam threaten to take legal action if the individual fails to pay them. This action includes sending the account to collections, which could severely damage their credit score, or taking them to court.
Pro tip: If you get an email or phone call from ACS (or Advanced Collection Services) threatening a lawsuit, do not respond. Instead, demand that they send you a debt validation letter. Do not give them any of your personal information. If you're dealing with a legitimate debt collector, they'll already have all of the information about you that they need.
Other names for ACS
Note that there are a couple of legitimate companies with similar names.
But as you can see, scammers use similar (but not exact) names to try to trick people into thinking that they're dealing with one of the legit companies.
According to a report from the Washington State DFI, ACS scams operate under different names, including:
ACS Legal Group
ACS Legal & Collection Department
ACS Inc. Payday Loans
ACS, Inc.
ACS Incorp.
ACS Incorporation
ACS Cash Services
American Cash Services
American Cash Services USA
Advance Cash Services
Ace Cash Services
American Credit Solutions, Inc.
ACE Incorporation
Pro tip: If you get a threatening email from any of these companies, immediately request that they send you a letter that proves that the debt is yours. Here's how. But don't give them your home address. A legit debt collector should already have that information.
How to recognize a scam
Dealing with debt collectors can be stressful. It's even worse when you're not sure if the person contacting you is who they say they are or if they're operating a scam.
Pro tip: Scam artists often use the same type of information you might expect from a real company. This includes things like the consumer's full name and the actual amount of a debt they may have owed.
In some frequent scams, the scam artist may even use a seemingly real name, address, and website to appear convincing. Those behind the scam use persuasive language in their letters and phone calls to get you to make payments on old debt. Since they appear legitimate in (nearly) every way, it can be hard to see through them.
Does the email from ACS threaten a lawsuit?
The email or phone call from ACS could even threaten a lawsuit. If that happens, don't panic.
However, there are a few ways to verify if you're being scammed: your credit report and the email itself.
Start by checking the email address attached to the sender. If it comes from a common domain like Hotmail.com, Gmail.com, or Yahoo.com, then it's probably a scam. A real company will have its own email server.
While you're at it, read through the email (if you've already opened it) for any obvious grammatical or spelling errors. One or two mistakes may not be a red flag, but multiple certainly is. Keep an eye out for strange formatting such as all-caps sentences or red writing.
Pro tip: If you've received multiple emails, check if the sender is consistent. If it's not, chances are it's a scam. Any emails with suspicious attachments, demanding personal information, or immediate payment are also probably a scam.
Now, check your credit report. If the person contacting you is in fact the legitimate ACS, it will appear on your credit report. While you're at it, check if the sender or caller is licensed or registered to conduct business in your state. If they're legitimate, they will be.
Never respond to any suspicious emails or phone calls. Don't send money or private information to any person, website, or company until you've verified it's legitimate. If you're part of a scam, report it to the Better Business Bureau (BBB), Federal Trade Commission (FTC) and Consumer Financial Protection Bureau (CFPB) immediately.
Does the email mention a payday loan you don't recognize?
Some of the names scammers use reference payday loan providers, specifically Ace Cash Services. Most of the sent emails have the domain name "Google" and use the words "payday," "paydaycash," or "paydayloan" in the email address.
If you've never taken out a payday loan or other short-term loan, there's a good chance you're dealing with attempted fraud. Report it to the authorities immediately.
READ MORE: How to protect yourself from payday loan scams
Final notice email
The initial ACS scam letters you receive may appear official and list a fairly high amount of debt you owe. However, the ACS Incorporation final notice email will likely include some odd language or phrasing.
Here are some examples from people involved in the ACS scam:
"Dear Customer as we were investigating your profile, we found you to be a genuine person so it is our duty to help you out but for that we need some right answers from your side. Also we would like to know your intentions"
"Dear Debtor, Alright, Get ready with your attorney to fight the case against the company because we are going to download your case file and you are going to be legally prosecuted in the Court House within a couple of days. So do not ignore our notification and kindly pay back your debt and close this case file ASAP. We would like to tell you if Once this case is downloaded then you have to bear a lawsuit amount of $4206.00. Do revert ASAP."
"AGAIN IF YOU WANT TO RESOLVE THIS MATTER THAN CONTACT US IMMEDIATELY THRU AN EMAIL"
"NOTE: THIS CASE IS UNDER INVESTIGATION UNDER MAJOR CREDIT BUREAUS"
In addition to using strange language, these scam emails have a distinct lack of punctuation, odd formatting, and poor grammar. They often refer to the recipient as "customer" or "debtor," rather than by name.
A letter like this is generally a red flag. If you've received a similar letter, verify the sender is from ACS Incorporation before responding.
There are federal laws spelling out how a debt collector can contact you.
READ MORE: What is the Fair Debt Collection Practices Act?
Complaints against ACS
There have been dozens of official and consumer complaints about the ACS scam. Here are just a few.
Official complaints
On the Washington State DFI's official website, official complaints about the ACS scam involve the following:
Frequent debt collection scam by people with "ACS" in their names.
Letters and calls harassing consumers about debts they don't actually owe.
Inconsistent or strange email addresses and domains, often associated with payday lenders.
People behind the scam claiming to be attorneys or law enforcement officials.
Consumer complaints
Various consumers have also filed complaints regarding the following:
Calls to their home and workplace regarding debt they either never owed or already paid off.
Phone calls to the consumer's credit references.
Threats of legal action.
Access to private information such as bank accounts, SSN, etc.
Posted complaints
As of November 2021, the CFPB has received around 40 complaints about ACS Inc. These complaints primarily cite violations of their rights under the Fair Debt Collection Practice Act (FDCPA).
Other reputable sites also list various posted complaints. For example, BBB gives ACS, Inc. an NR (no rating) and says the company was based in Fresno, Calif. and is now out of business.


Here are some examples of online consumer complaints.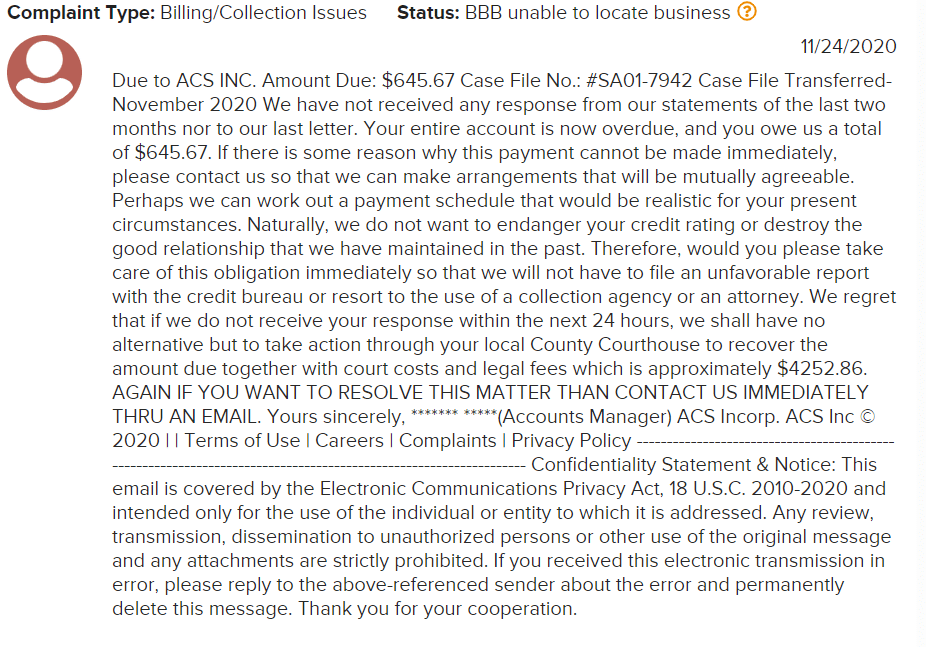 How to remove ACS from your credit report
Even after you've paid off an old debt or account, ACS will still show up on your credit report for some time. In fact, any account that's in collections can damage your credit history and stay on your credit report for up to 7 years. Here are three ways to remove ACS from your credit report.
Ask for a debt validation letter
Under the FDCPA, debt collectors are legally obligated to provide you with the details regarding your debt. So, if you want to remove ACS from your credit report, the first thing you should do is request a debt validation letter.
A debt validation letter is an official letter sent by the debt collector. This letter should outline how much you owe and to whom. It should also include information regarding the next steps. Once you've requested the debt validation letter from ACS, the debt collector will have five days to respond.
Check the debt validation letter for any errors or inaccuracies that you can dispute on your report. If there are any, you may be able to get the credit bureaus to investigate and remove ACS from your credit report.
After receiving the debt validation letter, you have 30 days to send a debt verification letter. This is an official letter in which you dispute any information in the debt validation letter. Here are some sample debt verification letters you can write.
There's another advantage to going through this process. If you suspect you're being scammed, you can request a debt validation letter to see if they'll send it. If they refuse, then they are not a legitimate debt collection agency.
READ MORE: How to prove a debt is not yours
Ask for a goodwill deletion
Another way to remove ACS from your credit report is to simply ask for a goodwill deletion. You can do this by writing and sending the agency a goodwill deletion letter. The purpose of this letter is not to dispute an error in the report. Instead, it's you asking for forgiveness in the form of removing the negative mark in its entirety.
In the letter, you should write about your circumstances and why you need the mark dropped from your credit report. It's entirely up to the debt collector to remove it or not. If they do grant forgiveness, it may take a couple of months before the mark is gone.
Pro tip: Keep in mind that a goodwill deletion request isn't a guarantee, especially if there are already multiple negative marks on your credit report. Still, it never hurts to try.
Negotiate a settlement
One other way to remove ACS from your credit report is to try to negotiate a settlement. This is most likely to work if the creditor is desperate to receive the full or partial payment for what you owe.
Negotiating a settlement is fairly challenging and doesn't always work. Still, like with the goodwill deletion, it doesn't hurt to try.
If you're able to come to an agreement with the debt collection agency, make sure they honor their side of the deal by getting it in writing. Don't make any payments to them until it's official or they may try to back out.
If all goes well, ACS should be removed from your credit report after about 30 days. If, after two months or so, it's still there, reach out to let them know. Remind them that not removing the mark is a breach of contract if they seem resistant.
READ MORE: DIY debt settlement
Protect yourself
Ask for the debt collector's information. This includes their name, company's name, address, official website, and contact information. Do some research on the company using the information they provide.
Request a debt validation letter.
Never provide personal information or make payments until you've verified the caller or sender.
Ask for information about the original creditor or lender. If they don't have it or seem suspicious, it may be a scam.
Check your credit report to confirm the debt or account is there.
Keep records of everything from conversation details to dates.
If you receive a court order, don't ignore it or a judge could garnish your wages.
Pay attention to red flags. If they call outside of business hours, threaten to reveal your debt to others, or ask you to pay through untraceable means, it's probably a scam.
If they threaten to add interest or late fees to the debt that don't fall within the original contract, it's a scam.
Know your rights. Under the Fair Debt Collection Practices Act, a debt collector cannot legally harass, threaten, or lie to you about what you owe.
There are a lot of debt collection scams out there. This video breaks down some of the warning signs so you can protect yourself.
Don't be afraid to ask for help
If you have reason to believe you're being scammed, or if don't know what to do next, consult an expert for advice. Or speak with a nonprofit credit counselor for help. Or call the local police.
Pro tip: Don't worry about whether the police are too busy. It's important that law enforcement is aware of scams, not only to help you but also to prevent others from falling for the same scams. Many have a form online that you can fill out, and they'll contact you during a slow period.
Another option is to check with your state attorney general's office. If you're dealing with a scam, they may have received complaints about the agency from other consumers.
The bottom line
ACS Incorporation is a legitimate debt collection agency, but many scam artists have also used the name to commit fraud. Debt collection scams are common but avoidable, as long as you know your rights and what to look for.
Check the email of the sender and verify the account on your credit report before doing anything else. In the meantime, if you believe you're being scammed, consult an expert or the local authorities for help.
FAQs
Is ACS a legitimate company?
There is a legit company named Advanced Collection Services Inc. It has headquarters in Lewiston, ME. Its mailing address is 155 Center St Auburn, ME 04210-5229.
There is also another company registered as Advanced Collection Service, Inc. that's based in Nebraska. Its mailing address is 714 Tara Plz, Papillion, NE 68046-2032.
If you've received any email or phone call from ACS, check your credit report. If you don't see the real Advanced Collection Services Inc., on your credit report, then you're probably dealing with fraud.
What should I do if I think I've been scammed?
Don't respond to the scammer and don't provide them with any additional information or money. Check your credit report to see if the agency is listed there. If it's not, or if you're still unsure, contact local law enforcement or consider hiring an experienced attorney. Also, report the incident to the CFPB and the FTC.
Will a letter from ACS Incorporation hurt my credit score?
If the letter is a scam, then no, it won't impact your credit score. However, if it's legitimate and you ignore it, it could result in your account being sent to collections. The longer an account is in collections, the more of an impact it will have on your credit. If you suspect that the debt is legitimately yours, it's crucial that you request the debt collector to verify the debt — even if you can't afford to pay it. Otherwise, you could end up in court — or even jail.
Will I go to jail if I ignore a debt collection letter from ACS?
No, defaulting on debt does not result in jail time. In fact, the FDCPA protects consumers from criminal prosecution and jail time even if they fail to pay their debts.
However, if the creditor files a lawsuit against you and you fail to respond, this could result in a judge getting involved. If you ignore a debt collection letter from a legitimate agency, there is a chance they could sue you. Should you ignore a court order, a judge could also garnish your wages.