Sometimes things just don't work out as planned: you buy a car that's a lemon or the vacation timeshare you agreed to under pressure turned out to be a big mistake.
In the case of a timeshare, you can hire a timeshare exit company to help you wave goodbye to your unwanted vacation property for good.
What is a timeshare exit company and what does it do?
Timeshare exit companies assist owners in exiting or canceling their timeshares. Some will have lawyers assigned to the case to guide you through a lengthy legal, while others will help you sell your unwanted property.
Timeshare exit companies differ depending on your circumstances: some work only with those with mortgages, others focus on resale, and with law firms.
For example, if your timeshare is paid in full, you'll want a different company than someone who's timeshare is heavily mortgaged.
The one thing most of them have in common — the process won't be cheap.
9 best timeshare exit companies

Newton Group Transfer
The Newton Group in business for over 15 years and offers clients access to two services for one flat fee: timeshare transfer and legal representation.
The Newton Group offers a free, no-obligation consultation. On the BBB page, it has 4.6 out of 5 stars. It has 4.7 stars out of 5 on Trustpilot.
Reviews


If you want a timeshare exit company with experience and high ratings, Newton Group would be a good fit.

Timeshare Specialists
Timeshare Specialists have more than 15 years of experience and offer free consultations. The Bozeman, Montana-based company says in most cases, it can free you of your timeshare obligations in eight to 12 weeks.
It offers multiple exit strategies and will list your timeshare for sale, which is not typical in the industry.
In addition, it works with an escrow company and doesn't ask for payment upfront. However, you will pay after your timeshare transfer paperwork is completed. It may not be able to assist you if have an existing mortgage or owe maintenance fees.
Timeshare Specialists has 4.2 out of 5 stars with the Better Business Bureau and 4.9 out of 5 stars on Trustpilot.
Reviews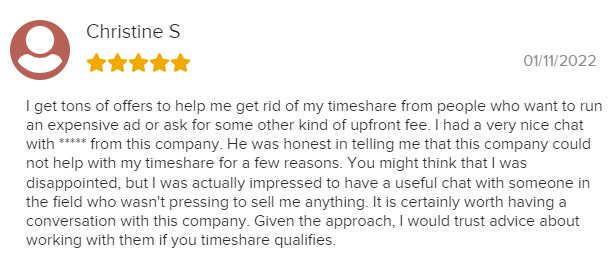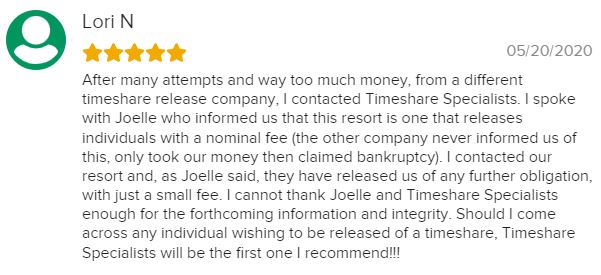 Timeshare Specialists could be a good choice if you want to pursue various options to exit your timeshare contract.

Seaside Consultants Group
The Encinitas, California-based timeshare exit company reports it has a "proven timeshare exit strategy," on its website along with a 100% customer satisfaction rate and escrow option.
Seaside Consultants has free consultations and mostly assists timeshare owners who signed contracts based on deceit, high-pressure sales, and misinformation.
Clients are assigned an attorney for legal representation and guidance during the timeshare exit process. It offers credit protection, which can prevent a timeshare developer from doing a credit check for lack of payment.
Prices for Seaside's services and fees vary; its website states it could take eight to 12 months for services to be completed.
On BBB, it earns 4.4 stars out of 5.
Reviews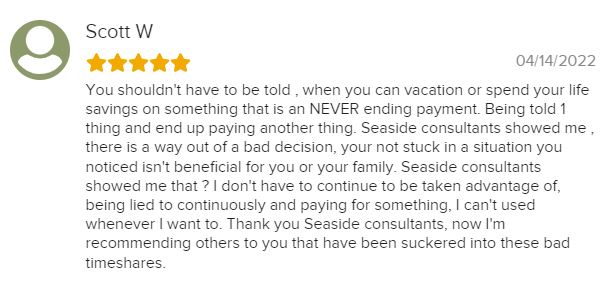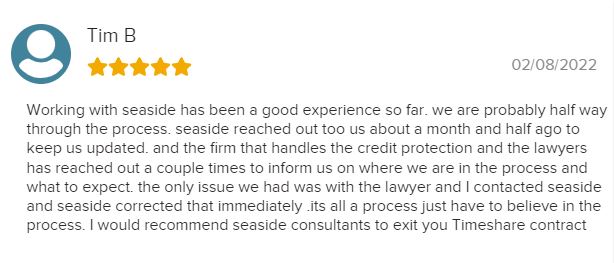 Seaside might be an option if you think you were manipulated into signing a timeshare contract.

EZ Exit Now
This timeshare exit company says, "it's a faith-based group" with a long history of positive community involvement.
Based in Houston, it's supportive of the U.S. Armed Services and offers a free one-on-one consultation.
Once confirmed EZ Exit Now will ask you to sign a contract and promises a 100% money-back guarantee. It offers an escrow option and doesn't list the prices for its timeshare exit services.
It earns 4 out of 5 stars on BBB. On Trustpilot, it has 3.9 stars out of 5.
Reviews:


Military members or those interested in community involvement might consider exploring EZ Exit Now for timeshare exit help.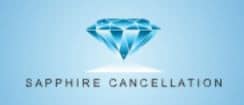 Sapphire Timeshare Cancellation
In business since 2018 Sapphire is in Orlando, Fla., and since January 2020, hasn't offered an escrow payment option, which for some might be a deal-breaker.
Sapphire doesn't transfer, sell, rent, or buy timeshares; it relies on consumer protection laws and regulations to help timeshare owners exit.
Sapphire Timeshare Cancellation gets 4.67 out of 5 stars on BBB.
Reviews


The company doesn't publish its fees but offers a flat fee dependent on the case and doesn't use commissioned sales agents.

Timeshare Compliance
Timeshare Compliance in Aliso Viejo, California offers a free consultation and says it may take up to 24 months to get released from a timeshare but is often sooner.
Timeshare Compliance offers a satisfaction guarantee and escrow option and has a BBB rating of 4.65 out of 5 stars, and 4.4 stars out of 5 on Trustpilot.
Reviews
"Timeshare compliance delivered the service they committed to…"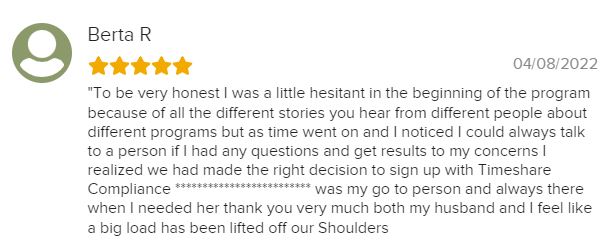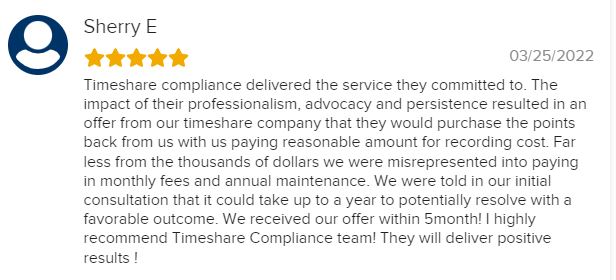 Timeshare Compliance may work for owners looking for top customer satisfaction.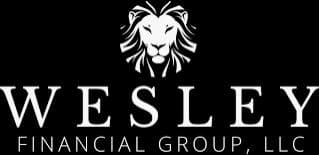 Wesley Financial Group
Wesley offers a free consultation and reports it has a one-of-a-kind process to help the timeshare mortgage debt, too.
It says sometimes it can refund part or all of the timeshare purchase price.
Wesley Financial Group offers a 100% money-back guarantee but doesn't say it offers an escrow option.
It has 4.79 stars out of 5 on BBB. On Trustpilot, it gets 4.8 out of 5 stars.
Reviews


Wesley is an option for owners who have timeshare mortgage debt.

Vacation Ownership Consultants
Since 2014 Vacation Ownership Consultants has provided no money out-of-pocket with 0% interest payment options available and no-cost consult.
Located in Scottsdale, Arizona, VOC charges a one-time, flat fee and states there are no hidden fees.
VOC offers an attorney-based process in conjunction with attorneys and other industry partners to help owners find the best solution. This includes in-house teams with industry experience, a contracted legal team, and strategic partners during the process.
Vacation Ownership Consultants' guarantees are backed by 100% satisfaction rates. It has a BBB rating of 4.97 out of 5 stars. On Trustpilot, it gets 4.9 out of 5 stars.
Reviews


Timeshare owners focused on affordability might want to consider VOC.

Lonestar Transfer
On its website, Rockwall, Texas-based Lonestar Transfer calls itself "the guaranteed timeshare exit solution." But it isn't just about timeshare transfers.
The firm offers two types of timeshare termination solutions:
Timeshare transfer
Mortgage cancellation
Timeshare transfer is for customers who are looking to get rid of a timeshare they've already paid for because the maintenance fees are adding up and you aren't using the property. In these instances, Lonestar Transfer helps clients to resell their properties.
With mortgage cancellation, the company says it will end your timeshare contract, plus any remaining mortgage obligations. This will take considerably longer than a timeshare transfer.
Lonestar Transfer has a Better Business Bureau rating of 4.96 stars out of 5, and 4.9 stars out of 5 on TrustPilot.
Reviews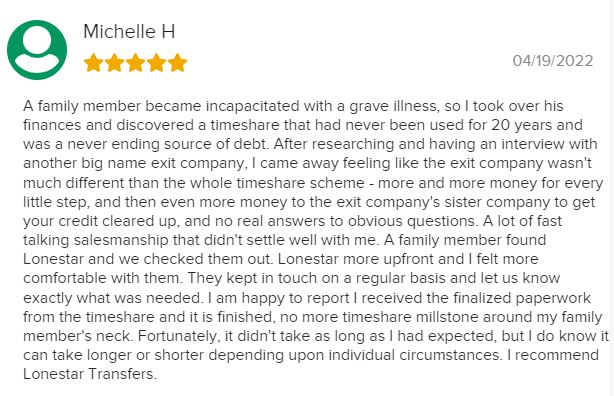 Lonestar Transfer is a good option for timeshare owners who haven't paid off their timeshare mortgage.
How to get rid of your unwanted timeshare
Read over your contract to see if there is a clause about a money-back guarantee.
Hire a real estate rental agent or real estate broker to rent the timeshare out.
See if the timeshare developer will buy it back from you.
Ask if the company will take it back for free. Some companies, including Bluegreen, have policies in place so that you can sign the deed back over to them if you truly want to be free of it.
Sell your timeshare to someone you know or trust.
Give your timeshare away to someone you know, a friend, family, or colleague.
Timeshare cancellation companies vs. timeshare resale: What's the difference?
Timeshare exit and timeshare resale are two options available to almost all timeshare owners.
Timeshare exit companies help get you out of your timeshare commitment while timeshare resale companies advertise your timeshare for others to buy or rent and charge a fee.
You will likely have to pay out of pocket when using a timeshare resale company same as you would by hiring a timeshare exit company.
DIY timeshare resale
If all else fails, you can try and sell the timeshare on your own.
To do this, look at timeshare users group, eBay, Craigslist, or your local classifieds.
Check to see comparable properties to know how and at what price to list your timeshare.
But keep price expectations low unless your timeshare is in a high-demand location as the timeshare resale market can be tough, especially in the current economy and pandemic aftermath.
How much do timeshare exit companies cost?
The answer depends on your timeshare contract and purchase situation, as well as the timeshare exit company.
Some timeshares exit companies charge a flat fee; others charge a dollar amount based on the situation.
That said, most timeshare companies will charge a minimum of $1,000, and it will increase depending on the complexity of your case.
What to look for in a timeshare exit service
Check the possible cost of the service.
See if it offers a free consultation.
Learn about its overall strategy: does it work with a law firm? Specialize only on resale?
Does it have a good track record? Has it been in business for long?
Does it offer an escrow option?
Does it have BBB and/or other online reviews?
Timeshare cancellation scams
Beware if you see any of these timeshares exit scams so you don't fall into a trap:
Avoid phone calls from exit companies unless you requested information or assistance.
Proceed with caution if you get an unrequested call.
Check the BBB and other ratings like Trustpilot when hunting for a timeshare exit company.
Get everything in writing; if it sounds too good to be true, it probably is.
Instructions to stop paying your maintenance fees/dues
It's not recommended to stop paying timeshare maintenance fees; you could default on your ownership and hurt your credit. If you do, the resort could take ownership back and the foreclosure will stay on your credit report.
Talk to your resort if you can't pay maintenance fees and dues.
Read the contract as it will spell out your responsibilities. Regardless of if you use your timeshare or not, your fees need to be paid.
Exorbitant upfront fees
You've probably already figured out that getting out of a timeshare isn't cheap. There will surely be fees, but make sure they're manageable. If the fees seem too high, search for another company or one that offers an escrow option.
Unsolicited phone calls/cold calls
A legitimate timeshare exit company will not make cold calls, so if anyone contacts you by phone and you haven't requested a call, hang up.
If you think you've been scammed, you must contact your state attorney general's office or the Federal Trade Commission right away to report the problem. If it's a local company, also notify your local authorities.
Reasons you might want to get rid of your timeshare
You made the purchase of the timeshare on a whim.
You hardly use it or never use it.
You can't afford the mortgage payments or timeshare maintenance fees or dues.
You're aging and/or have health concerns and don't want to deal with timeshare obligations.
Lack of flexibility scheduling travel and/or you simply don't have time.
Why is buying a timeshare a bad idea?
While it may sound great at the time, buying into a timeshare can be expensive, and you'll be locked into one company. There's little flexibility, and timeshares don't appreciate as they aren't liquid assets, and don't generate income.
Timeshare industry statistics
Here are some statistics from the American Resort Development Association (ARDA) International Foundation:
Timeshares are a $10.5 billion industry, which is comparable to the $9 billion in revenue of Major League Baseball and the $8 billion music industry.
Around 206,380 timeshare units are located throughout the U.S.
About 85% of timeshare owners say they regret buying their timeshare.
Major timeshare companies
Wyndham
Marriott Vacations Worldwide
Hilton Grand Vacations
Hyatt
Diamond Resorts
Bluegreen Vacations
Disney Vacation Club
The bottom line
While some timeshare owners are happy with their purchase, that's not always the case, and some feel trapped and just want a way out.
If you own a timeshare and want to dump it, don't expect the process to be easy or cheap. And when choosing a timeshare exit company, opt for one with a good reputation that will help you break free from the unwanted burden and expense.
FAQs
Is Timeshare Exit Team still in business?
On Dec. 31, 2021, Timeshare Exit Team closed its doors. If you're looking for a timeshare exit company, we recommend contacting one of the companies listed above.
What should I do if my timeshare exit company is a scam?
Contact your local attorney general and the Federal Trade Commission to report it. If it's a local company, notify your local authorities.
Am I allowed to rent my timeshare property to others?
According to the American Resort Development Association (ARDA), 87% of timeshare resorts offer some type of rental program, so most likely yes. Check with your timeshare company for what you can and cannot do.