Preparing food takes time, and time is money. Even going out for food can be expensive and time-consuming. Knowing how to get free food delivery can be a lifesaver for time-stressed people who just need to get a meal on the table.
The valuable of affordable food delivery is obvious. Even if you don't use it every day, it can be a lifesaver on that day when you really need it. Where you can find it may not be so obvious. Let's look at some options.
How can I get food delivered for no money?
Free delivery was once a common promotional offer for many restaurants. That's no longer the case: high fuel prices and scarce labor have made free delivery much less common.
Dominos, for example, used to make "30 minutes fast and free" a core part of their advertising. Today they charge a location-based delivery fee, and there may be a service fee on top of that. Even free isn't completely free: tips are expected.
Very few restaurants still have a standard free delivery policy. It's still possible to get food delivered for free. One way is to watch promotional offers. For example, many restaurants offer free delivery on your first order through DoorDash, including:
McDonald's
Chick-fil-A
Burger King
Shake Shack
Papa John's
Panda Express
Subway
Taco Bell
Chain restaurants aren't the only ones that offer free delivery promotions. Keep an eye on local restaurants as well. These promotions typically have a limited duration and are good only for your first order from that restaurant, but they will still work.
You may have to use a promo code. Watch out for these codes and write them down, even if you aren't sure you'll need them.
Watch local media outlets for advertised promotions, or join local social media groups and do occasional internet searches.
Order through an app for free delivery
Both restaurants and delivery services offer apps and often offer rewards and promos. These can help you get free or cheap food delivery.
And with inflation driving up food prices, it's important to seek out bargains as many households struggle to feed their families.
Restaurant apps and websites
Some restaurants offer free or discounted delivery or other perks if you order through their in-house apps. This saves them the commission that they would pay if you order through a delivery system.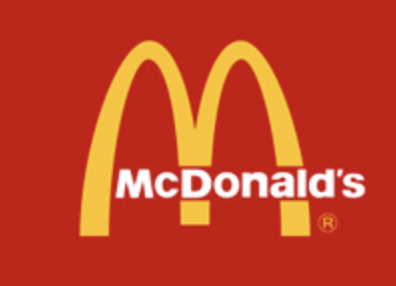 McDonald's
McDelivery is free when you order through the My McDonald's App. Menu prices in the app are the same as in-restaurant prices. The delivery page on their website offers promo codes that will get you discounts on either purchase or delivery costs. Their app will also offer coupons and promos, like free fries on Fridays. You can also have Mcdonald's delivered through DoorDash, Uber Eats, or GrubHub. However, the menu prices may be higher, and the delivery will only be free if you have a premium membership (though most services offer a free trial.
Download the app here.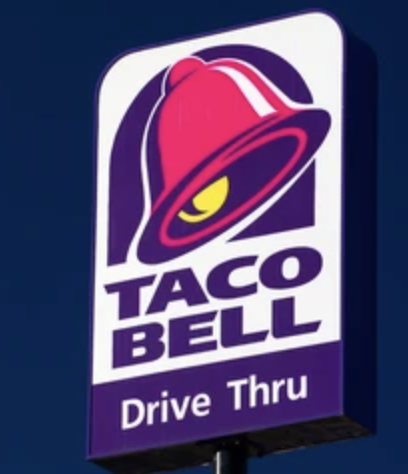 Taco Bell
Taco Bell recommends ordering through its partner Grubhub. Their website often offers promo codes for Grubhub, Uber Eats, and Postmates. Their app will let you order ahead and skip the line for in-store pickup, among other features. However, you'll have to spend a minimum of $12 to get free Grubhub delivery.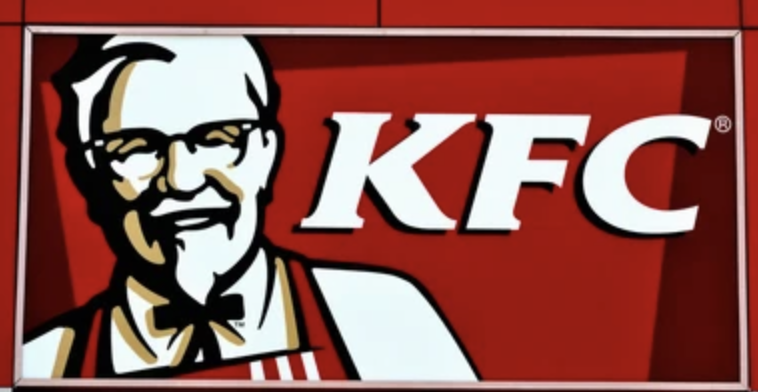 KFC
KFC allows ordering direct from their website or app, and there are regular promotions offering free or discounted food items, drinks, or delivery. You can also order through your favorite food delivery app. You'll get free delivery on orders of $12 or more with a Grubhub+ membership.


Subway
Subway offers delivery service through its website or app. Watch for occasional free delivery promos, which will typically be active for a month. You may also see promo codes or coupons for cut-price items or delivery. Sign up for a DashPass 30-day trial and get et free delivery on Subway orders over $10.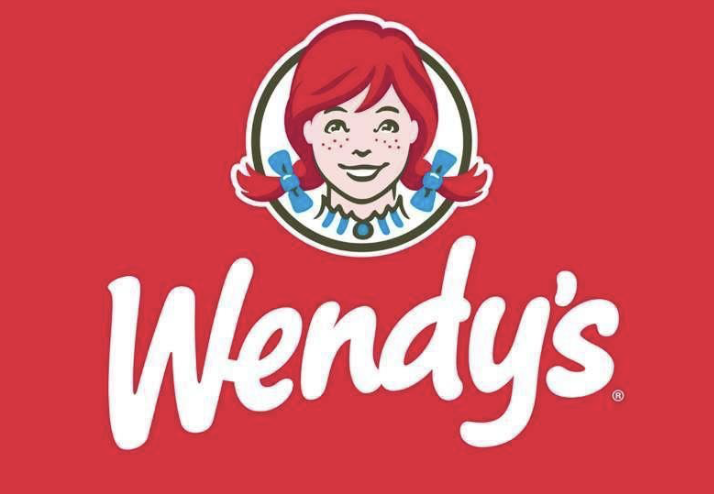 Wendy's
Wendy's recommends ordering through their own app or partners DoorDash, GrubHub, Postmates, or Uber Eats. You may find delivery promos on the website or app, offering bargains on delivery or on certain items. Delivery may not be available in all locations. DashPass members will get free delivery when they spend at least $10. DashPass also offers a 30-day free trial.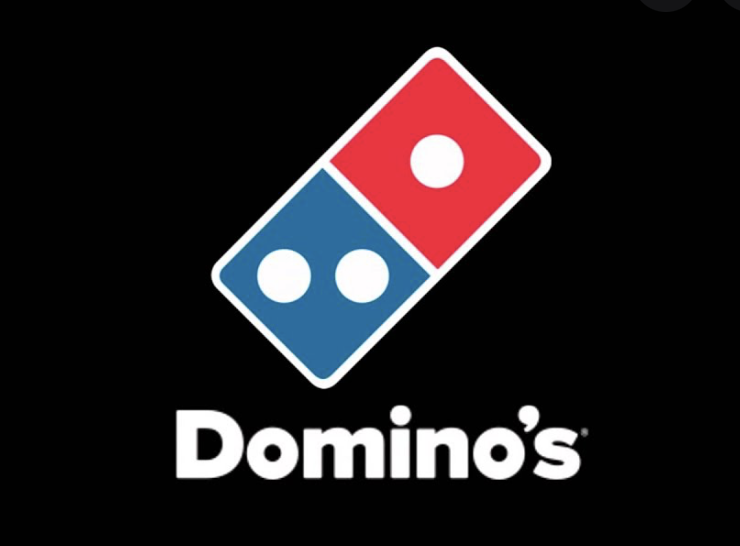 Domino's
Dominos allows online ordering for both delivery and pickup through both its website and its app. Check the site and the app for discounts and coupons. Dominos does not offer free delivery directly, but in some areas, GrubHub+ members can get free delivery.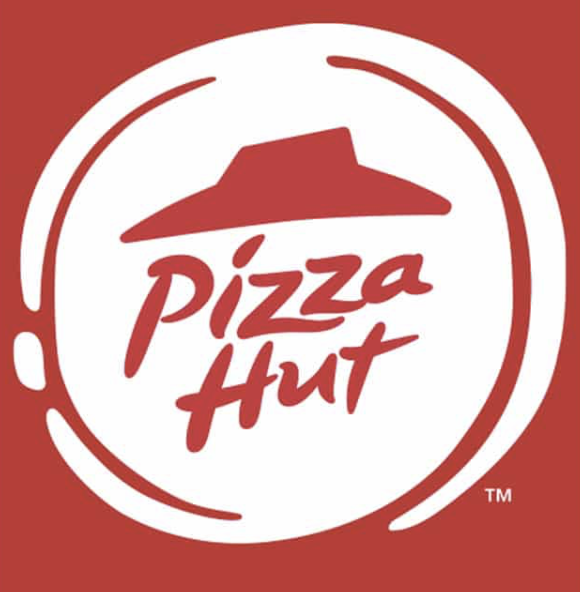 Pizza Hut
You can download the Pizza Hut app from either Apple's App Store or the Google Play Store. Ordering is fast and easy for pickup or delivery, and you'll often find discounts on food or deliveries on the apps or the website. Uber Eats Eats Pass members can get free delivery, though you may save more money by paying the delivery fee and using a coupon through the app.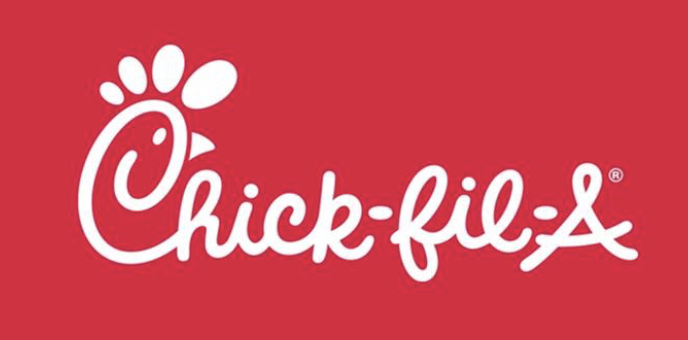 Chick-Fil-A
Chick-Fil-A offers delivery through nationwide partners DoorDash, Uber Eats, GrubHub, and Postmates. You can also order direct from the website or app. Menu prices on delivered items are higher. Delivery through the app is not free, but you can get free delivery if you have a DashPass membership.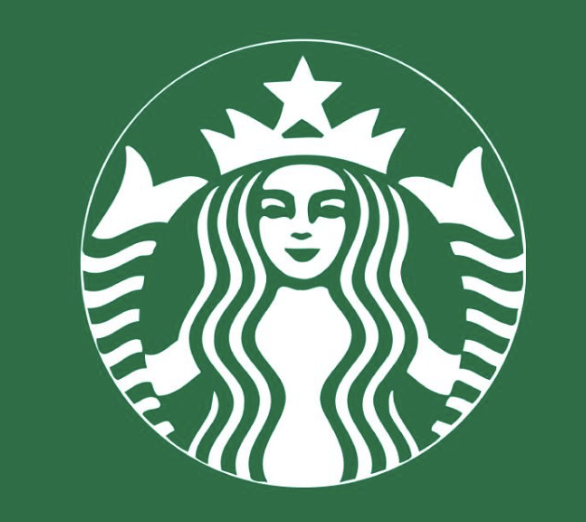 Starbucks
Starbucks delivers through partner Uber Eats for free delivery, though there may be other fees. You can order direct from the website or app, or just say "Hey Siri, order Starbucks." Join the Starbucks Rewards program for rewards, promotions, and discounts.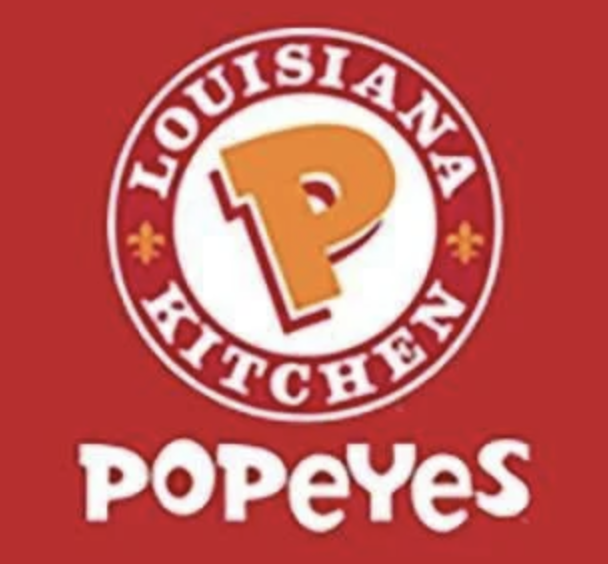 Popeye's
Popeye's offers delivery through Grubhub, DoorDash, and Postmates. Premium members will get free delivery. You can also order direct from the website or app. Expect to pay a $3.99 delivery fee if the nearest Popeye's is less than 6 miles away, and $5.99 if it's farther. Watch for special offers and discounts!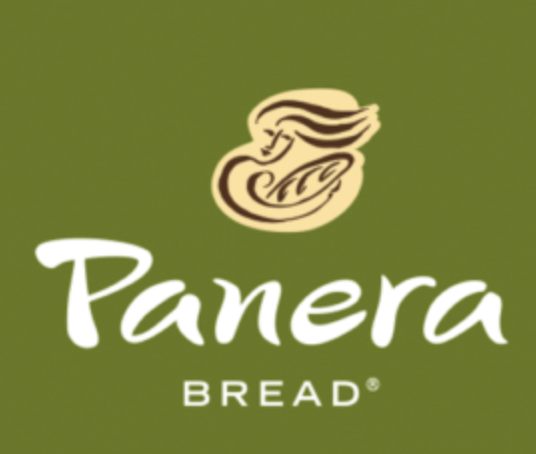 Panera Bread
Panera Bread is currently offering $1 delivery on orders over $5 from its website and app. Menu pricing may be higher and there may be fees. Panera Bread offers a special page dedicated to promo codes, discounts, and coupons. You can also get Panera Bread delivered for free if you have the Uber Eats Eats Pass.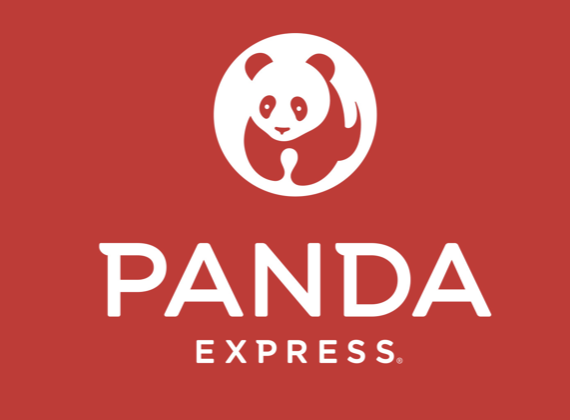 Panda Express
Chinese takeout is an old tradition, but Panda Express will bring its famed Orange Chicken straight to your door. Order from the website or the app. Watch for free delivery promos, discounts, and coupons. You can get it free with the Uber Eats Eats Pass. Panda Express charges about $5 for delivery if you order through the app, but the menu prices will be lower, so it may be cheaper to pay the fee depending on what you're ordering.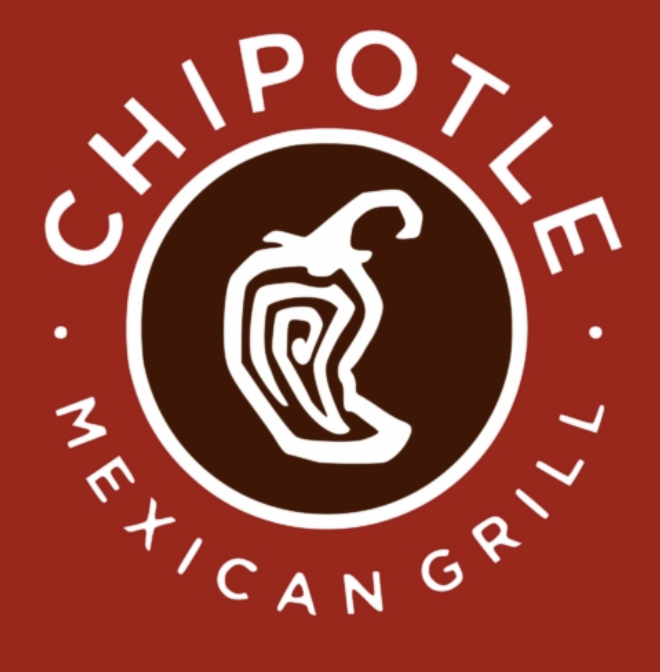 Chipotle
Chipotle offers delivery from both its website and its app. There's currently a $1 delivery fee promo going on, but the fine print says that higher menu prices and service fees may be charged. As usual, watch the website and app for special offers. You can also get free delivery through Uber Eats' Eats Pass, but the higher menu prices will offset the savings and unless you have a special deal through Uber Eats you'll come out ahead by ordering through the app.
Other chain restaurants
Some other restaurants that offer free delivery for app orders:
Popeye's: Free delivery for app orders over $20
Boston Market: Order through the app or website and delivery is free
Bob Evans: The chain offers free Friday delivery through their website or app. No minimum purchase is required.
Del Taco: Order through Postmates, use the code DELTACONOW, and delivery is free
Romano's Macaroni Grill: Free delivery
Capriotti's Sandwich Shop: Free delivery for orders placed through the website
Rubio's Coastal Grill: Order worth $20 or above through the app or website and get free delivery
Torchy's Tacos: No delivery fee for DoorDash orders
Blaze Pizza: Order worth $15 or above through Postmates and there's no delivery fee
Five Guys: Order $15 worth of food through the Five Guys website or app and your delivery is free
You may need to order above a minimum dollar amount to get free delivery through a restaurant app. Again, don't forget local restaurants. Many have apps and they may offer free delivery promos.
Compare prices
Free delivery is appealing, but check prices before you jump into a purchase. The restaurant may be offering free delivery but jacking up their prices to compensate. You may be willing to pay a higher price to compensate but there's a point at which it's no longer worth it.
Always compare prices with similar restaurants so you understand the full cost of free delivery.
Sign up for the major delivery apps
Delivery services like like DoorDash, UberEats, Grubhub, and Postmates have their own apps. These apps often offer free or discounted delivery promos.
These opportunities come and go and they may only be valid for a few days, but checking the app will often give you a free or discounted delivery option.
You'll usually have to subscribe and pay a monthly membership fee to get free delivery. Otherwise, you'll pay a delivery fee ranging from 49 cents to up to $10. Sometimes there may be a trial offer for new users.
If you use food delivery regularly, signing up for a premium service can actually be a money-saving solution. If you don't often use deliveries it's probably not worth paying the fee.
Top food delivery apps (and how to get free delivery)
Food delivery apps make money from both the restaurant and the customer. They charge a commission to the restaurant, usually 10% to 30%. You don't pay that directly, but it's priced into the cost of your food.
Your direct costs will be delivery fees, service fees, and processing fees, along with tips. Because the delivery services are paid by the restaurants, they can offer free delivery promos.
Let's look at some of the major food delivery apps and how you can use them to get free food delivery.
DoorDash
DoorDash dominates the food delivery service market, with a 59% market share in 2022. The app is available in all 50 states.
In addition to exponential growth due to the COVID-19 pandemic, DoorDash had already expanded its footprint by merging with delivery-service Caviar in late 2019.
DoorDash has a delivery fee, which varies with location and the restaurant. Online reports indicate changes ranging from $2 to $18 per order. There may be service fees as well.
DoorDash practices "surge pricing," which means you may pay more during peak delivery hours.
DashPass is a DoorDash subscription service that offers a $0 delivery fee for orders over $12 from "thousands of restaurants" and eligible grocery orders over $25. You will pay a $9.99 subscription fee. If you use deliveries regularly this could be a money-saving option.
If you have a Chase credit card, you may be eligible for a free DashPass.
DoorDash also offers $0 deliveries on the first order from many restaurants, and some restaurants may offer $0 delivery promotions, generally for limited times.
Dash Pass free delivery
Applebee's, Baskin-Robbins, California Pizza Kitchen, The Cheesecake Factory, Cinnabon, Einstein Bros., El Pollo Loco, Pepe's Pizza, Noodles & Co., Red Lobster, Ruby Tuesday, Shari's, Subway and Wingstop.
DoorDash also owns Caviar, so the two services are very similar.
Uber Eats
Uber Eats is the second largest delivery service, with 24% of the market. UberEats is available in over 500 cities worldwide. The commission is high, ranging from 30% to 40%.
If you want to get Starbucks delivered straight to you, Uber Eats is the app for you.
Uber Eats charges a service fee, usually around 15% of your order with a $3 minimum. There's also a delivery fee, ranging from $0.49 to $7.99, mainly depending on the distance. There's a priority delivery fee if you want your order to be first in line.
Uber Eats practices surge pricing, so you may pay more for delivery during peak times.
Uber Eats offers Eats Pass, which gets you $0 deliveries from select restaurants without surge pricing on orders over $15. You'll pay $9.99/month. With your Eats Pass you will usually get a few discount offers per month that will usually offset the cost.
One example is an offer for 40% off an order of $30 or more. This is usually substantial enough to cover any and all of the app's higher prices, delivery fee and tip and still save about $5.
Uber Eats Eats Pass free delivery
Blaze Pizza, Chili's, Church's Chicken, Famous Dave's, IHOP, P.F. Chang's, Potbelly Sandwich Shop, Waffle House, Whataburger and White Castle.
Free delivery promotions may also be available from some restaurants during promotional periods.
Grubhub
Grubhub operates in 2700 cities across all 50 states. Delivery fees vary with the restaurant but are typically 15% of the order. There may also be a processing fee, and you may pay a 5% fee for credit card transactions.
Grubhub does not use surge pricing, which could make it a better option for peak hours.
Grubhub+ is Grubhub's subscription service. For $9.99/month, you'll get free delivery on orders over $12 at selected restaurants. In some locations, you may also get one free $10 meal that you pick up yourself.
Amazon Prime members are eligible for a full year of Grubhub+ for free.
Donate your change to charity and Grubhub will match your donation.
Grubhub owns Seamless, and the two services are virtually identical. 
Grubhub+ free delivery
Buffalo Wild Wings, Burger King, Cold Stone Creamery, Firehouse Subs, Huddle House, Jamba Juice, Krystal, O'Charley's, Original Pancake House, Shake Shack and Sonic.
Postmates
Postmates operates in 1,500 cities across all 50 states. It charges a relatively high commission to restaurants, so lower-priced restaurants may not offer the service.
The Postmates delivery fee is $1.99 to $3.99 for partner restaurants, and $5.99 to $9.99 for other restaurants. There may be a variable service fee. Minimum orders vary in different cities.
Postmates does not publish a list of partner restaurants. Look for a green check mark by the restaurant name on the app.
Postmates uses surge pricing, which they call "blitz pricing". You'll pay more during peak hours.
Postmates Unlimited is a subscription service. You get free food delivery and a reduced service charge on orders over $15 ($30 for groceries) and you will not pay the blitz pricing surcharge. The service costs the usual $9.99/month but is available for $83.99/year.
Postmates regularly offers free and discount promos; check the app for opportunities.
Postmates does not seem to be as widely popular as the other three options.
Postmates Unlimited free delivery
Bojangles, Carl's Jr., Del Taco, Dunkin' Donuts, Hardee's, Little Caesar's, Outback Steakhouse and Village Inn.
---
Is the post-COVID growth of food delivery services hurting restaurants? To learn more, check out this video:
---
How to get free grocery deliveries
Home-cooked food is often a better, cheaper, option, but getting to a grocery store takes money and time, especially if you don't have a car. Groceries can be delivered too!
Amazon
Amazon offers home delivery through Amazon Fresh and Whole Foods Market. You fill a cart (with help from Alexa), a shopper chooses your goods, and you can have delivery in two hours in over 2,000 American cities.
Two-hour delivery from Amazon Fresh is free for Prime members on orders over a set threshold ($35 or $50, depending on location). There's a fee based on your cart total for one-hour delivery.
However, Amazon recently raised the minimum order size for Prime's free Amazon Fresh grocery delivery orders totaling over $150.
Orders between $100 to $150 will cost $3.95
Orders between $50 to $100 will cost $6.95
Orders of less than $50 will cost $9.95
Under the new Amazon pricing policy, it may now be less expensive to order delivery from your local grocery store or Whole Foods Market when you factor in the higher delivery fee and limited availability of some items.
And you can bypass Amazon and order directly from Whole Foods Market for a $9.95 service fee, though Whole Foods charges an additional delivery fee based on your order total if you need one-hour delivery.
Grocery stores
Don't overlook your local grocery stores. Many will offer free initial delivery for new users and then offer an annual subscription. Many offer free curbside pickup or are waiving the service fee, so you can skip the (self) checkout.
Pro tip: Using curbside pickup can save you money because it eliminates many impulse buys. It's easier to stick to a budget when you aren't facing immediate temptation.
If you have a preferred store in your neighborhood, ask about delivery options and promotional offers.
Instacart
Instacart will shop for you and deliver your purchases. Deliveries start at $3.99 for same-day orders over $35. Fees vary for faster deliveries, smaller orders or club store deliveries. There is a service fee and a surcharge for heavy orders.
Instacart+ members get a reduced service charge and free delivery on orders over $35. Instacart may offer an introductory rate for first-time users. Instacart+ costs $9.99/month or $99/year.
Some Chase credit cards offer a free trial subscription to Instacart+, and even a quarterly credit to use toward purchases, so check your credit card offers.
Shipt
Shipt is a delivery service owned by Target. They deliver orders from both national chains and local stores. Shipt membership costs $99 per year and gets you free delivery on orders over $35. Non-members have to buy a $10 Shipt Pass to order.
You can order from Target directly through the Target app and get in-store pricing with delivery from Shipt. This makes Shipt a strong contender for regular Target shoppers.
The bottom line
Food delivery is very convenient, but it can add substantially to your overall food costs. This chart from TechCrunch breaks down some of the pricing differences: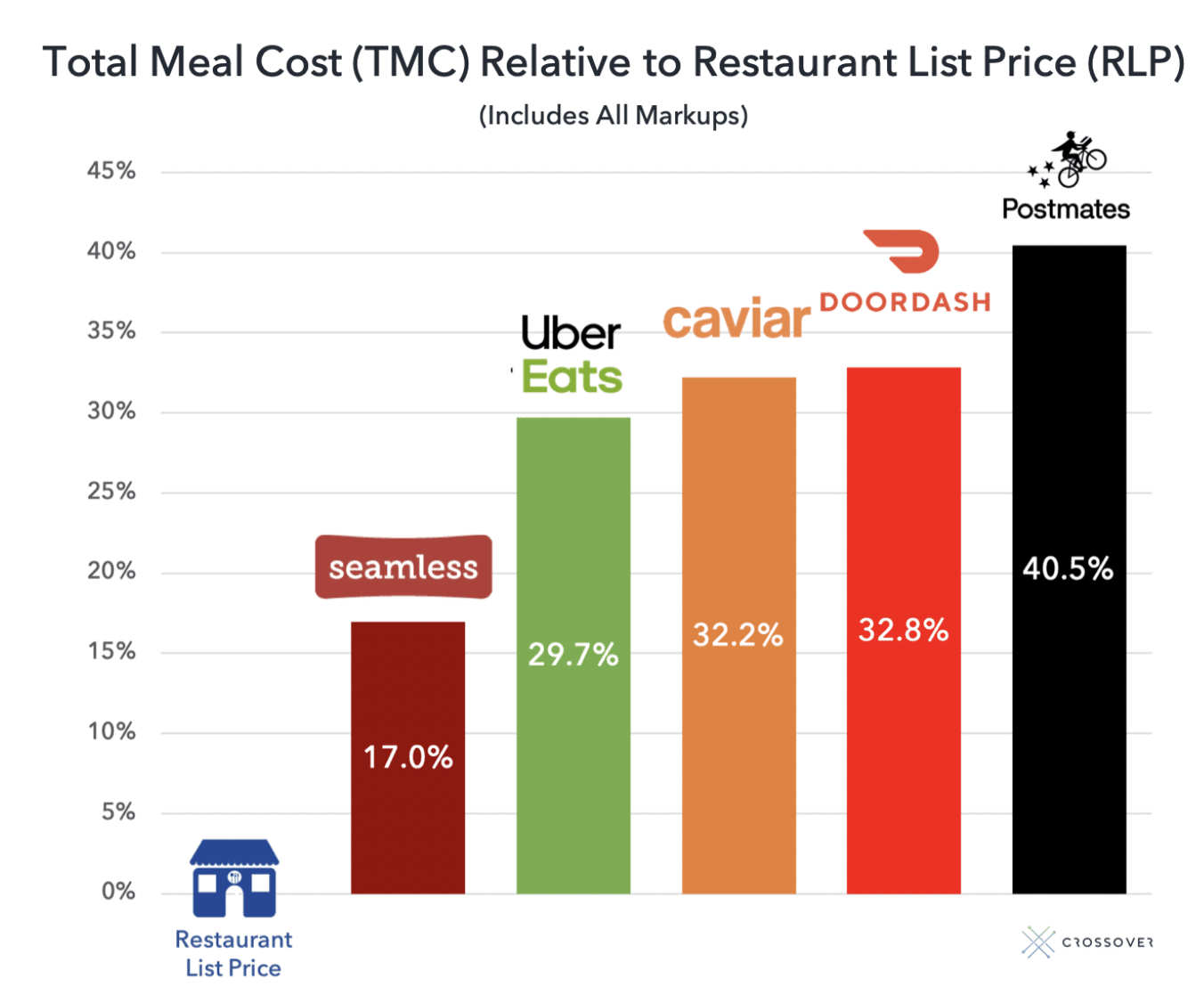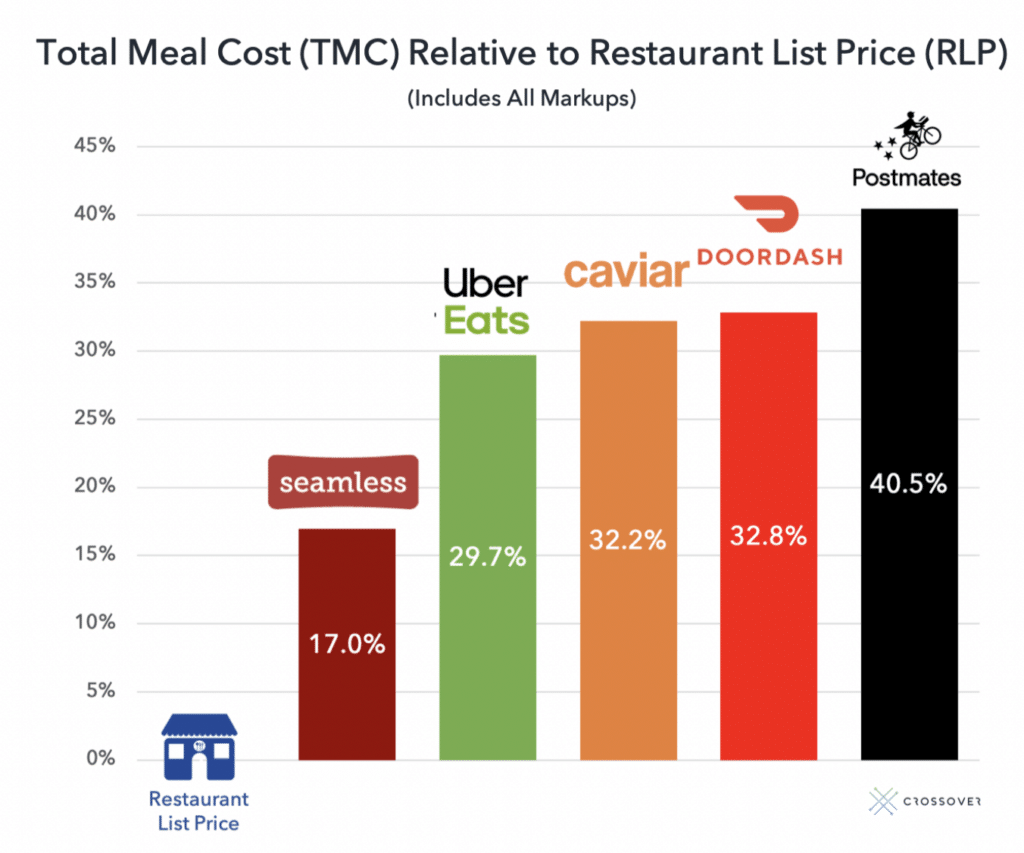 Knowing how to get free food delivery can get you the convenience of food delivery without the extra costs. If you're struggling to stick to a budget, that can be a big help.
Very few restaurants or delivery apps offer free delivery as a standard feature. That doesn't mean you can't get food delivered for free or at a low cost.
Many delivery apps have premium services that provide free delivery for a small monthly fee, a viable option if you use delivery services regularly. If you don't, watch out for free promos and apps that offer free delivery for your first purchase.
You may not always be able to get exactly what you want for free, but you'll often find that there is a free delivery option available.
FAQs
Does the delivery fee include the driver's tip?
Delivery fees do not include the driver's tip, though the app almost always offers a tipping option. Tips of 20% are standard, though many buyers add more for small orders, very large orders, deliveries during inclement weather or deliveries from restaurants that require more driving. Because of the high demand for delivery drivers, it could be difficult to find a driver willing to fulfill your order for one of the big delivery services if you set the tip to zero. Even if the delivery is free, you will need to factor in a driver tip to your total cost.
What does surge pricing mean?
Surge pricing means that the delivery service charges more for deliveries during peak hours. Some services may use a different name for this surcharge. Many services waive surge pricing for premium subscribers.
Can I get alcohol delivered?
Yes, Drizly partners with liquor stores to provide delivery in over 1500 cities in 31 states.