If you have a history of missing your credit card payments, that information gets reported to the credit bureaus. If you have a history of over-drafting your bank account, or a poor deposit history, that information gets reported to ChexSystems, which is sort of like a credit bureau but for banks. If you've tried to open a new bank account and been denied, it's likely because there is adverse information on your ChexSystems report.
If this has happened, it's easy to feel discouraged and to assume that you are going to be beholden to check cashing places (and their exorbitant fees) forever. Guess what: you won't! There are some banks and credit unions that offer accounts to people in your exact situation. These types of accounts are called "second chance" accounts.
The 6 best checking accounts if you have bad credit
A quick Google search will turn up lots of options for bank accounts for bad credit. Unfortunately, not all of these accounts are on the up and up. It is important to research each of your options before applying. You need to make sure to work with a bank or credit union that is legitimate, obviously. You should also check into features, perks, and each account's terms and conditions.
Here are a few bank accounts for people with bad credit (and/or poor ChexSystems reports) that are worth checking out (pun intended).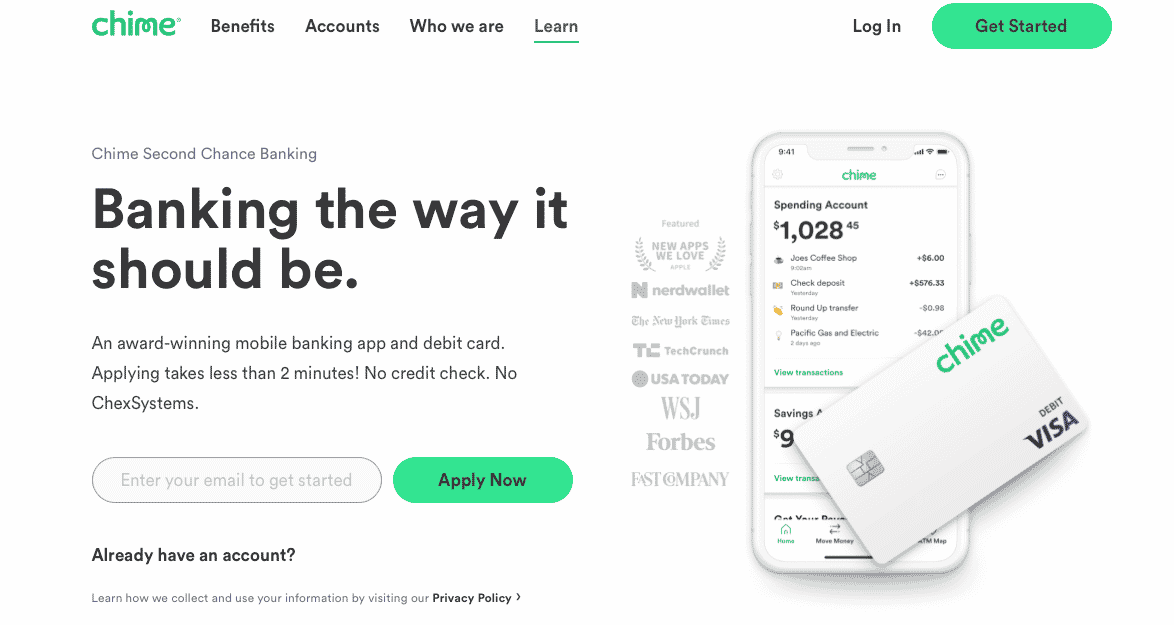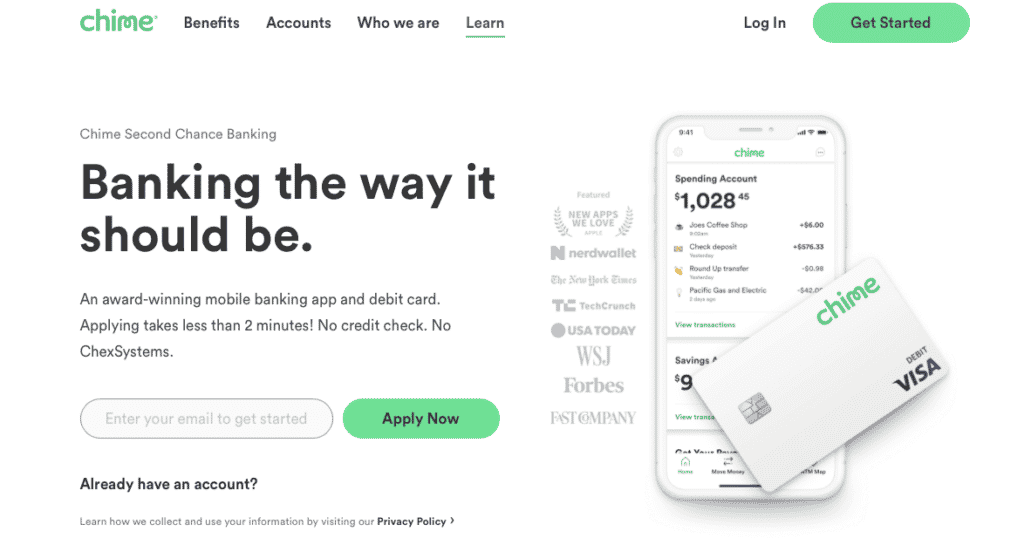 Best overall: Chime
Minimum opening deposit: None
APY: 0.50% APY for Savings Accounts (this fluctuates)
Direct deposit requirement: None
Monthly fees and/or service charges: Out-of-network fee if you use an ATM outside of Chime's network, but that's it
ATM: Free access to in-store ATMs that have partnered with Chime (they claim a network of 60,000+). The Chime app helps you locate a partner ATM
Credit card: Yes, Chime offers a secured credit card that users fund via their "Credit Builder" accounts. To qualify, you must already have a Chime checking account and have received a qualifying direct deposit (employer, payroll, benefits payer deposit) of $200 or more.
Overdraft protection: For qualifying customers
Uses ChexSystems: No
Other noteworthy features: Deposits are FDIC insured up to $250K. Chime offers savings accounts with decent APYs. They also offer SpotMe— a sort of overdraft protection — to people who qualify for the program. Customers can access their paychecks up to two business days early and can send/receive money directly from other individuals without having to use a third party like PayPal. You can also quickly block access (and remove blocks) via the app.
5 other top checking accounts for bad credit
If Chime doesn't meet your needs, here are a few other options worth a look.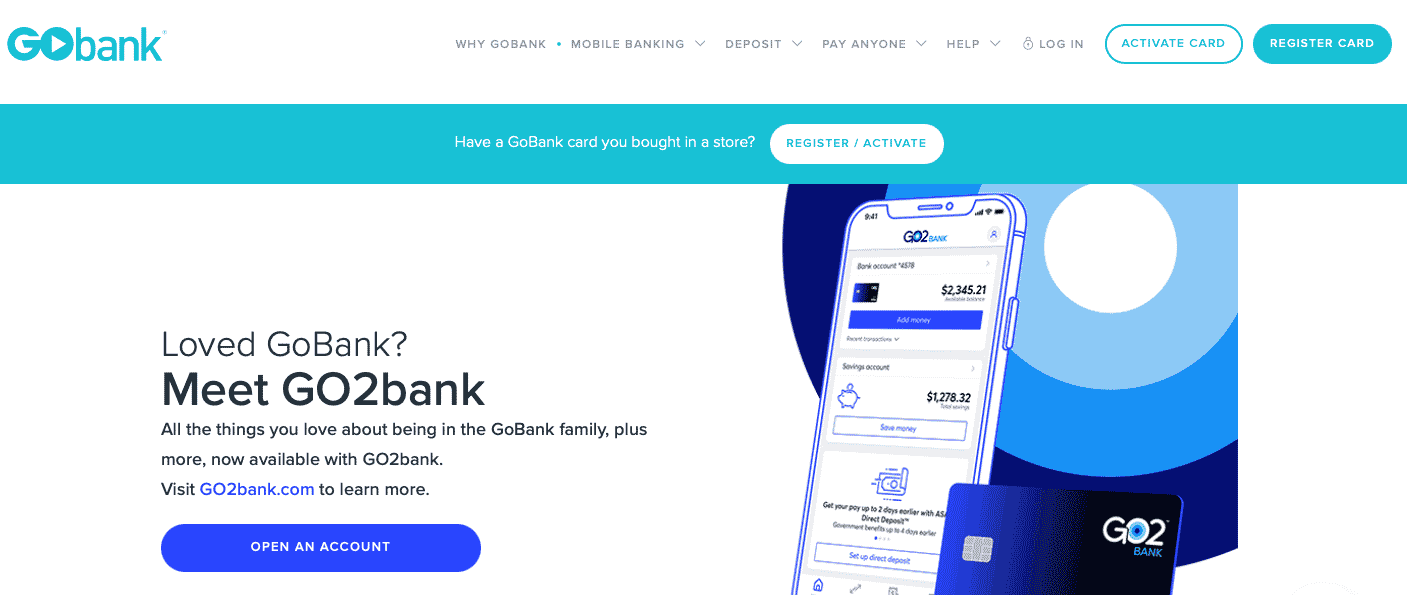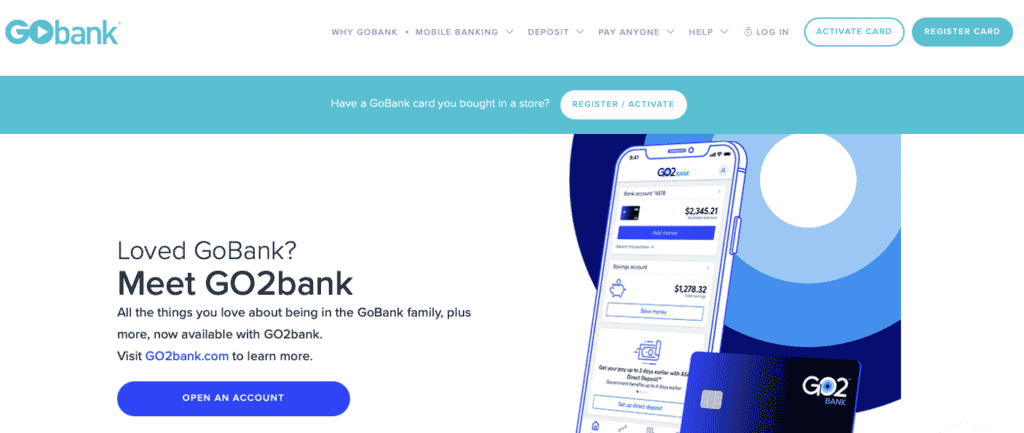 Green Dot Bank Go2Bank (available online and at Walmart stores)
Quick Note: Green Dot Bank, GoBank, Go2Bank, and Bonneville Bank are all the same bank. It is not a full-service bank. Instead, it offers debit cards that are associated with some online banking services.
Minimum opening deposit: None (though you do have to fund your card somehow)
APY: 2% on savings account balance
Direct deposit requirement: To count as "direct deposits" the deposit must come from a payroll or government benefits account
Monthly fees and/or service charges: This depends on the card you choose. Typically, as long as you meet deposit or spending requirements, there are no monthly fees. If not, the fee can range from $5/month to a fee-per-transaction setup
ATMs: Up to four free in-network ATM withdrawals per month, $2.50-$3 per withdrawal after that. Out of network ATM fees range $2.50-$3 per transaction
Credit card: Not offered
Overdraft protection: Yes
Uses ChexSystems: No
Other noteworthy features: Green Dot Bank (et al) are one of the more expensive options out there. They have hefty deposit and spending requirements and will charge a monthly fee if those requirements are not met each month. That said, these are super easy to set up and to use. 
---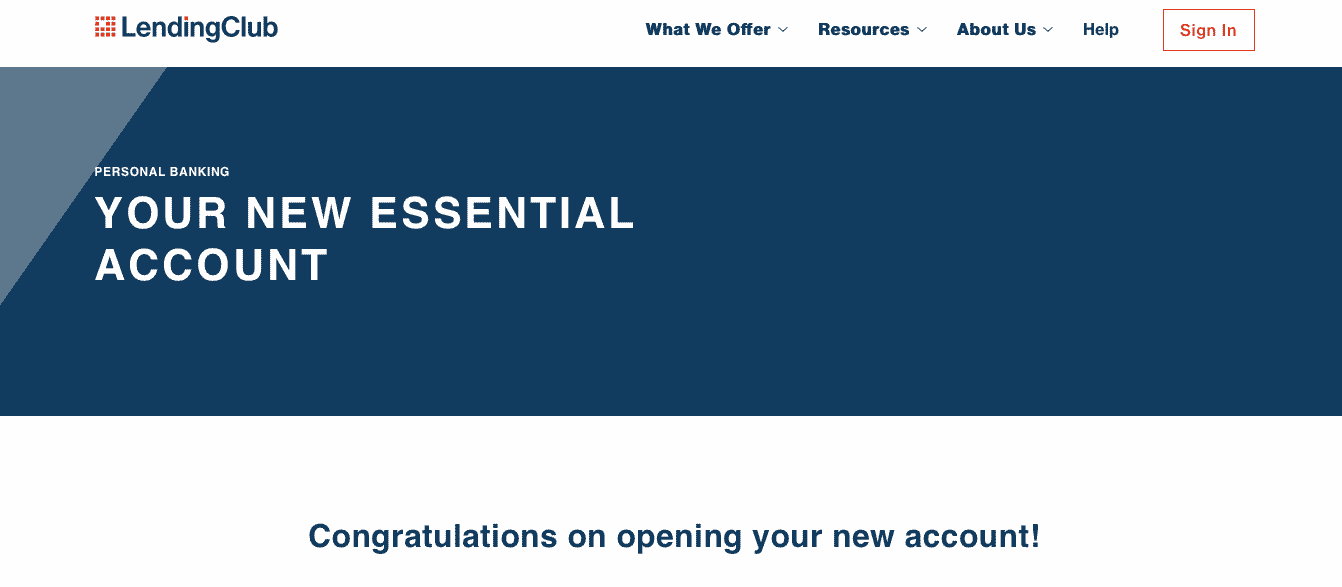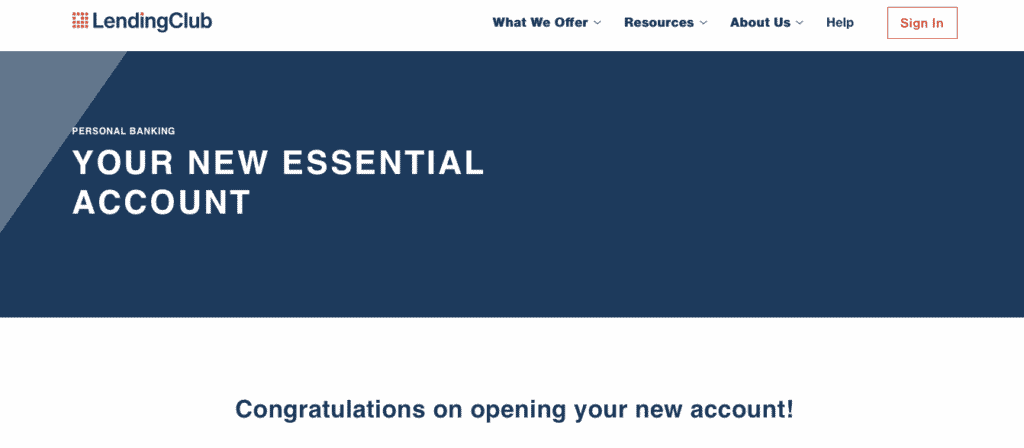 Minimum opening deposit: $25
APY: 0.10% for account balances between $2,500 – $99,999; 0.15% for account balances $100K+
Direct deposit requirement: None
Monthly fees and/or service charges: No monthly fees for regular checking. $9/month for "Essential" (their second chance) checking account.
ATMs: Free access; LendingClub refunds any ATM fees charged to your account on a monthly basis
Credit card: No, but LendingClub does offer loans
Overdraft protection: Yes
Uses ChexSystems: Yes
Other noteworthy features: Perhaps the best feature is the 1% cash back feature on purchases. LendingClub also offers savings accounts, CDs, loan products, etc. It's worth noting that their "Essentials" account has stricter limits than the Rewards checking when it comes to spending and deposits. 
---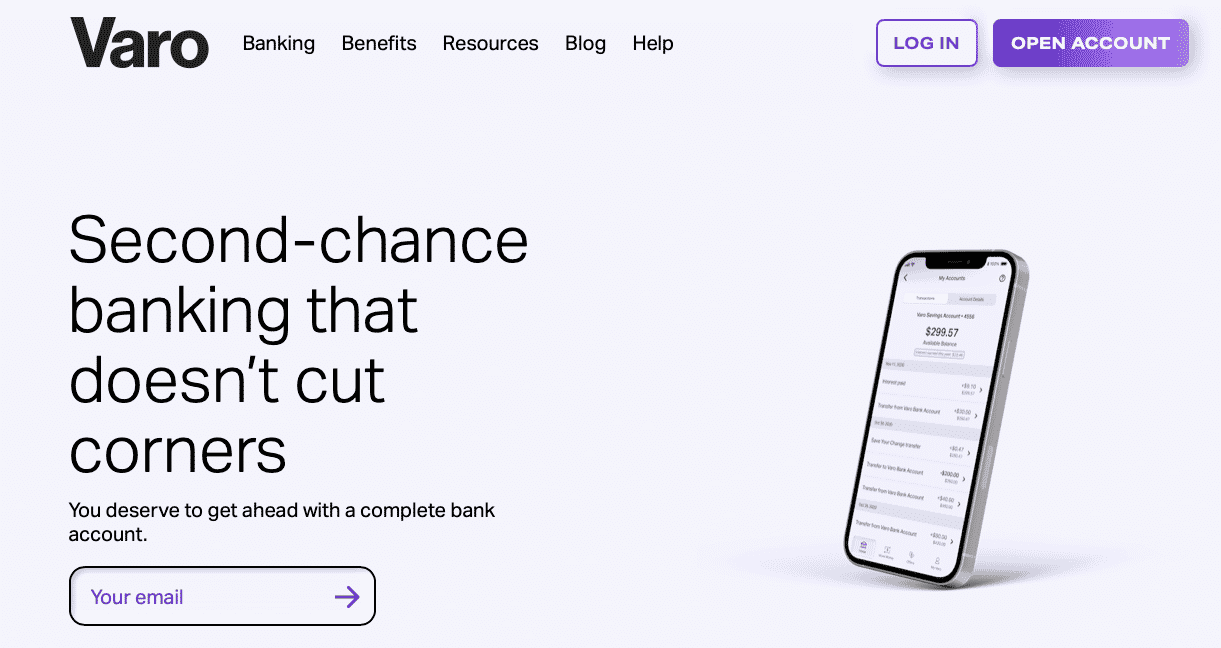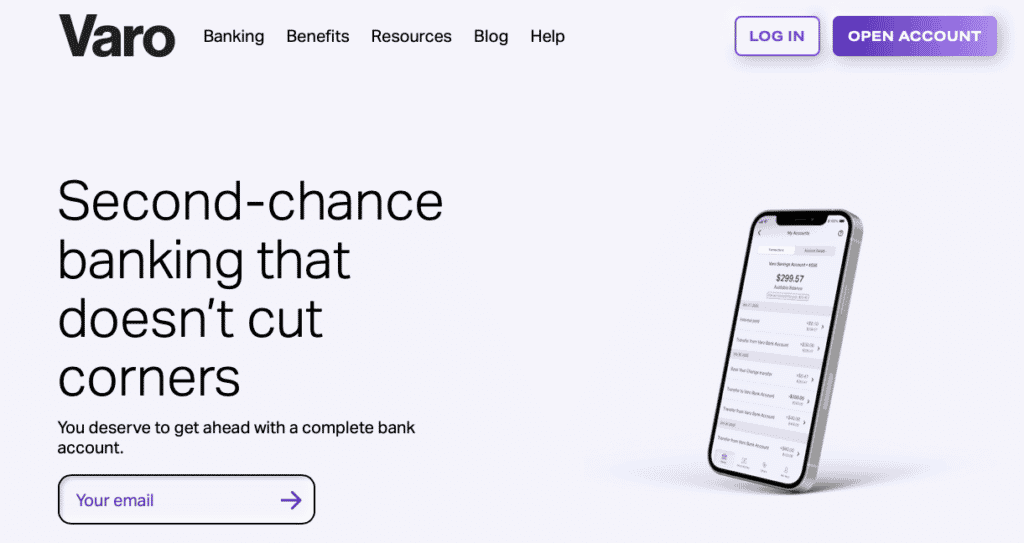 Varo Bank Account
Minimum opening deposit: None
APY: 1.20% – 5% on Varo Savings accounts, depending on which tier your account is in
Direct deposit requirement: None
Monthly fees and/or service charges: No monthly or maintenance fees. Some fees for things like using an out-of-network ATM, depositing cash via a third-party service, and over-the-counter cash withdrawals
ATMs: Member of the All-Point ATM network, which has more than 55K ATMs. In-network ATM withdrawals are free
Credit card: Varo Believe, a sort of credit building/secured line of credit. You set your credit limit by depositing money into your Varo Secured Believe Account
Overdraft protection: No, but qualified customers can access Varo Advance
Uses ChexSystems: No
Other noteworthy features: Varo accounts are FDIC insured. In addition to savings account and Varo Believe, Varo offers Varo Advance, a sort of alternative to overdraft protection. Varo Advance allows you to advance up to $100 from your next qualifying deposit to help you bridge the gap between paydays. 
---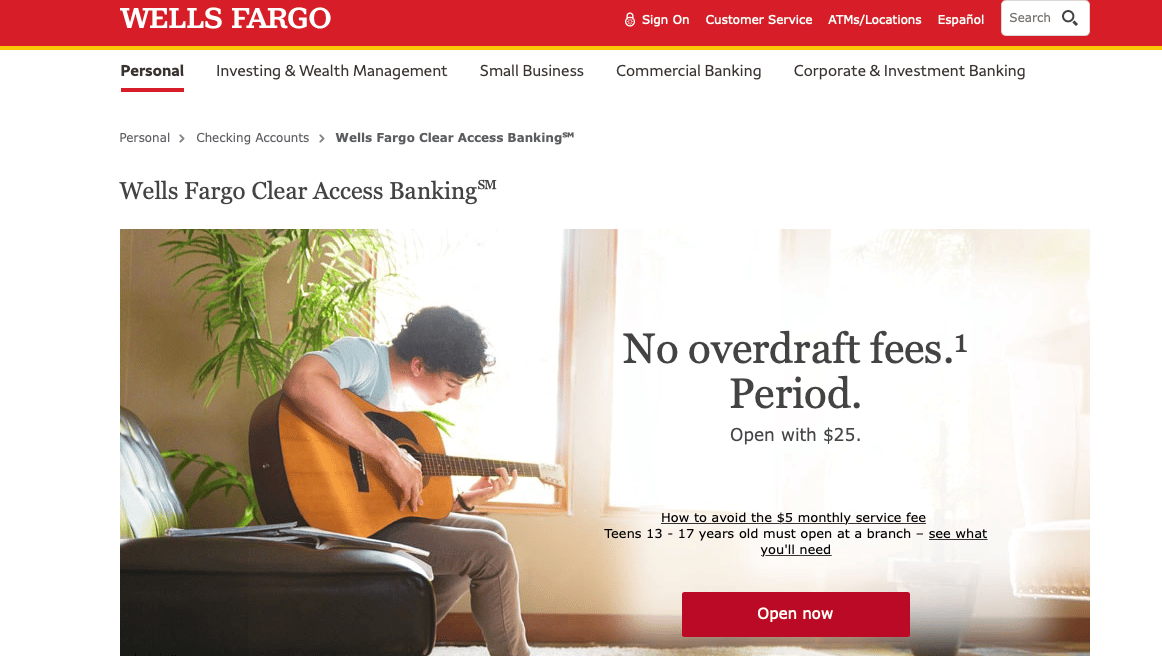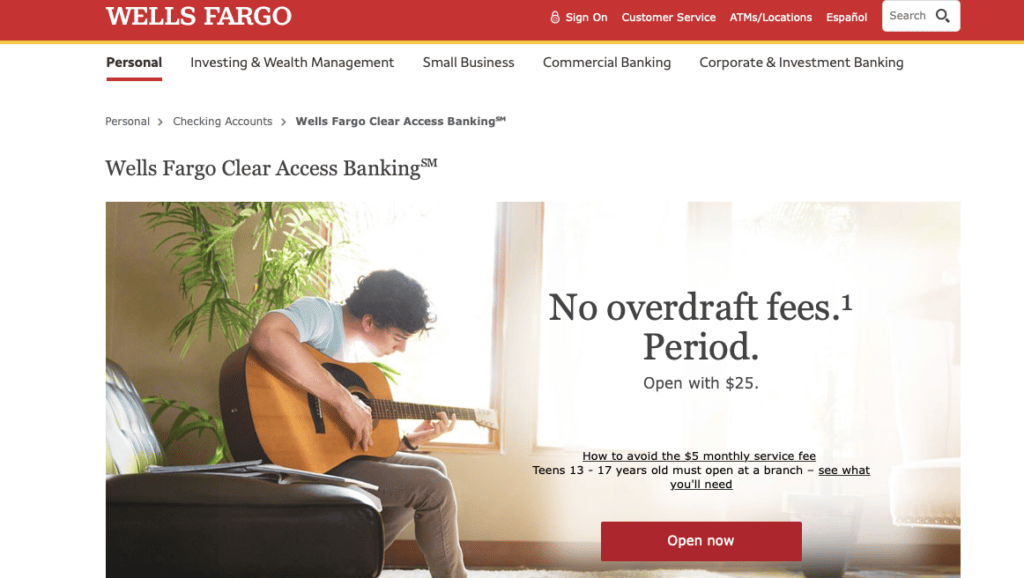 Minimum opening deposit: $25 minimum opening deposit
APY: 0 for Clear Access Banking, Way2Save Savings Account has .01% interest rate
Direct deposit requirement: Deposits processed by ACH are considered Direct Deposits
Monthly fees and/or service charges: $5/month for account holders over the age of 24. $12 for all returned items
ATMs: Free use of all Wells Fargo ATMs, $2.50 for non-WF ATMs (in addition to whatever fees that ATM's network charges)
Credit card: Wells Fargo offers a number of credit card products
Overdraft protection: No
Uses ChexSystems: Not for the Clear Access account
Other noteworthy features: Wells Fargo Clear Access Banking is only available in 39 states and in Washington D.C. Clear Access account holders are not permitted to use checks. Clear Access Banking account holders are able to access the full suite of Wells Fargo banking products (providing they meet that product's qualifications). 
---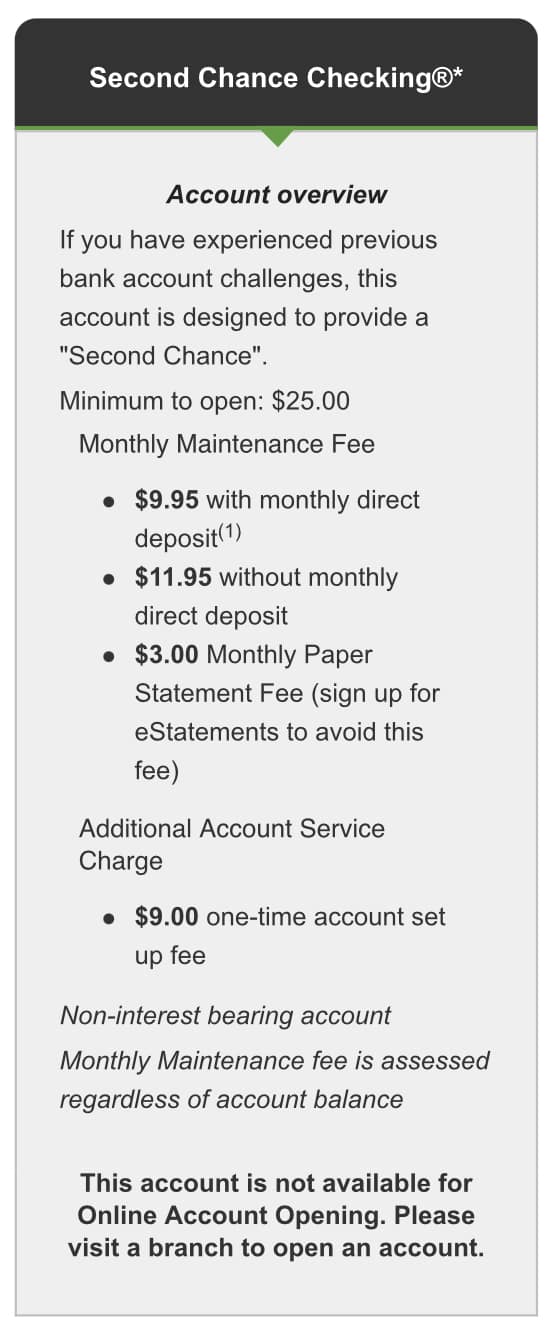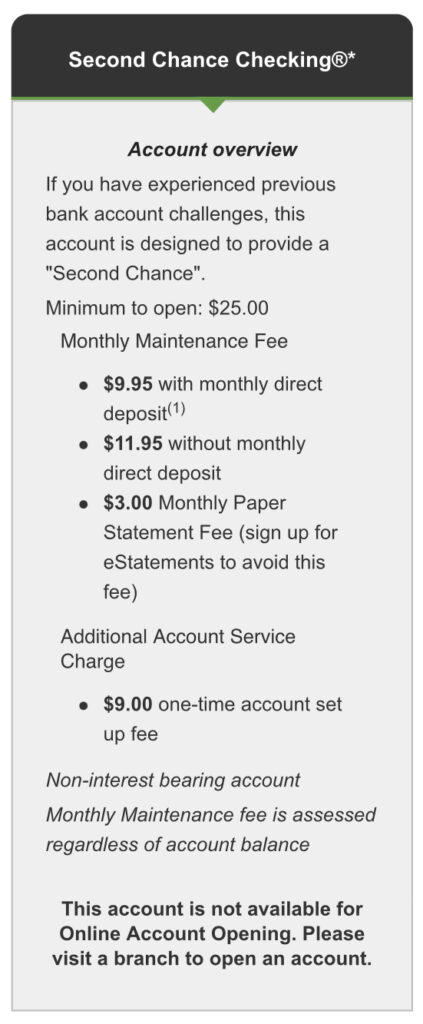 Minimum opening deposit: $25.00
APY: None
Direct deposit requirement: Does not require direct deposits, but you'll pay a fee without it
Monthly fees and/or service charges: One-time $9 setup fee, $9.95/month with qualifying direct deposits, $11.95 without qualifying direct deposits. $32 insufficient funds fee and overdraft fee, $10 chargeback fee, $15 debit card setup fee
ATMs: Woodforest ATMs are free to use. Non-Woodforest ATMs withdrawals are charged a $2.50 fee as well as whatever fees are charged by the ATM's network
Credit card: Yes
Overdraft protection: No
Uses ChexSystems: Unclear: the on-site documentation doesn't say, and the reviews have varying answers to this question
Other noteworthy features: Woodforest is a fantastic, though expensive, no-frills second chance bank account for people whose banking histories are less than perfect. They offer online and mobile banking access, and customers can deposit cash into their accounts via participating Walmarts via the Cash In at Checkout program. The Second Chance account must be opened at a branch location.
What is a 'second-chance' checking account?
A "second-chance" bank account is an account at a bank (or credit union) that doesn't run ChexSystems reports. Alternatively, the bank does run your report but is willing to look past a low score or blemished history and give you an account anyway.
These accounts are the best option for people who need banking services but who are struggling to find them because of bad credit or poor banking history.
What's the difference between a second-chance checking account and a standard checking account?
A standard checking account is an account with all of the banking features you're accustomed to being able to access writing checks, depositing and withdrawing money at branch ATMs, paying for stuff with your debit card, etc. It's available to most people — provided they don't have an adverse banking history.
A second chance banking account is designed for people with problematic banking and credit histories. These are people who are unable to qualify for checking accounts at traditional banks and credit unions due to bad credit, a history of overdrawn accounts, etc. The idea is that this account gives these people the opportunity to "start over."
How does a second-chance checking account work?
Second Chance checking accounts are to banking sort of like secured or credit building cards are to credit. These are accounts that, when used responsibly, help you rebuild a positive banking history with ChexSystems. After a while (typically five years) the negative stuff falls off of your ChexSystems report and you'll be able to "upgrade" your account from a second chance account to a regular account.
Not all banks and credit unions offer Second Chance accounts, but most do. Sometimes, however, these accounts aren't called "Second chance." Some banks will call them "fresh start" or other names. If you are turned down for a regular account, ask the bank if they offer one of these second chance/fresh start/whatever accounts for people in your situation.
How to choose a second-chance account
Like with most financial products, not all Second Chance bank accounts are the same. Some are very strict, no-frills types of accounts. Others will offer perks and incentives to help encourage you to keep your account balance in the bank. It's a good idea to make sure the account you choose meets as many of the following criteria as possible:
Low (or no) monthly fees
You aren't required to keep a minimum balance in your account
The account comes with a debit card
You have the ability to write as many checks as you need to write without paying fees.
You can order paper checks from the bank/credit union at no additional cost.
The less strict the better — excessive restrictions are a bad sign.
Pros and cons of second-chance checking accounts
Second chance checking accounts can feel like your saving grace. However, no financial product is perfect. There are some serious drawbacks to choosing a bank account for people with bad credit.
Pros
Improves your banking history
Usually, no credit or ChexSystems check
Usually much cheaper than resorting to prepaid debit cards
Offers more features and protections than you'll get from prepaid debit cards
If you can keep your account balance positive, your account can often be upgraded to a regular checking account within anywhere from six months to a year
Cons
Most accounts have monthly fees and some of those monthly fees are expensive
Fewer options and stricter requirements than you'll find with a regular checking account
A lot of these accounts require you to maintain a minimum balance every month
These accounts rarely offer any overdraft protection
Some banks require you to take a money management class
Banks and credit unions don't report second chance accounts to the credit bureaus, so your second chance account won't have any effect on your credit report
If your account does accrue interest, that rate will be lower than you'd get with a regular checking account
What is ChexSystems?
ChexSystems was created under the Fair Credit Reporting Act (FCRA). It is technically a "consumer credit reporting agency." In this case, however, instead of tracking and creating reports about your credit usage and history, ChexSystems monitors your banking activity. The agency collects data about checking and savings accounts that have been closed (and the reasons why) at banks and credit unions. It uses that data to create reports on consumers and sends those reports to a variety of institutions that request it (usually banks and credit unions, but there are others).
Basically? ChexSystems is a credit report for your banking history.
Your ChexSystems report is important because it tells banks and credit unions what kind of risk you pose. Are they likely to lose money on you? Do you have a habit of opening accounts, over drafting them, and then disappearing? Do you have a difficult time keeping your account balances above zero?
The banks take this information and use it to determine whether or not they should allow you to open an account with them. If your ChexSystems report is bad, they can deny you access to checking accounts, savings accounts, and other financial products.
If you've ever tried to survive without a bank account before, you'll understand why being able to get an account in your own name is important.
Does my ChexSystems report affect my credit score?
Technically speaking? ChexSystems has no effect on your credit score.
That said, if you've been blocked by ChexSystems, that tells financial institutions that your history with money is likely problematic and that you pose a high risk. People who pose a high risk are unlikely to be granted loans, credit, etc.
Check out this video to learn more about ChexSystems and how it works:
The bottom line
If you've been denied a bank account, this is probably because there are negative items on your ChexSystems report. Thankfully, Second Chance checking accounts and bank accounts for bad credit do exist. You just have to take the time to find them.
Once you've found a Second Chance checking account that meets your needs, it is important to take that responsibility seriously. Be diligent. Keep your account balance positive. Don't overdraft your account. If you can keep up the good behavior, in 6-12 months, you might be able to upgrade your second chance account to a regular account!
FAQs
What does Member FDIC mean?
FDIC stands for Federal Deposit Insurance Corporation. Being a member means that the bank or credit union is able to federally insure your deposits (up to a certain amount, usually $250,000) in the even that something happens to the bank, or it goes out of business. 
What does underbanked mean?
"Underbanked" can mean one of two things:
An area that is not sufficiently served by banks or credit unions. 
A person or household that does not have access to a checking or savings account at a traditional banking institution but who do dependent on alternative financial services like check cashing shops, payday lenders, etc. 
Why does my credit score matter?
Your credit score is used to determine whether to grant you credit, loans, access to housing, employment, and a lot more. It's the adult version of a "permanent record" except this one actually matters because it will determine whether you can buy a car, a home or get access to credit.